Excalibur #14: X of Swords Chapter Fifteen Offers Both Love and Tragedy (Recap/Review with Spoilers)
At the end of X of Swords Chapter Fourteen, Saturnyne drew the first two cards to compete in the tournament: Isca the Unbeaten and Captain Britain. Immediately, there's a sense of foreboding since Isca is, well, unbeatable. Something major would happen in Excalibur #14: X of Swords Chapter Fifteen one way or another. Either Betsy Braddock would die, or she'd have to use some Loki-level trickery to survive AND lose. However, this duel isn't even the craziest part of this chapter. Instead, it's a wedding. Spoilers to follow, so be warned, as always.
I Now Pronounce you Bei the Blood Moon…and Doug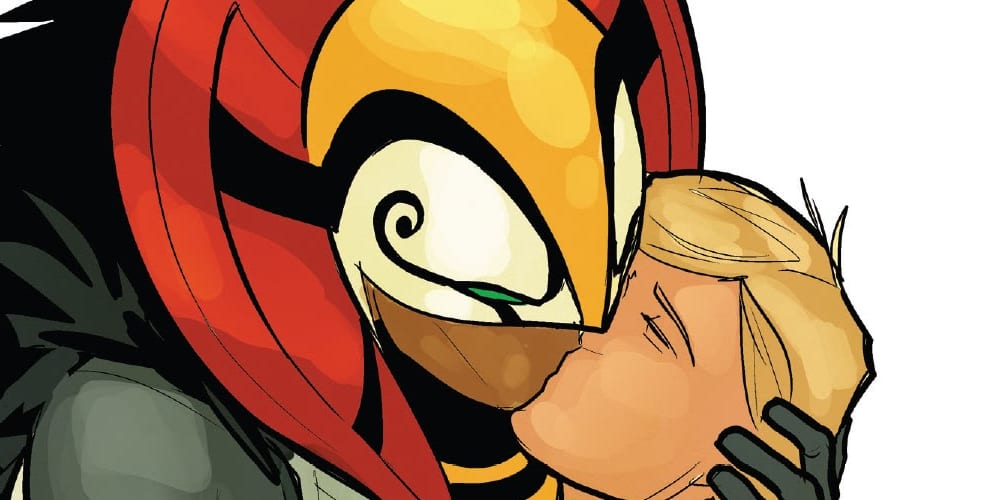 Exactly the kind of murderous warrior from a hellish reality that you want to take home to mom. (Image: Excalibur #14, Marvel Comics)
This is actually the second match in Excalibur #14: X of Swords Chapter Fifteen. When Douglas Ramsey, AKA Cypher, and Bei's cards are chosen, Doug rightfully freaks out. He's supposed to fight this warrior who makes any woman in the MMA look like Arianna Grande (in size, that is). And then there's another twist. Bei's power is much like Black Bolt's. She can level mountains with her voice. Even worse, she can communicate telepathically while emitting low-frequency sounds. Everyone can understand her—except for Cypher, whose power is to understand every language.
However, this doesn't scare Doug that much. Instead, he's intrigued by her. Which is a good thing because it turns out that Saturnyne's challenge isn't a fight to the death. It's a challenge of marriage. Wolverine refers to this challenge as another kind of hell. But it's a lot better than dying—and in Otherworld, if an X-Man dies, that's it. They don't come back. Yet, for Cypher and Bei, this is not a horrible decision. They actually seem to have immediately fallen in love with each other. When Bei says her vows, which Cypher can't even understand, it's so moving that Apocalypse tells Cypher he should say yes. So, yay for romance, but what the hell does this challenge even mean.
Excalibur #14: X of Swords Chapter Fifteen Changes the Game Entirely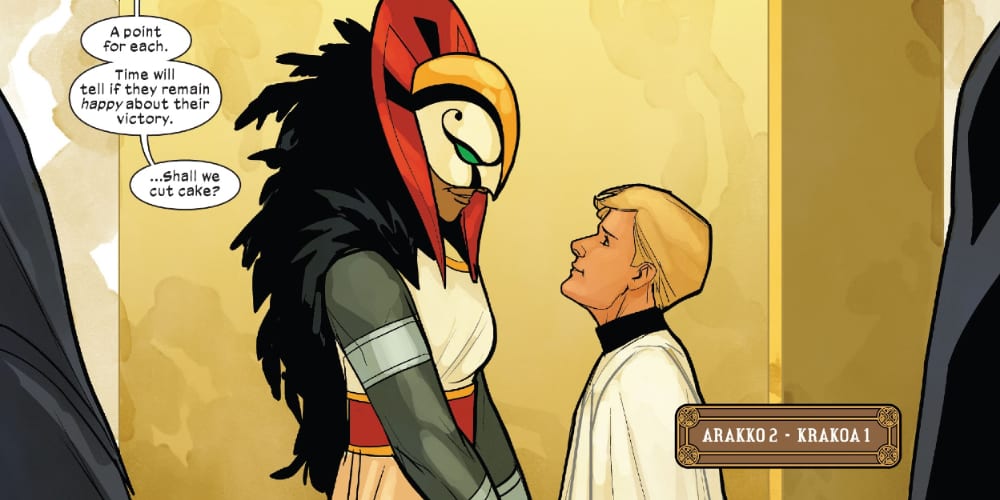 A Wedding…as a challenge. A point for each. What is Saturnyne up to? (Image: Excalibur #14, Marvel Comics)
A wedding? Wasn't this supposed to be a challenge of swords? But the second challenge is…marriage? Granted, both sides get a point, but…what? So, now we know something essential: Saturnyne is not very forthcoming with her rules. Okay, we knew that long before Excalibur #14: X of Swords Chapter Fifteen. But now we know that these challenges probably mean very little—other than to complicate the lives of the Krakoans and Arakkii. To her, this is really just a game, and she's going to play with her nineteen new toys. She's tossed out everything we thought we understood about this tournament, leaving both the X-Men and Arakkii champions clueless to what's to come next.
Forget Saturnyne emulating Loki. Now she's gone full Joker with the powers of Loki.
Round One in Excalibur #14: X of Swords Chapter Fifteen is Predictably Shocking
Saturnyne hates Elizabeth Braddock. She loathes the fact that a mutant from Krakoa is Captain Britain. So she manipulees her death. Yes—in the very first battle, Captain Britain dies at the hands of Isca the Unbeaten. But it's how she dies that's even more interesting.
Remember in Chapter Thirteen, when Gorgon said to Magik that he fears Isca's sword would break them. He wasn't wrong, but he probably didn't mean that literally. Because this is how she dies: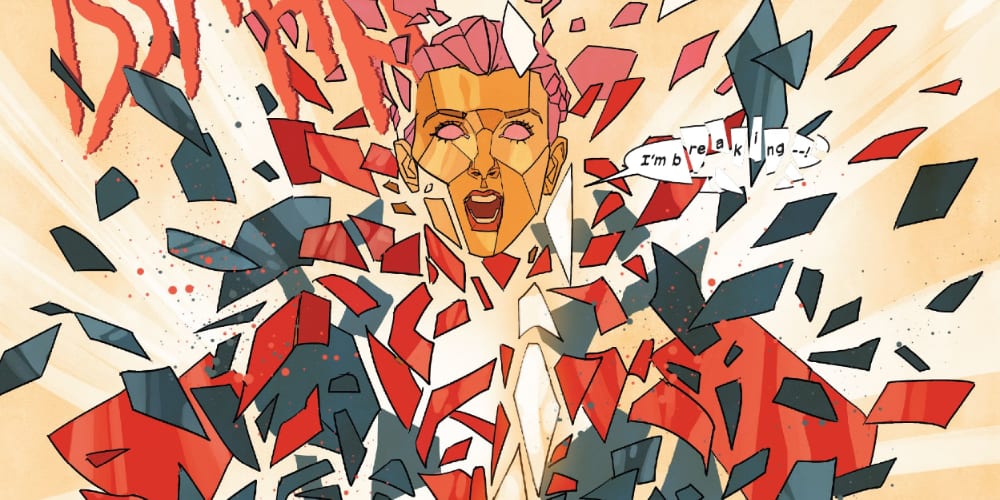 That's going to be hard to vacuum. (Image: Excalibur #14, Marvel Comics)
We don't know exactly how Isca's powers work, but Captain Avalon, Betsy's brother Brian, accuses Saturnyne of meddling in her own game. Saturnyne has her servants sweep up the pieces of Captain Britain and sets up the next challenge, Doug and Bei's wedding. So, that's it for Captain Britain. She's gone. Excalibur #14: X of Swords Chapter Fifteen is the last we'll ever see of her.
Oh, but there's just one thing…
There is No Way Captain Britain Actually Dies in Excalibur #14: X of Swords Chapter Fifteen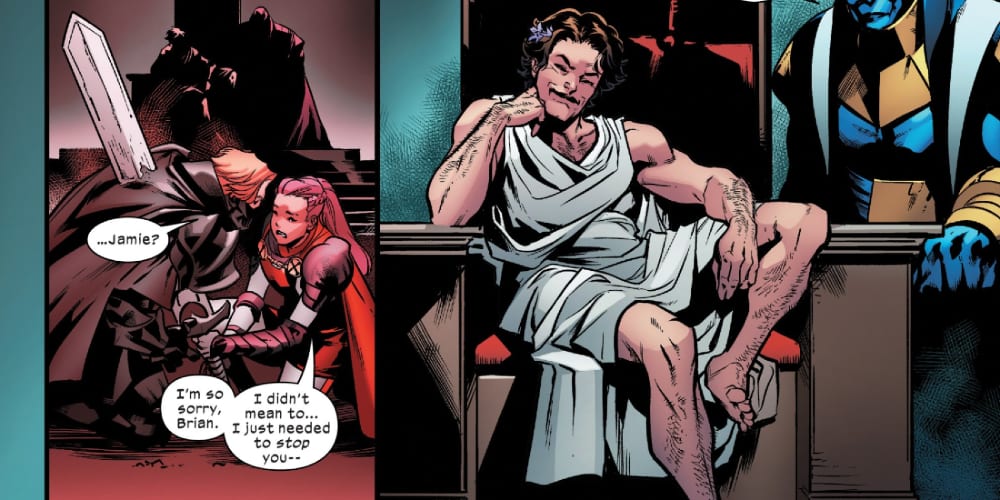 If more than three Excalibur issues go by without someone stabbing somebody, Tini Howard has to sacrifice a kitten. (Image: Excalibur #6, Marvel Comics)
In Excalibur #6, Betsy Braddock kills her then-possessed brother Brian is a duel…but, of course, Brian is now Captain Avalon. Alive and healthy. How did he escape this fate? It so happens that Brian and Betsy have another brother: Jamie. King Jamie of Avalon, that is. And what is King Jamie's mutant gift? Manipulating reality. He brings Brian back to life and free of Morgan Le Fay's possession.
Which begs another question…why did Saturnyne have King Jamie host this duel to the death? Was it just to make him watch his sister die? Jamie is insane and not that sentimental, but he does care for his siblings. However, she also knows that he can control reality, so she's aware of his ability to bring people back, even if they die in Otherworld. It's safe to assume that Betsy will return, if not during X of Swords, then sometime after. Now, did Saturnyne make a fatal error in Excalibur #14: X of Swords Chapter Fifteen, or does she have something else in those flowing sleeves?
One Fatal Mistake Saturnyne Did Make in Excalibur #14: X of Swords Chapter Fifteen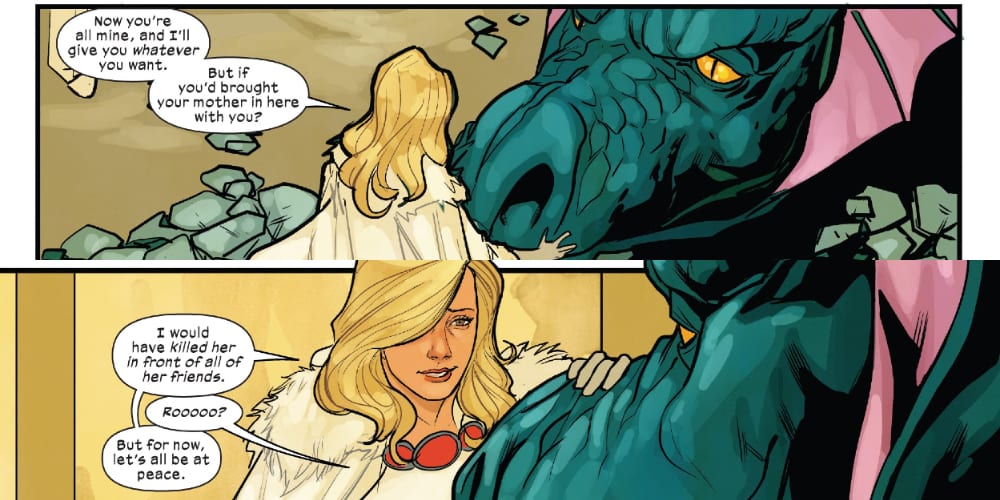 I ran "Roooo" through Google Translate. It's baby dragon for "WTF, lady?!" (Image: Excalibur #14, Marvel Comics)
Jubilee has been residing in Otherworld while her son, the giant baby dragon, Shogo, heals. When she finds out that something happened to Betsy, she takes off with Shogo—whose fire can MELT REALITY—and attacks the Starlight Citadel. Though Storm goes to tell her what's happening and calm her down, Saturnyne takes Shogo. Yeah—she, uh, dragon-naps Jubilee's child. When does taking someone's child ever end well? Has Saturnyne even seen Taken? Honestly, I'd be a lot more worried about what Jubilee might do to Saturnyne than someone connected to John Wick's murdered puppy.
(Featured Image: Excalibur #14, Marvel Comics)
More X of Swords!
Click on Chapter numbers for our recaps/reviews. Click the Series/Issue numbers for more info on the comic from League of Comic Geeks.
Previous Chapters
Chapter One: X of Swords: Creation
Chapter Two: X-Factor #4
Chapter Three: Wolverine #6
Chapter Four: X-Force #13
Chapter Five: Marauders #13
Chapter Six: Hellions #5
Chapter Seven: New Mutants #13
Chapter Eight: Cable #5
Chapter Nine: Excalibur #13
Chapter Ten: X-Men #13
Chapter Eleven: X of Swords: Stasis
Chapter Twelve: X-Men #14
Chapter Thirteen: Marauders #14
Chapter Fourteen: Marauders #15
Excalibur #14: X of Swords Chapter Fifteen
Future Chapters
Chapter Sixteen: Wolverine #7
Chapter Seventeen: X-Force #14
Chapter Eighteen: Hellions #6
Chapter Nineteen: Cable #6
Chapter Twenty: X-Men #15
Chapter Twenty-One: Excalibur #15
Chapter Twenty-Two: X of Swords: Destruction
Roman Colombo finished his MFA in 2010 and now teaches writing and graphic novel literature at various Philadelphia colleges. His first novel, Trading Saints for Sinners, was published in 2014. He's currently working on his next novel and hoping to find an agent soon.
Leave a comment