Google Stadia Shutting Down And Refunds Are Coming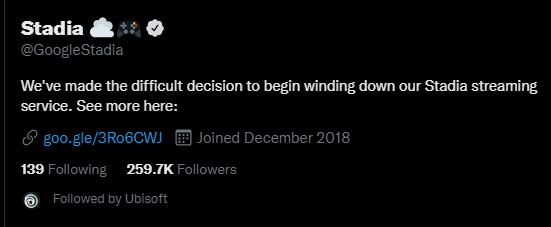 The official Twitter account just announced Google Stadia shutting down. The live gaming service by Google is leaving us. And, it's been barely a few years since its release. Luckily, not everything is bad news.
Stadia players, find an important update on Stadia here: https://t.co/IIFRYiIYUu

— Stadia ☁️🎮 (@GoogleStadia) September 29, 2022
Google Stadia had a rocky history. During the beta, most people were excited. Reviewers showed generally positive reviews. But, since its official launch, things went south. In just a month, the player count started dropping fast.
Shortly after, the service's updates went silent. And, in February, we reported that the internal studios were closing. Needless to say, Stadia hasn't been a smooth ride. That's true for both Google and its adopters.
Today, in a blog post, they explained that Stadia didn't meet expectations. Curiously, the company isn't leaving players in the dark. The same post explains they'll refund most purchases. That includes hardware, games, and add-ons bought via official stores.
The story of issues with Google Stadia
Google Stadia's beta was generally a positive experience. Many reviewers agreed that it exceeded expectations in some instances. And, it was a great attempt at making game streaming viable on PC.
Reviewers highlighted the service's low latency. In many cases, it felt as if they were playing locally. The issues came mainly with Wi-Fi speeds. They could cause screen resolution issues and lag.
That said, its release changed the reviews' tone. Some reviewers criticized the image quality and game selection. Others stated that the platform was lacking features promoted before. For some, the game catalog featured many old games.
About the service's performance, complaints were also common. For example, not all games ran at a 4K resolution. Certain titles only ran at 1440p or even 1080p. The frames per second were also a regular issue. Several games struggled to maintain consistent FPS.
Many compared it to the beta version. And, some reviewers stated that the product felt like a beta version. The quality led testers to question the service's longevity.
Google Stadia shutting down doesn't surprise a lot of people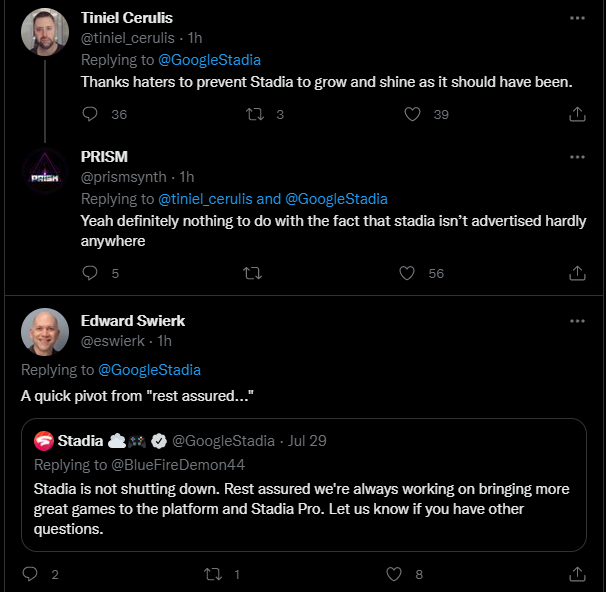 As I mentioned, the service's longevity came into question upon release. Thus, Google Stadia shutting down didn't surprise many users. The Twitter post's comments feature a lot of debate. As you can see above, the news' reception was fairly mixed.
That said, many comments showed that the news wasn't entirely unexpected. People pointed out Google's lack of commitment and communication. Yet, the announcement caught some users off guard.
Also, Xbox Game Pass was a huge setback for Stadia. The service's launch library failed to impress. Users had to purchase new games as they were added. On the other hand, Game Pass had a huge library for a monthly fee.
Moreover, Game Pass had great titles, including many exclusives. Stadia had to invest heavily to attract larger titles. As its popularity dwindled, many users expected the service to die with time.
Some even questioned whether Stadia was doomed from the onset. Google's track record called its commitment into question. The lack of communication also worried adopters.
The end of Google's investment in gaming?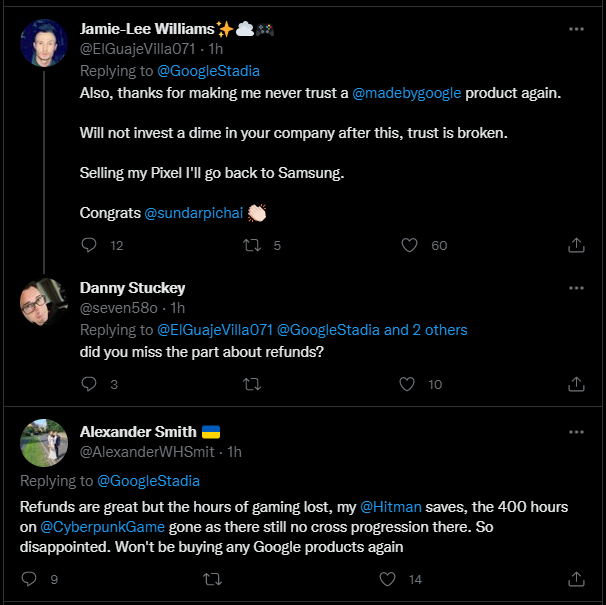 The image above is only an example of many disappointed comments. Countless users put Google's products into question. The company's commitment and history of abandoned projects support it.
Some users did point out the company's commitment to refunding users. But, many stated that this measure wasn't good enough.
Nonetheless, Google's commitment to gaming appears to remain strong. The technology behind Stadia remains available for industry partners. Plus, said tech was fairly impressive. So, we might see it reused in some instances.
The official blog post mentions that Stadia's technology was proven. The company sees opportunities to apply the tech to other Google ventures. They mentioned YouTube, Google Play, and their augmented reality projects.
They closed the news by saying that they remained "deeply committed to gaming." They'll continue to invest in new tech and platforms. And, the Stadia team will relocate to other parts of the company.
Leave a comment