David Bruckner's Hellraiser Is Updated For A Modern Audience, According To Director
Hellraiser director David Bruckner declared that this new version is updated for a modern audience with a female protagonist and villain. The British horror movie already has fans on the edge of their seats. This saga started in the 80s and was a success, but nowadays, it has many acolytes, especially with this new installment and its several significant changes.
Image via Hulu
The themes explored in the original film are diverse, and we see everything from sadomasochism to morality in characters subjected to temptation and terror. Of course, the saga needed a refreshing, which is what the filmmaker captured in this new version. Hopefully, the latest new installment will continue to satisfy its followers.
Hellraiser Will be for a Modern Audience, According to David Bruckner
Director David Bruckner's trajectory is vast and has given him the support for the new Hellraiser saga. In 2017, the solo filmmaker made his debut with Netflix's The Ritual. He was also quite involved with the Friday the 13th reboot, first as a found footage film and later as a much more conventional 1980s reboot.
However, he abandoned the Friday the 13th project, focusing his efforts as an independent director with Ritual. Then, he worked with Rebecca Hall in The Night House, a critically acclaimed film. With his Hellraiser reboot, which is about to be released, David Bruckner is quite excited, as he can now face the challenge with all the right tools to direct his first film in the franchise.
Image via MIchael Gluzman
In an interview with The Hollywood Reporter, Bruckner said that, "I wouldn't have been prepared at the time ." He continued his statements by stating that Hellraiser has allowed him to explore other themes and build on the visual quality, which is his focus. He said, "I think I have more on offer where that's concerned. So I'm very glad that I waited and did a few smaller indies in the interim."
Since Hellraiser comes from a saga, Bruckner needed to differentiate his film in several ways from existing films. That started with the selection of the lead, Jamie Clayton, who will portray a female Hellraiser Pinhead. She will be the leader of the franchise's antagonists, the Cenobites. In 1987, Doud Bradley played the iconic role of Hellraiser, originally by Clive Barker. The filmmaker took this into account to try not to repeat the previous eight iterations with Bradley. But the original film made the existence of female cenobites very clear.
Jamie Clayton, the First Female Pinhead
Even though there are female cenobites, as pointed in the original movie, the election of a woman to play pinhead has started a buzz. However, those who are part of the cancel culture, who criticize and complain about character representations every film, don't affect the director or his work.
Bruckner and his team disregarded any potential noise since the production started. "We were never afraid of it. We always knew that made sense given the history of the franchise and the kinds of fans that have embraced it."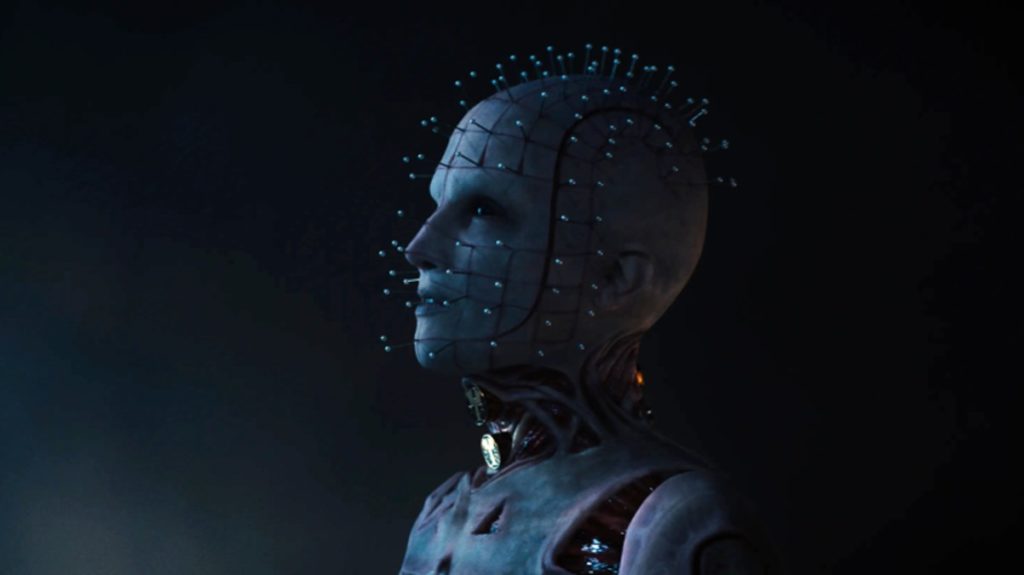 Image: Hulu
Hellraiser premieres this October 7 on Hulu and stars Jamie Clayton. David Bruckner's Hellraiser will also feature an all-star cast, including Drew Starkey, Adam Faison, Aoife Hinds, Brandon Flynn, Yinka Olorunnife, Jason Liles, Zachary Hing, Selina Lo, Hiam Abbass, and Kit Clarke.
Actress Jamie Clayton has an extensive background. She is from San Diego, California, and became known for playing Nomi Marks in the Netflix series Sense8. She has the "Out 100" award given by Out magazine in 2011 for declaring herself, transgender. Her beginnings were as a makeup artist. Already in 2012, she managed to play the leading role of Michelle Darnell in Dirty Work, which earned her an Emmy Award. She also played the role of Carla Favers in the television series Are We Here Yet?
The expectations for this actress are pretty diverse. However, her work has undoubtedly demonstrated the quality of what she presents. Perhaps Jamie Clayton will become the next horror icon thanks to Pinhead and David Bruckner's Hellraiser.
Leave a comment