Cable #5: X of Swords Chapter Eight Takes a Break From Epic Fantasy To Give Us Epic Sci-Fi (SPOILERS)
Tarot cards, Avalon, magic, faeries, and a tournament of swords. X of Swords is a fantasy epic, no doubt about it. However, this is still an X-Men event, and mutants are certainly Sci-Fi. So how do you balance the two? Cable #5: X of Swords Chapter Eight does just that. With 95% of the story in space, an invasion of freaky aliens, and SWORD back in play, forget Arakko invading Otherworld. We're about to see Sci-Fi invade Fantasy.
Cable #5: X of Swords Chapter Eight Returns to the Peak—and it's Not in Good Shape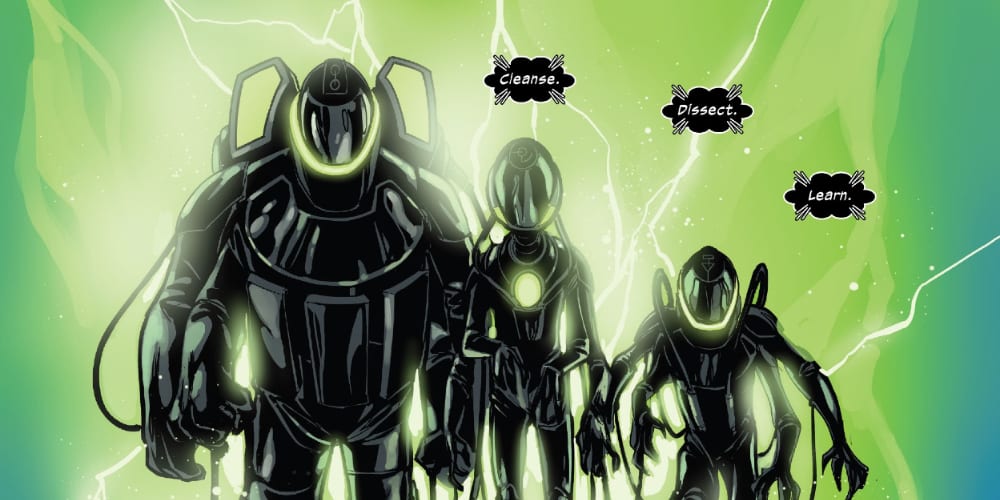 Well, at least they think education is important. (Image: Cable #5, Marvel Comics)
At the end of X of Swords: Creation, the first chapter of the epic, Cable, Cyclops, and Jean Grey rediscover the abandoned and nearly destroyed SWORD station, the Peak. The last time we saw the space station was in Rick Remender's Uncanny Avengers, when the Apocalypse Twins wreaked havoc on SWORD.
Well, no surprise, it's still not doing well. When Cable uses the Light of Galador, his space knight sword, to reignite the power to the Peak, it awakens a parasitic species called the Vescora. They're those ugly gentlemen you see above. There are likely thousands of them, but they're contained behind a weird gate in a science lab on the Peak for now. As long as no one turns on the power, everyone is safe. So, when Cable retrieves his sword and returns to Krakoa to take his place on his sigil, the Vescora are trapped again. And that's the last we'll hear of them. Right?
Cyclops Has a Plan—Everyone Should Be Very Afraid of What That Might Be
And just because you're lonely doesn't mean you don't have any friends. . (Image: Cable #5, Marvel Comics)There's a demonic, mutant hoard from Amenth ready to overrun Otherworld and invade Krakoa. Arakko and Krakoa are busy going on quests to find their swords and preparing for a tournament. And Cyclops just discovered the Vescora, a mindless parasite species that want to "cleanse" other species. So, when Cyclops tells Magik, one of the Commanders of Krakoa, that he has a plan forming—we should worry for Arakko, let alone Krakoa. Cable #5: X of Swords Chapter Eight begins Cyclops's plan for victory at any cost.
Scott Summers might have optic blasts, but his real superpower is his tactical brilliance. Ever since Messiah Complex, we've seen him make plans and contingencies for every possible outcome. One of the best examples of how genius he is at warfare comes from Fear Itself. When Juggernaut gets a powerup from Odin's big brother, the unstoppable force starts making his way towards the last mutant nation, Utopia. The mayor of San Francisco (Utopia is right off the coast of SF) asks Cyclops if he has a plan B. Here's how he responds: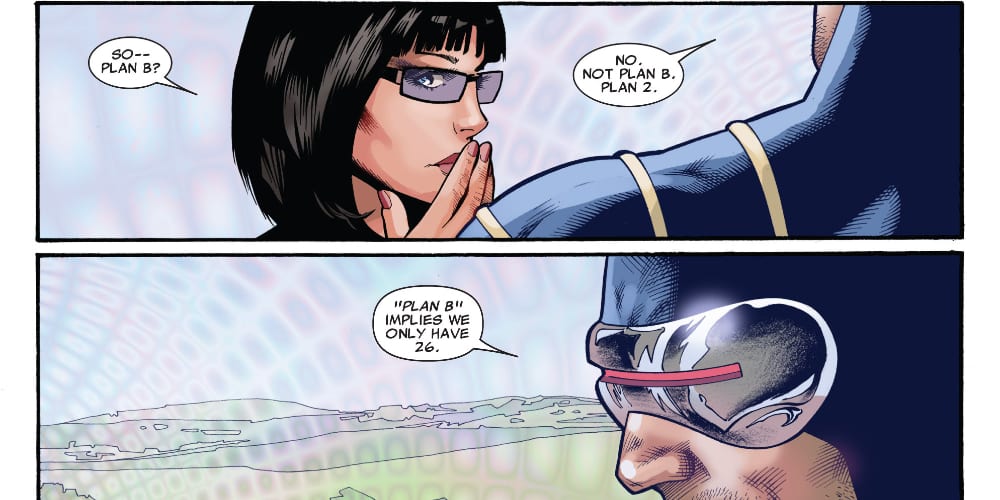 One of Cyclops's best lines. (Image: Uncanny X-Men #541)
Forget "Captain" Commander. They should have titled him "Badass" Commander.
What Cable #5: X of Swords Chapter Eight Doesn't Answer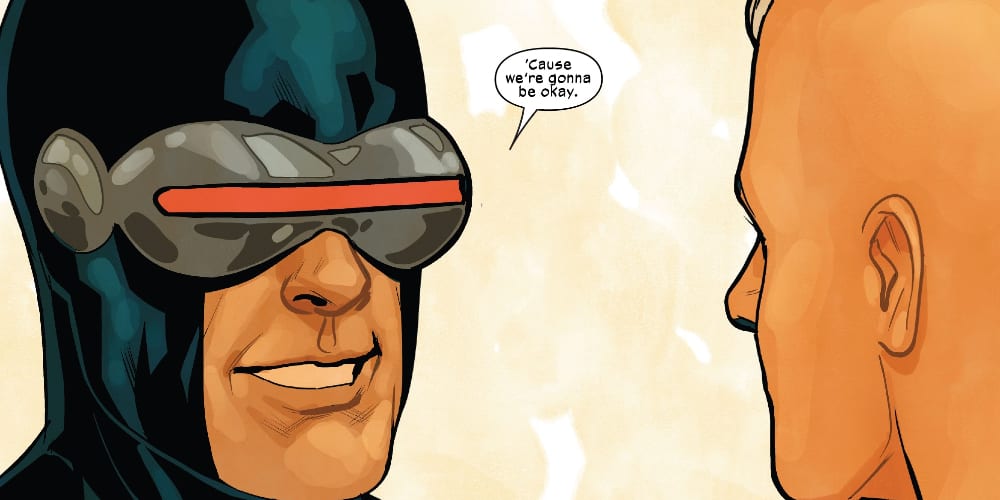 Well, that's unnerving. (Image: Cable #5, Marvel Comics)
Not how far Cyclops is willing to go, but how far he will go. When Cyclops sees an opportunity for victory, he doesn't hesitate to take it. This was the crux of the X-Men event Schism, in which we saw Cyclops and Wolverine come to an impasse. From Messiah Complex to then, these two were like brothers. So much so that Wolverine trusted Cyclops with the Muramasa Blade, the only weapon that can kill Wolverine.
But when Cyclops orders the young mutant Idie to kill someone, Wolverine finds where he draws the line. Yet that's how far Cyclops is willing to go—he'll use children as lethal weapons. So, at the end of Cable #5: X of Swords Chapter Eight, when he confides in another commander with an even more questionable moral compass, that he's forming a plan, just remember that he's totally willing to send children to fight, kill, and die.
Cable Will Either Rise to the Occasion—Or Fail Miserably in X of Swords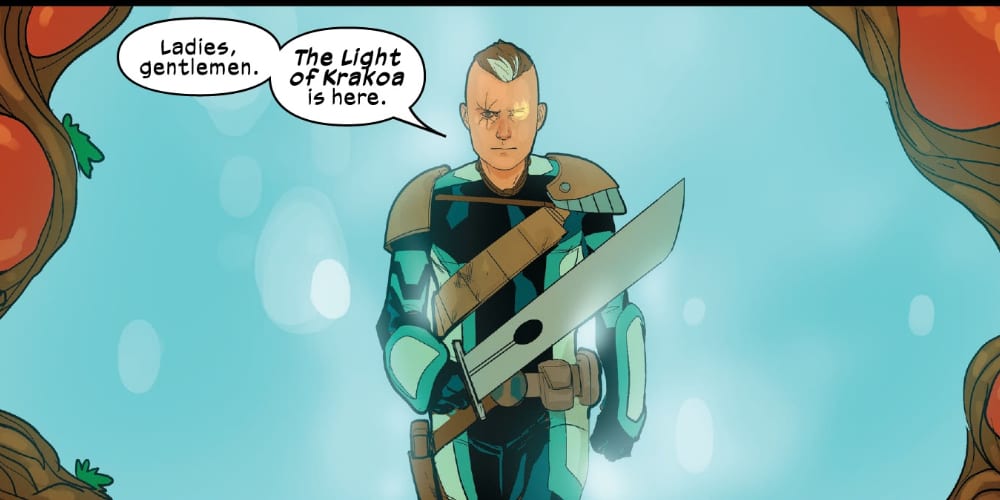 Come on, kid Cable, this is a tournament of swords in a magical land between super-powered mutant nations. Try taking it seriously. (Image: Cable #5, Marvel Comics)
When Cable, who, to remind everyone, is currently a teenager, returns to Krakoa to take his place on the Sigil, he announces that "the Light of Krakoa is here." Young Nathan Summers is pretty arrogant, but to essentially name yourself, your nation's hero is definitely foreshadowing something. But why shouldn't he feel unstoppable? He was chosen as one of the champions of Krakoa. The Light of Galador actually chose him. Also, he's dating all five Stepford Cuckoos. Overall, the Nathan Summers in Cable #5: X of Swords Chapter Eight is one primed for a major change.
More X of Swords!
Click on Chapter numbers for our recaps/reviews. Click the Series/Issue numbers for more info on the comic from League of Comic Geeks.
Previous Chapters
Chapter One: X of Swords: Creation
Chapter Two: X-Factor #4
Chapter Three: Wolverine #6
Chapter Four: X-Force #13
Chapter Five: Marauders #13
Chapter Six: Hellions #5
Chapter Seven: New Mutants #13
Cable #5: X of Swords Chapter Eight
Next Chapters
Chapter Nine: Excalibur #13
Chapter Ten: X-Men #13
Chapter Eleven: X of Swords: Stasis
Chapter Twelve: X-Men #14
Chapter Thirteen: Marauders #14
Chapter Fourteen: Marauders #15
Chapter Fifteen: Excalibur #14
Chapter Sixteen: Wolverine #7
Chapter Seventeen: X-Force #14
Chapter Eighteen: Hellions #6
Chapter Nineteen: Cable #6
Chapter Twenty: X-Men #15
Chapter Twenty-One: Excalibur #15
Chapter Twenty-Two: X of Swords: Destruction
Roman Colombo finished his MFA in 2010 and now teaches writing and graphic novel literature at various Philadelphia colleges. His first novel, Trading Saints for Sinners, was published in 2014. He's currently working on his next novel and hoping to find an agent soon.
Leave a comment