Who Is Daredevil? The Marvel Comics Blind Superhero With Enhanced Senses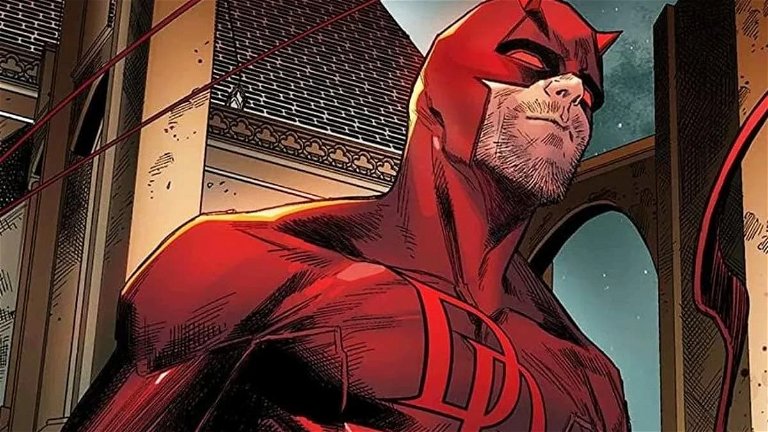 One of the Marvel Comics characters with the most aliases is Daredevil, whose alter ego is Matthew Michael "Matt" Murdock. He is known as the Devil Defender, the Man Without Fear, Hell's Kitchen Lawyer, and Dan Defender, among many other pseudonyms.
For the company, this has been a superhero who has not stood out for his sales. However, contrary to what one might think, he has positioned himself as one of the best storytellers in the world of comics.
His first appearance was in the decade of the 60s, in the Silver Age of comics. He came from the hand of editor and writer Stan Lee and artist Bill Everett. He is a mutated human who, when he appears, does his own thing.
Who is Daredevil?
Image: Marvel Comics
Matthew Michael "Matt" Murdock's story begins when a chemical substance blinded his eyes as a child. This condition allowed him to develop his other senses extraordinarily, learning from an early age to live without fear. He grew up in the Irish-American neighbourhood called Hell's Kitchen in New York City, United States, where the working class lived.
The environment where Matt grew up was always rough and violent, where violence prevailed. After the accident, he began to receive training first by his father in boxing, Jack Murdock. But some time later, he was killed by some gangsters, which Matt witnessed, which marked him.
Later, a blind master trained him. This senior educated the young Matt in different martial arts, which not only improved his skills but learned to locate and take advantage of them.
Daredevil Fictional Biography
Marvel Comics made the first appearance of Daredevil in 1964. His birth name is Matthew Michael "Matt" Murdock. He was born in Hell's Kitchen, and his parents were Jack and Maggie.
He grew up next to his father since his mother abandoned him from an early age. As a child, he lost his sight after a tragic accident where he was exposed to radioactive substances. But he managed to sharpen his other senses.
He studied law at Columbia University, where he met his best friend, Joaquin. That's why his occupation is lawyer, and he is known for being a masked fighter who defends Hell's Kitchen from the villains. 
His love life has been quite prolific, where he has been married several times and is presumed to have left several offspring. The most named is Mapone Romanova, who is said to have had four more children with various mistresses such as Elektra Natchios, Mills Donovan, and Mary Walker.
He is one of the Marvel superheroes who has had multiple versions. He has been present in animated series, merchandise, and video games. And it is expected in both film and television to continue to appear as the superhero of all time.
Daredevil Powers and Abilities
Image: Marvel Comics
Matthew Michael "Matt" Murdock after an accident with a truck loaded with radioactive material, Matthew Michael " Matt " Murdock becomes a mutant man, assuming the name Daredevil. This event caused him to lose sight, activating his other 4 senses to the maximum; he has superhuman ability.
Of course, this gives him abilities above the limits of a sighted person. In fact, his behaviour is not that of a sighted person, so few characters know that the superhero cannot see.
The training received, and the same practice has given this character a sense of radar, similar to echolocation. This ability allows him to perceive the shapes, people and objects around him.
While it is true, Daredevil's senses are strong, at the same time, they are very sensitive. This turns his main strength into a great weakness. If he encounters powerful smells or sounds, they can temporarily weaken his radar sense.
He has excelled as a master of different martial arts such as Judo, Karate, Aikido, Silat, Jujitsu kung, Capoeira, Eskrima, and Wrestling, which he combines with boxing. In addition, he has expertise in hand-to-hand combat. His primary combat weapon is his staff.
Daredevil Other Versions
Daredevil has several versions, highlighting:
1602
The Marvel 1602 stage, which Neil Gaiman created, is set on Earth – 311. Here Matt Murdoch is known as The Bard, a blind balladeer. Who is secretly an adventurer for hire who sells himself to the highest bidder?
In this origin, the story of the boy Matt who goes to a cave and has contact with a green substance that leaves him blind, is presented. His mother discovers his blindness when she tries to take care of him when he returns home with a fever. Although he lost his sight, it sharpened his other senses.
2099
For Marvel Knights, in 2099, Daredevil is known as Samuel Fisk. He is a descendant of Wilson Fisk. Here a version of Daredevil is introduced where he opposes Alchemax corporate criminals.
Age of Apocalypse
Image: Marvel Comics
In the timeline of Earth-295, Age of Apocalypse, Matt's identity is Keeper Murdock. He serves Mikhail Rasputin, one of the Four Horsemen of Apocalypse.
In this version, a long exposure to toxic waste in the human labor camp is the cause of his blindness. This is how he acquired his superhuman powers and abilities.
Amalgam
In Amalgam Comics, the version of Slade Murdock is presented as a blind mercenary in New Gotham City. He goes by "Dare the Terminator" as he accepts challenging missions. His version is a female combination of Daredevil and Deathstroke the Terminator that belongs to DC Comics.
Earth X
Earth X features a series where at least three alternate versions of "Daredevils" appear. The first one features Kurt Wagner time-traveling and becoming a red-skinned demon.
The second, Matt Murdock, is in the afterlife and part of Avenging Host. And the third Matt is much more provincial, an invulnerable doppelganger. He calls himself Daredevil. This version wishes for his own death.
End of Days
Brian Michael Bendis and David W. Mack tell the story of Daredevil's final days in an eight-issue miniseries published by Marvel Comics in 2013. Bullseye is to blame for his death through a blow to the head with a club. Before dying, Daredevil whispered the word "Mapone".
Matt, before his death, was training the son of his friend Ben Urich, named Tim Urich. This character would be the one to take on the new role of Daredevil. From there, when he became aware of Bullseye's return to Hell's Kitchen, he confronted him to avoid harming his successor.
After some time, we learn that Daredevil had conceived a daughter with the Black Widow named Mapone Romanova. Apparently, Matt also had four more children with several previous mistresses. These include Elektra Natchios, Mills Donovan, and Mary Walker.
Exiles
The Earth-181 version is a Daredevil who is an assassin serving the Kingpin of his reality.
Secret Wars
The Secret Wars storyline features different versions of Daredevil on Battleworld. Appearing as:
A mouse named Matt Mouse dominates the Battleworld of New Quack City.
In Battleworld of Limbo, Matt appears married to Karen. Here he receives a spell from Mephisto before the night of the final hell.
Marvel Mangaverse
Devil Hunter is the version of Daredevil presented in Marvel Mangaverse. The costume shown is a pattern of an oni or Japanese demon.
Marvel Zombies Universe
Image: Marvel Comics
In the Marvel Zombies Vs Army of the Darkness series, Daredevil is introduced before being zombified. He fights Thunderball, the villain. He also appears in Marvel Zombies: Dead Days. Here Daredevil is seen saving Nora from the zombified Spider-Man.
Finally, in the Marvel Zombies series, a zombified Daredevil chases Magneto with other zombies to eat him. But they are all destroyed by lightning that Magneto throws through his side.
Old Man Logan
There is an Old Man Logan in an alternate future presented in Earth – 807128. About 50 years have passed since superheroes lost a major battle. The new Punisher found two young men dressed as Daredevil and Punisher chained to a post.
Matt is one of the few superheroes still alive in the prequel to the original "Old Man Logan" arc. By that time, most of the villains had conquered the Earth Matt manages to escape to the Himalayas by forming his own dojo and assuming the name "Stick".
In Earth-21923, "Old Man Logan", Daredevil is seen alongside She-Hulk and Moon Knight fighting Enchantress. Who had previously cast a spell to amplify the sounds and affect Daredevil, looking for his head to explode?
What If
In the version voiced in What If Everyone Knew Daredevil Was Blind, Electro discovers Daredevil's secret. He realizes it when he fires a shot of intense flash of light, which he is unaffected by.
Matt, after this, tried to continue his life normally. But, Owl attacked him with specific weapons to affect his heightened senses. Hence, he decides to undergo a dangerous operation to regain his sight. 
Unfortunately, Matt was again subjected to radioactive waste and regained sight, depriving him of his enhanced senses. He subsequently defeats Owl and decides to retire to run for district attorney.
In What If Karen Page Had Lived, Karen Page survived Bulleye's attack but was hospitalized. Daredevil was furious that he had come so close to losing her and discovered that The Kingpin was behind her attack. So he decides to go after him. 
Matt receives a sentence of 44 years in prison for killing Kingpin as he planned Karen's murder along with Bullseye. He was released 15 years later for good behavior. At the time, Nick Fury consulted him in the legal field.
Daredevil in Other Media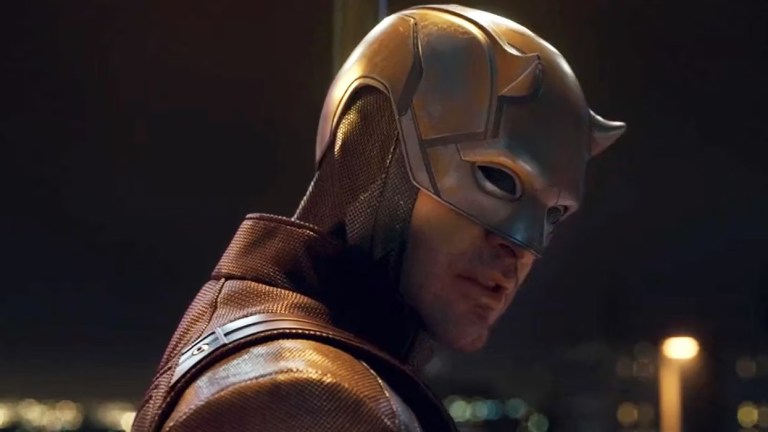 Image: Marvel Studios
Daredevil is present in other media, such as:
Television Series
In the television series, there were two unsuccessful project attempts, in 195 and 1983. Daredevil's first appearance is as the co-star in "The Trial of the Incredible Hulk".
In animated television series, he appears in:
Daredevil appears in Spider-Man and His Amazing Friends, episode "The Arachnoid Attack", which was voiced by Frank Welker. He played Spider-Man's lawyer when Zoltan Amadeus framed him.

Spider-Man, animated series of the 90s, appears in the episodes "Framed" and "The Man Without Fear", voiced by Edward Albert.

The Fantastic Four of the '90s, in episode 14, "And the blind will lead them".

Iron Man: Armored Adventures, there is a mention of Daredevil in episode 21 of the second season.
In television Shows, Daredevil appears in:
Daredevil (2015): Netflix has presented series about Daredevil that have been a success, such as Daredevil (2015 – 2018) and The Defenders (2017), which have received very good acceptance from both critics and fans. 
Actor Charlie Cox is the one who has played the unforgettable role of Matt Murdock's lawyer and, of course, next to the villain Kingpin. In 2024 he will wear the suit again with his own series Daredevil: Born Again, consisting of 18 episodes.
Daredevil in Movies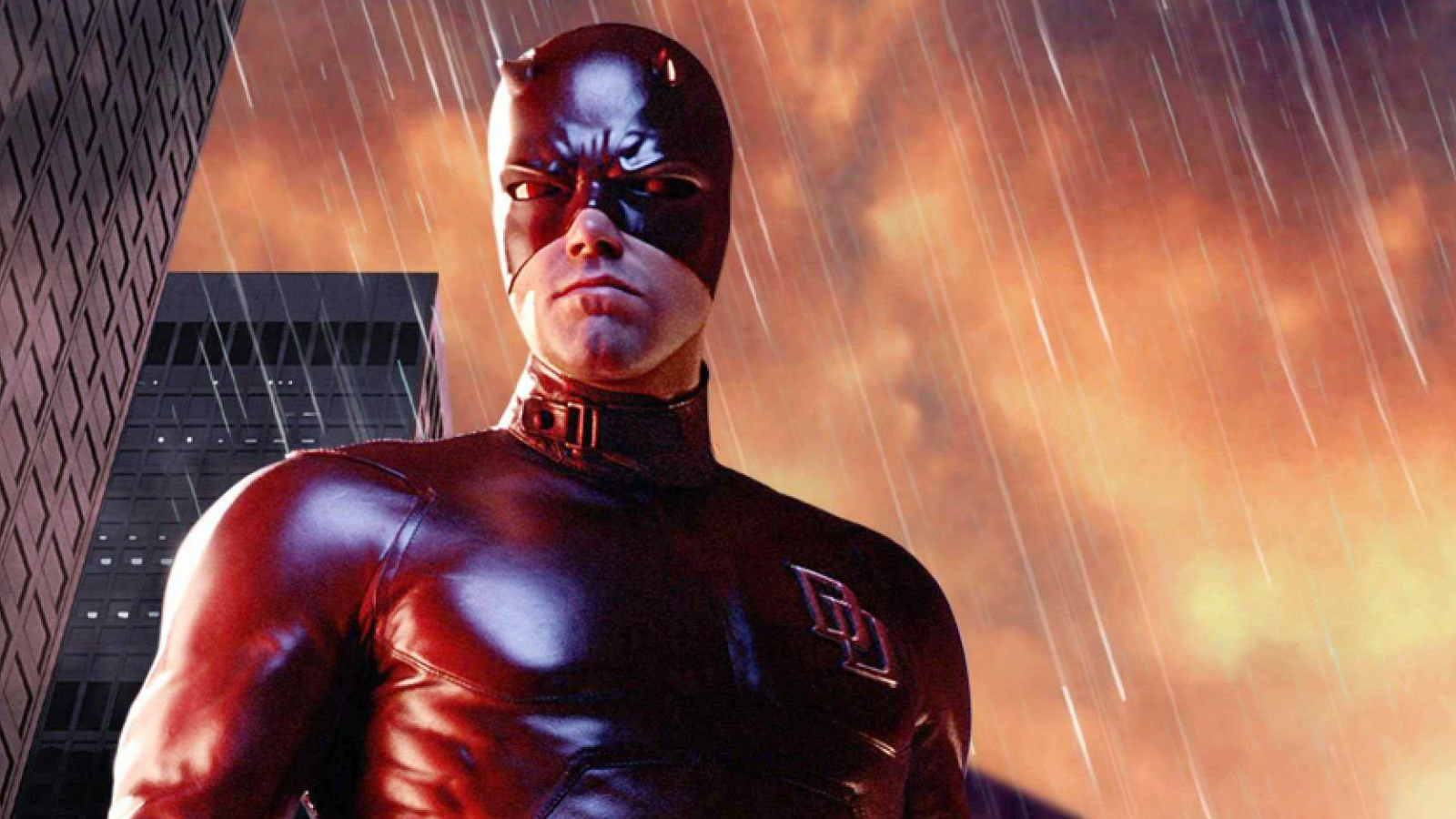 Image: Marvel
In 2003, 20th Century Fox made the film "Daredevil", directed and written by Mark Steven Johnson. Played the main role was the actor Ben Affleck. The villains present were Bullseye, played by Colin Farrell, and Kingpin, played by actor Michael Clarke Duncan.
It shows a story where he has a love interest for Elektra, who actress Jennifer Garner played. After a few years, this version would have its own film adaptation.
A Daredevil reboot project will see the light by 2024. Kevin Feige and Chris Gray reported that we will also have the actor Vincent D'Onofrio back as the villain Kingpin.
Video Games
In video games, Daredevil appears as a playable character in:
Spider-Man: Web of Fire, voiced by Dee Bradley Baker.

Spider-Man, this time from 2000, again voiced by Dee Bradley Baker.

Game Boy Advance.

Marvel Nemesis: Rise of the Imperfects, voiced by David Kaye.

The Punisher, voiced by Steven Blum.

Marvel: Ultimate Alliance, voiced by Cam Clarke.

Marvel: Ultimate Alliance 2, voiced by Brian Bloom.

Marvel Super Hero Squad Online.

LittleBigPlanet.

Marvel: Avengers Alliance.

MMORPG Marvel Heroes.

Lego Marvel Super Heroes.

Marvel Contest of Champions.

Marvel Future Fight.

Lego Marvel Super Heroes 2.

Marvel Ultimate Alliance 3: The Black Order.

Fortnite: Battle Royale.
Daredevil, The Blind Superhero with Enhanced Senses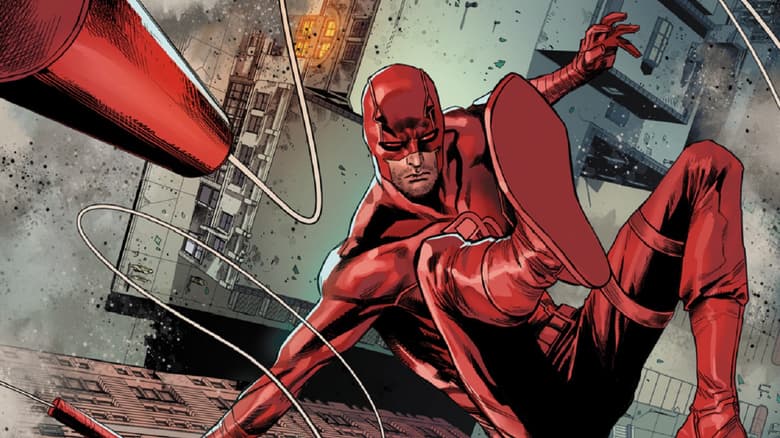 Image: Marvel Comics
Daredevil has proven to have an extensive background as a Marvel comic character. He is as well known as Spider-Man or the Fantastic Four, so he has a huge fan base worldwide.
The Man Without Fear has had many versions, and soon we will see him on Disney +, where a new series will premiere with the name of Frank Miller's story "Born Again", with the same actor of the Netflix series, which has a lot of expectations from the fans.
Featured Image Via Marvel Comics
Leave a comment