Who Is Kate Bishop? The Young Avenger Heiress Of Hawkeye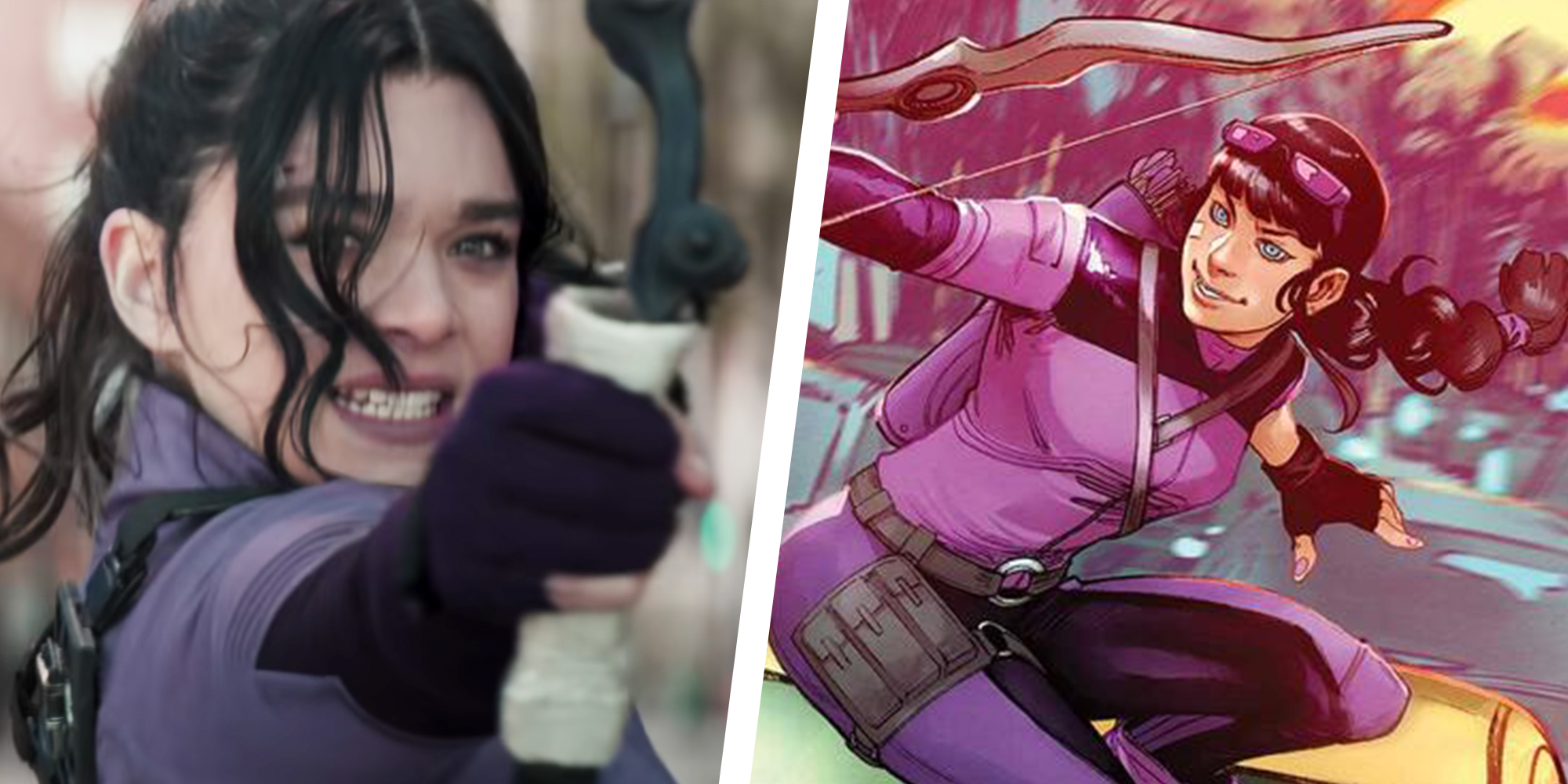 Katherine Bishop, or simply Kate Bishop, is gaining prominence in the Marvel Cinematic Universe. However, this Avengers superheroine has a long history in American Marvel Comics.
Although Clint Barton originally played Hawkeye, Kate Bishop occupies his current identity. Who has earned the right to use this alias in addition to the bow and arrow.
Who is Kate Bishop?
Image: Marvel Comics
Kate Bishop is a young superheroine who plays Hawkeye. But she is not the daughter of Clint Barton. She first appeared in 2005 in Young Avengers Vol. 1 #1.
Jim Cheung and Allan Heinberg were in charge of creating this comic, and it tells the story of the youngest daughter of a wealthy Manhattan family. Her father is Derek Bishop, who is an ambitious tycoon. Her mother was Eleonor, who died when Kate was just a child.
From the beginning, her father did not have a good relationship; she enjoyed a high capacity of not connecting emotionally with her family. Her mother, on the other hand, was inclined towards social causes. Kate has an older sister, Susan, who does not share the latter inclination of the heroine.
Kate Bishop's Publication History
The first time Kate Bishop appears is in Young Avengers, edited for 2005. Alongside her team, she appears in several miniseries, such as:
Civil War: Young Avengers/ Runaways from 2006.
Young Avengers Presents from 2008 consisted of a 6-issue miniseries, each issue focusing on a team member.
Dark Reign: Young Avengers (2009).
Avengers: The Children Crusade (2010).
Alongside Clint Barton, he is the protagonist of the "Hawkeye" comics launched in 2012, written by Matt Fraction and drawn by David Aja.
By 2013, he reappears again in the second volume of the Young Avengers as part of Marvel NOW, which comes from the hand of Kieron Gillen and Jamie McKelvie.
In 2015, he started another series centered on Kate Bishop and Clint Barton called All-New Hawkeye by Jeff Lemire and Ramon Perez.
Kate Bishop Biography
Image: Marvel Comics
Kate Bishop came from the hand of Jim Cheung and Allan Heinberg in 2005, and her beginnings are given as part of the cast of the Young Avengers. Who lived to constitute a youthful version of those who were the classic Avengers.
At that time, the history and origin of Kate Bishop was not clear. But, as the years went by, she acquired her own path and gained independence from the group's adventures.
Kate comes from a wealthy family, with a wealthy father and a mother who died when she was a child. Her relationship with her father and older sister was not very good; she did not fit into their world.
When she was still a child, she was kidnapped when her father was doing business with a criminal called "El Matador". The Avengers searched for her and rescued her, chasing this villain to stop his criminal activities.
Kate met Hawkeye there and was impressed by how a man without superpowers could do all those feats. Which in the future would lead her, unbeknownst to her, to be part of the Young Avengers team.
Unfortunately, due to poor family relationships, Kate grew up isolated from her family and society. This was exacerbated after a man sexually assaulted her in Central Park.
This terrible event led her to take classes in self-defense and other martial arts and sports such as boxing, archery, and fencing. Demonstrating from an early age a mastery of these skills, she made her career.
Young Avengers
Image: Marvel Comics
Before being a well-known heroine, Kate Bishop had her first adventure at the wedding of her older sister, Susan. There was a kidnapping attempt, where the newly formed Young Avengers intervened.
Demonstrating some inexperience in their actions, Kate decides to intervene. Showing great skill and leadership in high-pressure situations. This encounter led Kate to investigate other crimes on her own.
She arrives at the Avengers' headquarters in the garb and equipment of Mocking Bird and Hawkeye. When the team first sees her, they christen her "Hawkingbird" and make her their member.
Her physical appearance is that of a young girl with long black hair. Her eyes are sky blue. And she has an average height of 5'5, which makes her look beautiful to her team.
She makes her first mission alongside the Young Avengers, stopping Kang the Conqueror. Iron Man and Captain America accompanied them to perform that mission.
But, because they were minors, these superheroes decided that they should be separated. They could not train without their parent's consent. Kate objected and took the team members to her father's establishment, Bishop Publishing.
There they began their first steps, becoming the team's lair. Kate made uniforms for each member. Something that characterized them, perhaps because of their age, was their constant disagreements.
Although, as a team, they tried to carry out several missions, these turned out poorly. But one thing was clear; Kate was the one who best confronted Captain America. Not for nothing did she earn the official title of becoming the third "Hawkeye".
Civil War
In Civil War, Kate is one of the superheroes registered under the Superhero Registration Act. She is the 142nd to appear in the Avengers: The Initiative #1 comic book. Proving to be following this regulation.
Kate as the Patriot also appears in the second issue of Fallen Son: The Death of Captain America. Where the pair are in Doctor Strange's home, raising questions about their loyalties.
Especially with the pair's confrontation with Clint Barton, who had disguised himself as Captain America. Since this was not a registered superhero, this generated much more confusion as to which side they were on.
Kate, in the fight, represented Clint. She takes Hawkeye's name in her honor without copying his costume. She considered that to do so would be embarrassing. This causes Clint to mark his retirement, returning the shield and costume to Tony Stark.
Secret Invasion, Siege and Heroic Age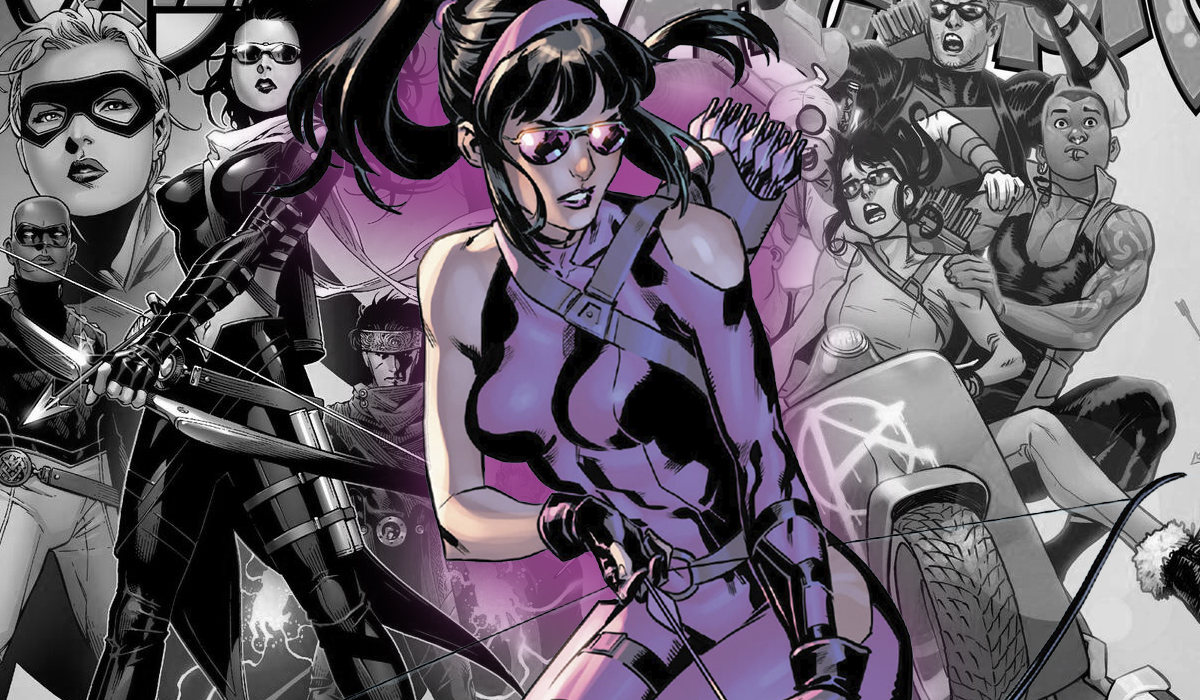 Image: Marvel Comics
In Secret Invasion, Kate participates in the battle against the Skrull invasion. Alongside her companions, she was defeated. Appearing at the end, Kate takes Clint Barton's original bow and arrow to continue the fight.
Then, to stop Norman Osborn's siege of Asgard, Kate joins the New Avengers, the Young Avengers and Secret Warriors. But, in the battle and because of Sentry's levels to Asgard, Kate and Patriot are trapped in the rubble.
During the commotion, Patriot passionately kisses Kate, which leads her to push him away. After some time, they were rescued by their friends and rejoined the group. The kiss for her meant the beginning of her relationship with Patriota.
After the events of Siege, Kate appears next to the heroes celebrating at the Avengers Tower. Present there is Clint Barton, who encourages her to continue playing her role as Hawkeye; the world is ready for the two of them.
Kate and other youngsters appear in the Avengers: Children's Crusade storyline. The same happens in the Avengers: Children's Crusade Young Avengers storyline, showing a more grown-up Kate.
This is an alternate timeline, which Iron Land altered. Who persists in changing the time sequence to defeat Kang the Conqueror. This young group becomes the Avengers.
Marvel NOW
In Marvel NOW, Kate Bishop is seen at the side of Clint Barton, the original Hawkeye. This is in the new Hawkeye series, following the Avengers vs. X-Men storyline. The two serve as co-protagonists who focus on lower crimes rather than superheroes.
Clint plays the teacher, and she plays the student, but there is an estrangement between them. After a distant and hostile behavior, he demonstrates to Kate. She leaves for New York, only to learn that her father has disinherited her.
This led Kate to offer her semi-heroine services as a detective; she needed to make a living. To do this, she settled in Los Angeles and began to perform various missions. One of them was against a criminal organization led by Masque.
There she discovered that her father was involved, threatening to pay. She and Clint again undertook several fights to stop the gangsters and criminals from the place as part of their work.
In this version, there were several battles and adventures of Kate Bishop, which led her to face the imposing Cassandra Lang to different villains in Civil War II. Therefore, she is still one of the most written-about characters in comics.
Kate Bishop's Powers and Abilities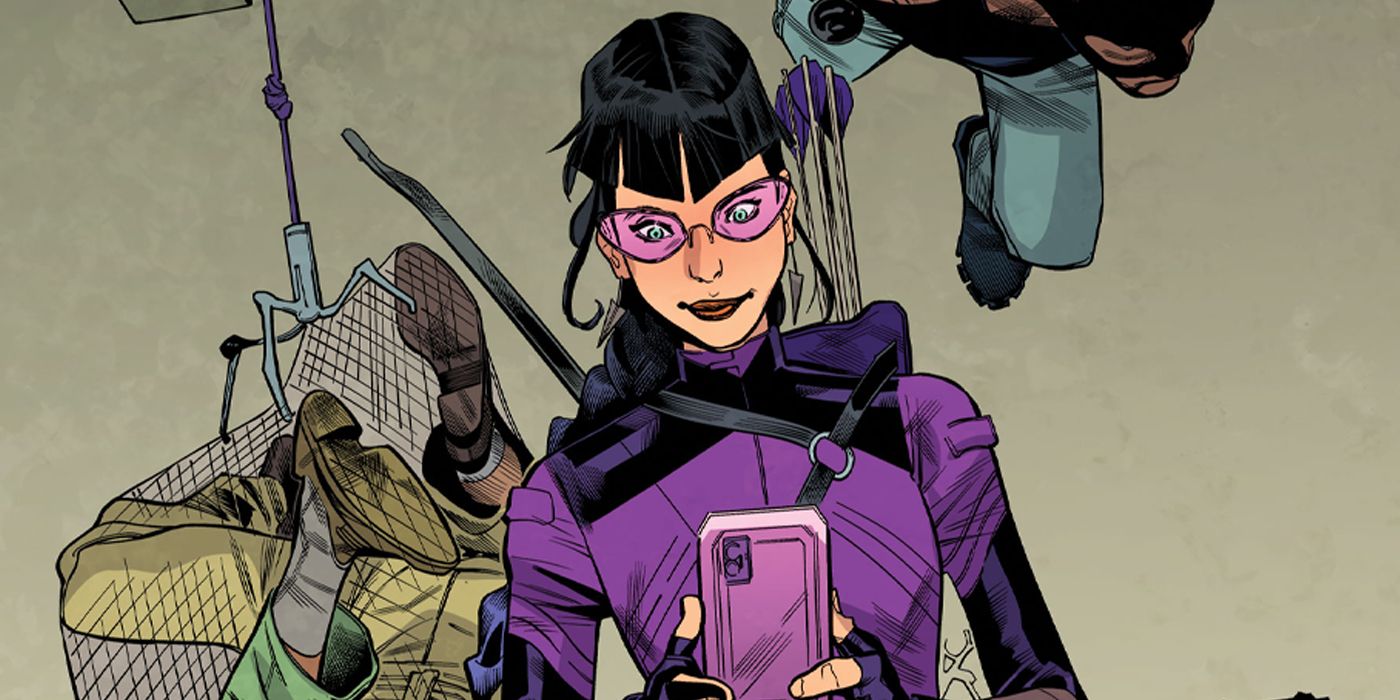 Image: Marvel Comics
Kate Bishop, as such, has no superpowers, but from a very young age, she trained in self-defense. In addition, she demonstrated a natural ability for certain martial arts and sports, becoming an expert, such as:
Archery.

Fencing.

Jiu-Jitsu.

Boxing

Other forms of combat.
With his costume, he uses two battle staffs that are very similar to that of the Swordsman. In addition, he carries Clint Barton's bow and arrow. Thanks to Black Panther, she uses trick arrows provided by him.
Other versions of Kate Bishop
In other versions, Kate Bishop is:
Ultimate Marvel
An Ultimate Marvel version of Kate Bishop appears where she is a 13-year-old teenager a classmate of Miles Morales. After a year of knowing each other, they begin a romantic relationship.
Kate and the other family members are part of HYDRA, as they firmly believe that it can improve the world. What they prove in practice is different.
Miles confesses to Kate that he is Spider-Man, so she gets upset and moves away from him for a while. Trying to reconcile, Miles goes to Kate's house, not counting on his father drugging and kidnapping him. 
When Kate realizes his kidnapping and she is in love with Miles, she frees him so his father and Doctor Doom won't torture him. This starts a fight, Miles defeating Doctor Doom, which causes Mile to break up with Kate.
Secret Wars
Kate appears in a 1602 version during Secret War. And just like Robin Hood, she does her job of stealing from the rich to give to the poor. For that, her friend Teddy and Billy accompany her.
She was caught by the Punisher's Sheriff, distracting him so that her friends could escape the judgment of the Emperor of God. The S.H.I.E.L.D. imprisoned her, where she met and befriended America Chavez and joined the Hel-Rangers.
What If?
In What If? House of M, both the Young Avengers and Kate are killed by Red Skull. A month after, each hero was stripped from the planet. After that, the cosmic cube killed Kate.
Kate Bishop's Appearances in Other Media
Image: Marvel Studios
Kate Bishop has appearances in other media, such as:
Television
On television, Kate Bishop is in:
Avengers: Ultron Revolution, she appears in the episode "In the Future".

2021, she appeared in the Hawkeye series aired on Disney+.

A photo of Kate Bishop appears in Ms Marvel, indicating that she is one of Damage Control's targets.
Video Games
In video games, Kate Bishop appears as a playable character in:
Ultimate Marvel vs Capcom 3.
Marvel Heroes.
Marvel Avengers: Alliance.
Lego Marvel Avengers.
Marvel Puzzle Quest.
Marvel Future Fight.
Lego Marvel Super Heroes 2.
Marvel's Avengers.
Kate Bishop, the Young Heiress of Hawkeye
Image: Marvel Studios
The Disney+ Hawkeye series framed within the Marvel Cinematic Universe (MCU) has reached an interesting audience. Hailee Steinfeld plays the lead character as, Kate Bishop. 
What has grabbed Avengers fans is how Kate takes on the role of Clint Barton's titular command following the events of Avengers: Endgame. In the series, we see a young, fearless fan of Hawkeye who goes on to gain merit until she becomes a great heroine.
Her role has had great scope for her freshness and impetus in interpreting the character. It is not surprising that Marvel Studios is already contemplating the idea of having the character in other series and movies of the MCU.
Featured Image Via Marvel Studios / Marvel Comics 
Leave a comment