The Hawkeye Series Premiere Reminds Us About The Power Of The Weakest Avenger
Don't get me wrong, we love the Marvel Cinematic Universe over here at Comic Years. Years of character and world-building have amounted to one of the biggest franchises out there. But with an ongoing multiverse and constantly climbing stakes, it takes us further from some of the reasons why we fell in love with superheroes in the first place. Despite existing in this world, the series premiere episodes of Hawkeye take us back to where it all started: Cool characters, fun fighting, and witty heroism. Let's take a look at what happened in the first two episodes and why we're already having fun with the exciting new series.
This post contains spoilers for Hawkeye and other recent Marvel releases. Head over to our spoiler-free premiere review if you haven't streamed the episodes yet.
The Hawkeye Series Premiere Is A Fun Exploration Of A Post-Thanos Marvel
For Marvel fans, 2012 is better defined by the fictitious Battle of New York than any real-world event. The opening events of Hawkeye take us right back into the center of it all. While the Avengers were busy saving the city, young Kate Bishop had her hands full with family drama. That is until her father dies in the wreckage of the Chitauri, and she is left with her not-as-fun mother. Prior to the travesty, she catches a glimpse at Jeremy Renner's Clint Barton, a.k.a. the series' titular character, in the midst of his heroism.
Clint is the only Avenger that Kate sees on this day, which explains why he becomes her favorite. She becomes a champion in archery and fencing, and her inspiration is our controversial hero.
Back in the present day, Clint is visiting Manhattan with his children. They're doing all of the typical holiday tourist things, like visiting big Christmas trees and catching Rogers: The Musical on Broadway. Their festive season is compromised when a now 22-year-old Kate Bishop (Hailee Steinfeld) accidentally stumbles on a secret auction featuring Clint's old Ronin suit. He's pulled back into the chaos almost as quickly as he left it.
Kate is trying to figure out what is going on with her mother's fiance and his uncle when an appropriately named Tracksuit Mafia ruins their plans. With no other choice but to suit up, Kate throws on the Ronin suit and shows her fighting skills until the Avenger shows up to save the day. That is, until tomorrow.
Image by Chuck Zlotnick via Marvel Studios
Episode Two Of Hawkeye Shows Us What We're Working With
The second episode immediately gives us what we've been waiting for: Some shenanigans between Kate and Clint. The duo work the unenthusiastic mentor angle as Kate is desperate for some fun in her life. The two split up, and Kate is left to uncover clues about her mother's relationship with the questionable Jack Duquesne. All signs and sweets point in the direction of his involvement in the murder of his uncle, an equally questionable character, but she might need some help to uncover the truth.
While Kate is doing some good ol' fashion clue hunting, Clint Barton is having the time of his life engaging in a LARP event. The prize worth losing for is the Ronin suit, which finds its way safely into the arms of the man who wore it during the five years between Infinity War and Endgame.
The end of the episode ends with Kate finding the perfect time to reunite with her hero: In front of the Tracksuit Mafia and their leader, Maya Lopez (Alaqua Cox.)
Image by Mary Cybulski via Marvel Studios
What The Future Of Hawkeye Could Hold
It's impossible not to watch anything Marvel and not start theorizing about the future. Who is Mephisto? Who is Ralph? Who opened the multiverse? Fortunately, the Hawkeye series premiere hasn't gotten us thinking about any of these things (yet.) Instead, we're able to focus all of our attention on the new dynamic duo and consider their immediate future.
The brief appearance of Maya Lopez at the end of season two is perhaps our most exciting reveal. This Deaf hero, also known as Echo, is well-known in the comics for her involvement with other fan-favorite heroes and villains. Her tragic background includes being the daughter of one of Wilson Fisk's mob enforcers. The infamous Kingpin went on to help her grow her talents until Daredevil helped her uncover the truth about his involvement in her father's death.
Echo is later involved in the New Avengers. She takes over the identity of Ronin for a brief period before going on to own her mantle.
Image via Marvel Studios.
Could This All Be A Set Up For Echo?
We already know that an Echo story is coming to Disney+ in the format of its own series. Based on the early involvement of the character in Hawkeye, it's safe to assume that the following episodes will set us up for the series. It also seems far too early to show off who the big bad villain will be. Could Clint and Kate recruit Echo to the Avengers side before the end of the season? Our predictions are thinking so.
What Else We Might Be Anticipating From The Hawkeye Series Premiere
We can't help ourselves from making wild predictions over here at Comic Years, which you'd have heard if you've ever listened to an episode of the Comic Years Podcast. Based on the content that we've seen so far, it's easy to anticipate a reveal of Tony Dalton's Jack being revealed as the villain. But could it be too easy? He's sinister and ready to lie to Kate, but Marvel isn't about to let an obvious villain into its rankings after so many great ones.
Our early predictions expect one of the evil masterminds to be Eleanor Bishop (played by the great Vera Farmiga), Kate's mother. She owns a security company, giving her an advantage. Her husband was also killed in a superhero-related event, giving her a reason to want to take one down. Her relationship with the late Armand Duquesne III also includes some red flags. We won't be surprised if we see a Bishop versus Bishop finale.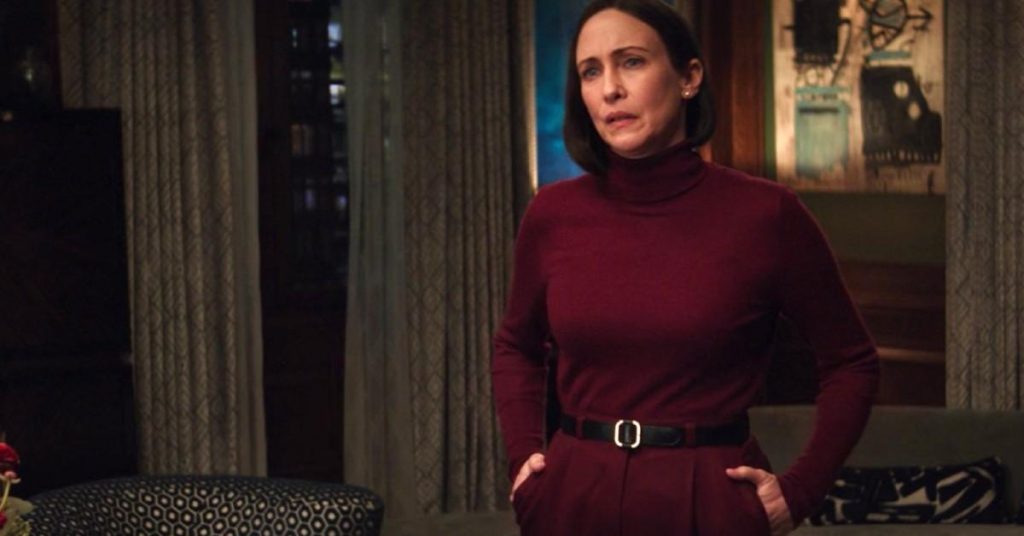 Image via Disney+.
Florence Pugh, Where Are You?
Another character that we're still anticipating the arrival of is Florence Pugh's Yelena Belova, the new Black Widow. That post-credit scene from Black Widow hints at her potentially hunting down Barton, as advised by Valentina Allegra de Fontaine. We get it. We'd be mad, too, if our sister could have lived if it weren't for some guy. Seeing Yelena as an antagonist would also be fun, but we can't lie. We need to see Kate and Yelena bond over Clint's dullness.
image Marvel Studios
Why We're Already So Invested In Hawkeye
As mentioned, a lot of recent Marvel Cinematic Universe stories have been massive in scope and incredibly connected to other projects. The latest release, Eternals, almost had a celestial being born from Earth, killing everything on the planet! That's pretty crazy to watch and takes the subject of heroes and villains to another level.
What Hawkeye does is pull us back to Earth. We have defended the Weakest Avenger here before and for a variety of reasons. First of all, they're dedicating their time and strength to a greater good, despite no real birthright or reason to do so. Second of all, they remind us of what could happen if we ever dedicated our lives to being heroes. You'll never be the Hulk, and I'll never be Captain Marvel, but enough daydreams could give us the fighting abilities of Clint or Kate.
Their obvious abilities also make them entertaining to root for. We don't have to worry about some God coming in with a thunderbolt and being the clear winner. Instead, we get to watch some technical fighting skills and entertaining explosions. Hawkeye has only had a few fight scenes so far, but they're hinting at what's to come. And we can't wait.
You can stream the series premiere episodes of Hawkeye on Disney+ today, with new episodes premiering every Wednesday.
Readers, what did you think about the Hawkeye series premiere? Was it enough to convince you to tune in next week? Drop your thoughts in the comments!
Featured image via Disney+.
Meghan Hale is the kind of movie lover that has a "must watch" that is a mile long... and growing. When she isn't talking about the latest film and television news she is writing one of her many in-process novels, screaming film trivia at anybody who will listen, and working as a mental health care professional. Follow her on Twitter @meghanrhale for some fun theories and live reactions to all things entertainment.
Leave a comment