Eren Yeager Fortnite Skin Introduced in Fortnite Chapter 4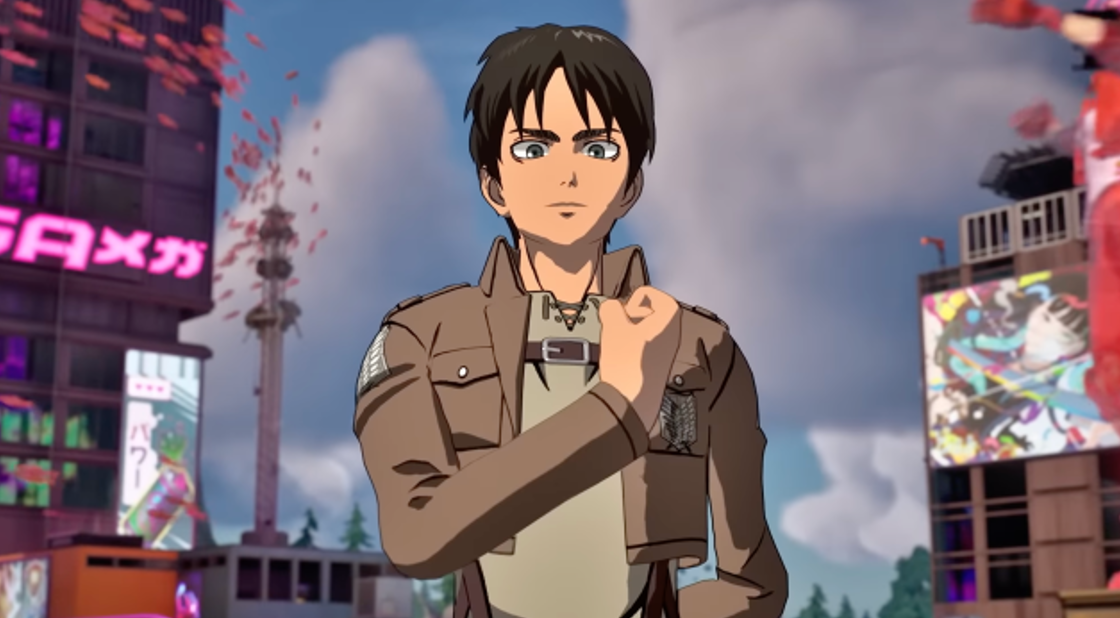 Just days after the release of new Attack on Titan episodes, Fortnite decided to create the ultimate collaboration with MAPPA Studio. The new Eren Yeager Skin will be introduced in Season 2, Chapter 4 of Fortnite! Read on to find out more about it. 
Eren Yeager Fortnite Skin Includes 3DM Gear
Fortnite just dropped the cinematic trailer for the upcoming update. This time around, Season 2 Chapter 4 will include an Eren Yeager Fortnite skin, in collaboration with MAPPA's Attack on Titan. 
The Eren Yeager Fortnite skin will be available as a Battle Pass reward. Moreover, the skin shows young Eren (likely season 1). In addition, not only can we see in the trailer how Eren moves just like in the anime, but Fortnite fans were also quick to notice that Eren is equipped with three-dimensional maneuver gear. 
Whether or not this will be a new feature in the popular game or just a seasonal thing, we don't know yet. However, the preview from the trailer looks amazing! All of the characters from the cinematic trailer are, in fact, using the vertical maneuver gear from Attack on Titan. 
This is not the first anime collaboration Fortnite created. For example, Season 8 included Naruto, Kakashi, Sasuke, and Sakura's skins. In addition, some of the popular anime characters that appeared in Fortnite include Gohan, Goku, Vegeta, Izuku Midoriya, All Might, and Katsuki Bakugo. 
On the other hand, several other popular online games also collaborated with anime studios. For example, the mobile version of League of Legends (MLBB) just dropped a collaboration with Jujutsu Kaisen! 
Why is Fortnite so popular?
Fornite is one of the OG online games. Created back in mid 2010s along with Call of Duty, Counter Strike, and some other games, it holds the throne when it comes to the number of players. 
The reason why it's so popular may be due to the fact that it suits many generations. From 7-year-olds to 40-year-olds, anyone can play it. Even if you're not a shooting/fighting fan, Fortnite has many other features. For example, you can improve your crafting skills! 
In addition, the interactive lobby makes a good place to create new friendships. This is ideal for the younger generations! It has several playing modes, such as the Battle Royale. On top of all of this, it's a completely free online game! However, keep your credit cards away – your kid can take it and buy the new Eren Yeager Fortnite skin!
Obsessed with anime, all-things magical, collecting rare editions and funko pops, Natalija is a young writer who strives to read every comic and manga out there!
Leave a comment