Fortnite Season 4 Now Live – Find Out Everything!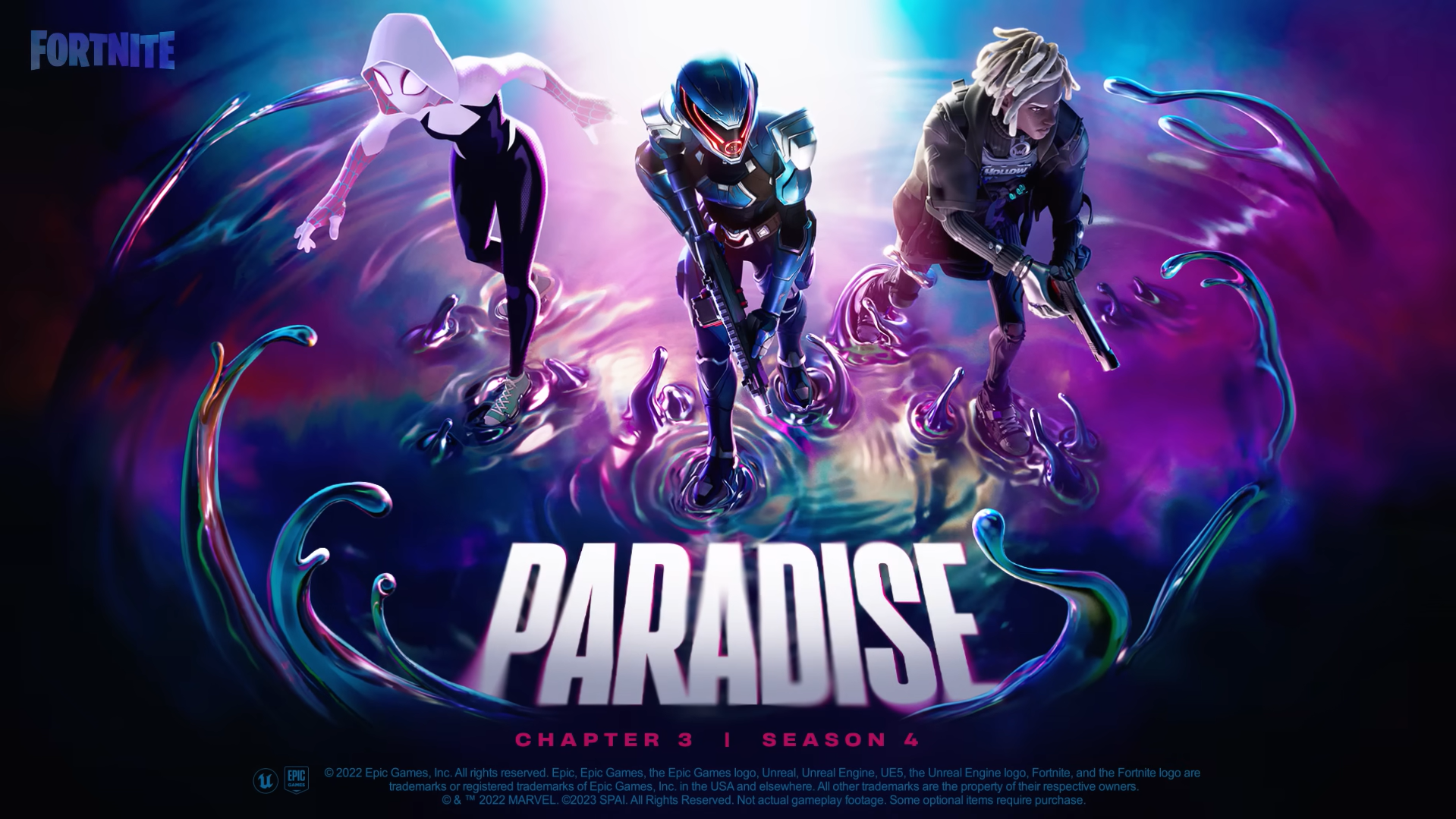 Fornite keeps its throne as one of the most popular games in the world. And, it's not hard to see why. Its community can turn even emotes into huge paychecks. And, the game keeps getting tons of new content. Today, Fornite season 4 just went live.
And, the new season brings a lot of changes, just like its predecessors. We finally get to meet Brie Larson directly. Fans have long speculated that she'd be in the game. Today, those theories become true.
Of course, that's not everything. With a new season, we get a new battle pass, gun changes, new mechanics, and more.
The new season, called Paradise, is all about the new substance: Chrome. It'll take place during Halloween. Chrome is an all-devouring substance that will spice things up regarding how you play.
Brie Larson's character finally unmasked
With the new Fortnite season 4, we get a new cinematic trailer. In it, we get to see Brie Larson's character finally unmasked. As many fans would expect, she'll be a key character in this story.
In reality, Larson has been in the game for a few months now. She's the voice of one of the Heroic Seven, Paradigm. Her debut came in the second season of Chapter 3, during the live event. She commanded players while controlling the bear mech.
Since then, she's popped several times. We've heard her in audio logs and chatter during the weekly missions. However, season 4 marks the first time we see her officially with her helmet off.
Epic Games had been quiet about Larson's involvement. It quickly led to fans speculating about her role in the story.
Naturally, fans quickly found out that she was the voice behind the character. As many know, Larson is actually a big fan of Fortnite. Now, players get the confirmation that they were right all along.
What's new in Fortnite Season 4?
Well, the most intriguing addition is Chrome. It's a mysterious metallic liquid that's devouring the map. As you might expect, it'll play a huge role in this season. And, it's not just because of its significance in the story.
Chrome will have strong effects on the gameplay. You can turn structures and yourself into Chrome. Doing so will enable you to walk through walls. So, you can open new entryways in enemy structures.
Turning into Chrome also makes you immune to fall and fire damage. You can also use an air dash to phase through walls. That's true even for "non-Chromed" walls.
Other than chrome, two new themed weapons are entering the game. They're the Evo Chrome shotgun and burst rifle. Most weapons are also returning. The exceptions include the pump and auto shotgun, revolver, and heavy sniper rifle.
For long-range enthusiasts, we also have great news. Sniper Rifles are getting buffed this season. For the available sniper rifles, both damage and headshot multiplier got increased.
The Condo Canyon became the Cloudy Condos. You can launch yourself into the floating platforms now. The map got autumnal now. Plus, players have four biomes to play in.
Other additions include the Chrome splash and vaults. The former turn walls and players into Chrome. The vaults are unlockable with special keys around the map.
New goodies in the season's battle pass
Epic Games also revealed the new battle pass in the trailer above. The Fortnite season 4 battle pass includes over 100 rewards. That includes eight new characters with alternate styles. Other rewards are loading screens, pickaxes, emotes, and more.
Moreover, players can get six new skins, plus a secret one.
Of course, the main skin is Brie Larson's Paradigm without her helmet on. Hollow is the next one, a goth dude with Chrome hands for mining. Twyn is a 2-in-1 package with a male and female variation.
Those are the more "normal" skins, though. The battle pass also brings new experimental skins for players.
Firstly, we have The Herald, the Chrome-controlling villain for the season. Grizz is a small bear inside a larger one. He controls it with a video game controller. Meow Skulls is the emo version of Meowscles. And, Lenno Rose is an anime-style skin with alternate colors.
Finally, there's Spider-Gwen. It's the featured crossover skin for the battle pass. However, it'll be a tough unlock.
Leave a comment