Silo Season 2 Gets the Green Light
Attention, sci-fi fans! Brace yourselves for the triumphant return of the dystopian drama Silo, with Apple confirming the renewal for Silo season 2. Accordingly, this thrilling news sends a wave of anticipation to fans worldwide.
This amazing series, from the brilliant mind of Graham Yost and inspired by Hugh Howey's famous Wool novels, swiftly took the TV landscape by storm. Also, the leading ladies, Rebecca Ferguson, and Rashida Jones, bring their charismatic talents to the screen. They breathe life into two tough women surviving in an apocalyptic future. In this dystopian show, the last 10,000 earthlings build their society within a massive underground silo. Talk about a unique storyline!
Also, Matt Cherniss, head honcho of programming for Apple TV Plus, shows a similar thrill over Silo's staggering success. He said, 
"It has been enormously fulfilling to see the engrossing, atmospheric, and beautifully crafted sci-fi epic Silo quickly become Apple's number one drama series. As audiences around the world have become gripped by the mysteries and conspiracies buried within this fascinating subterranean world, viewership only continues to climb, and we are so excited for more secrets of the silo to be revealed in season two."
But that's not all! As the secrets start to surface and the plot thickens, viewership keeps going up. In fact, it's pretty exhilarating to think about what we'll see in Silo season 2. So, we just can't wait!
Originally, Silo debuted on May 5, and viewers were immediately in love. What's even more exciting? Apple announced Silo season 2 just before the release of its eighth episode. So, isn't that exciting?
On top of all this, Silo flaunts a star-studded cast. We've got heavyweights like David Oyelowo, Common, Tim Robbins, Harriet Walter, Rick Gomez, Avi Nash, and Chinaza Uche. What a constellation of talent!
Is there Silo season 2 coming?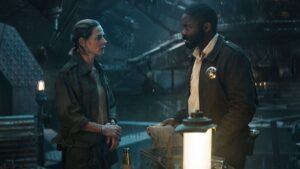 Image: Apple TV
Also, Yost, the original creator, can hardly contain his excitement. He said,
"We cannot wait for audiences around the world to immerse themselves in the epic world we have created to bring Hugh Howey's novels to life. Apple has believed in our vision from day one, and it's an honor to have the opportunity to dig deeper into this story and peel back the layers to our characters in the Silo."
At the moment, Silo's first season captivated audiences on Apple TV Plus. It's a veritable sensation! For a glimpse into the intriguing TV line-up for 2023 and beyond, we have a comprehensive list of the best upcoming TV shows.
Before we see Silo season 2, let's review the first season. The series transports us to an underground civilization, a society grappling with a dystopian reality. The silo inhabitants strive to create a semblance of normalcy in a world without an open sky or warm sunlight. Yet, human resilience shines through as they mold a life of their own within the Silo.
Ferguson and Jones play two women who rise as pillars of hope amidst the chaos. Their characters embody the essence of human perseverance. They stumble, rise, and brave adversities – all under the shadow of the towering Silo. So, the heart of Silo lies in their journey.
Apple TV Series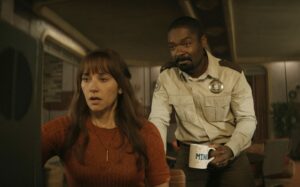 Image: Apple TV
As the plot evolves, secrets are unearthed, relationships are strained, and conspiracies come to light. Naturally, it's a whirlwind ride that leaves the audience craving more. More is precisely what we'll get with Silo season 2!
So, hold onto your hats, folks. Silo season 2 is set to return with more secrets, plot twists, and drama. Plus, with a deeper exploration of the characters and the captivating narrative of Silo, it's poised to be a must-watch. Apple TV Plus is pulling out all the stops, and we can't wait to see what's in store! If the cliffhanger from Silo season 1 is any indication, Silo season 2 promises to be an adrenaline-packed experience. So gear up for another season of gripping, heart-stopping sci-fi action!
Hi! I'm Arvyn, and I'm an English teacher from the UK. I've been teaching English online for over 4 years to students from all across the world and all ages. Outside of work, I'm a huge fan of reading, video games, and playing with my adorable kitties. See ya!
Leave a comment