Quinlan Vos Survived Order 66 Speculation
It's been non-stop fun for Star Wars fans recently! Not only did we get Star Wars day recently, but fans have also been enjoying the new Obi-Wan Kenobi TV series. In episode 3 of the series, we got a hint at a possible storyline. It seems that Quinlan Vos survived Order 66! Naturally, there are spoilers ahead for episode 3 of Kenobi.
Who is Quinlan Vos?
Image: Lucasfilm/Disney
Before we get onto how Quinlan Vos survived appears to have survived Order 66, we'll quickly run through a history of this character. Quinlan Vos was one of the most powerful Jedi leaders. He worked alongside famous faces like Obi-Wan Kenobi and Anakin Skywalker during the Clone Wars. Later, Quinlan was part of a mission to kill Count Dooku, which ultimately failed and caused some other problems for the Jedi.
However, unlike some of the other Jedi members, Quinlan was not afraid to tap into the Dark Side of the Force. In fact, doing this helped Quinlan Vos with his special abilities. He was able to use psychometry, along with the Force, to help him understand the history of an item. By doing so, Quinlan became a powerful tracker but always stayed true to the Jedi Order. Although he tapped into the Dark Side, Quinlan never wavered away from the true nature of the Jedi.
During Order 66, the original canon states that Quinlan Vos was on Kashyyk. However, many theories suggest that Quinlan had a greater role. In fact, it seems that he may have helped in rescuing Grogu from The Mandalorian. If this is true, then it would mean there's another way that Quinlan Vos survived Order 66.
How did Quinlan Vos survive?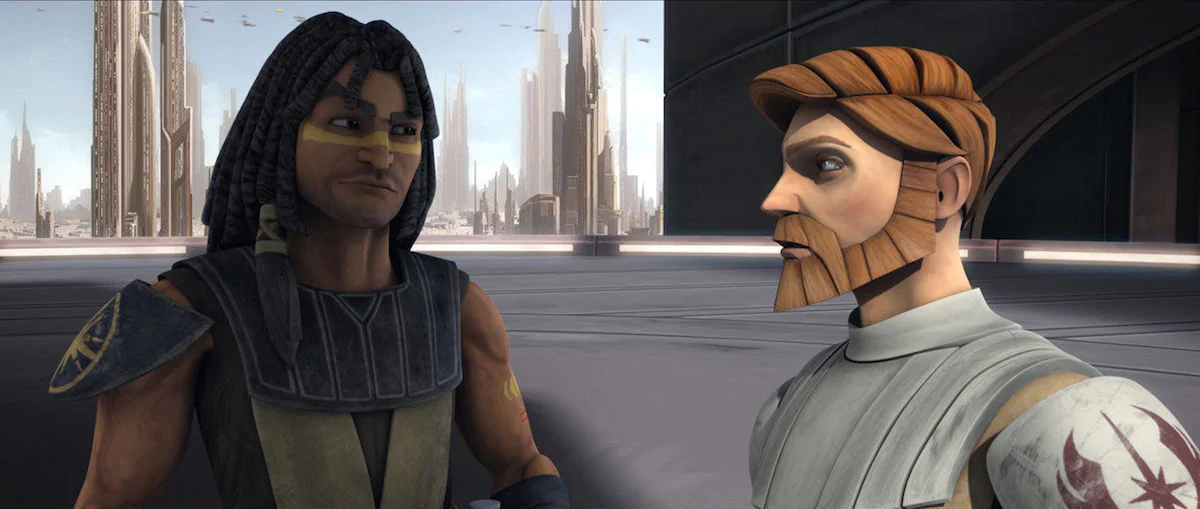 Image: Lucasfilm/Disney
We already know that Quinlan Vos survived somehow from episode 3 of Kenobi. In this episode, we saw the names of different Jedi as being part of "The Path." This was a way of saving any allies to the Jedi and protecting them from the evil Empire and Emperor Palpatine. So, seeing Quinlan's name, there is definitive proof that he survived Order 66. He also continued to work beyond Order 66 by helping Younglings and other Force-sensitive individuals.
But how did he do this? Well, according to some rumours, it's because he had a hand in rescuing Grogu. If Quinlan Vos rescued Grogu, this would mean he was on Coruscant. At the time of Order 66, Grogu was in the Jedi Temple, and the other Jedi members were taking care of him. Obviously, this means that Quinlan Vos couldn't have been on Kashyyk, which is a huge change to canon.
One idea suggests that Quinlan Vos survived because he sensed how important and powerful Grogu was. He realised that Grogu could have the power to restore the Jedi Temple. So, Quinlan rescued Grogu from the clutches of the Clone Troopers and fled. If this is true, it's possible that Grogu used some of his Force powers to help Quinlan, too.
Equally, another rumour suggests that Quinlan was on Kashyyk, as originally thought. When Order 66 happened, he missed Obi-Wan's message and fled to the Jedi Temple. Later, he used his Jedi powers of psychometry and saw that Grogu was held in an Imperial building. Quinlan went to the building, rescued the little green guy, and kept him safe.
Grogu and The Mandalorian
Image: Lucasfilm/Disney
Whichever of these rumours ends up being true, there's one thing that they both agree on. When Quinlan Vos survived the assault of Order 66, he helped to create the Path. As such, it's clear that he is one of the most important members of the Jedi Order's history. We heard Obi-Wan talk about Quinlan Vos directly, and we also got some hints that he helped rescue some other Force-sensitive individuals.
Having Quinlan return in a future episode, even as just a flashback, would be a great way to make things come full circle. It would be even better if we found out that he was the one who rescued Grogu since he's such an underrated character.
What do you think? Will Quinlan Vos return? How do you think he survived Order 66? Let us know your thoughts in the comments below!
Hi! I'm Arvyn, and I'm an English teacher from the UK. I've been teaching English online for over 4 years to students from all across the world and all ages. Outside of work, I'm a huge fan of reading, video games, and playing with my adorable kitties. See ya!
Leave a comment