Assassin's Creed Mirage Steam Release: A Mirage Indeed?
Wow! It's a great time to be an Assassin's Creed fan! Ubisoft just dropped the trailer for the next entry in the series. It's called Assassin's Creed: Mirage! Unfortunately, it's not all good news. Some reliable sources say there might not be an Assassin's Creed Mirage Steam version. Yup, you read that right! Despite the recent comeback of Ubisoft games on Steam, this newest title might not follow suit.
Before we get all caught up in the absence of Assassin's Creed Mirage Steam, let's first talk about what we know about the game itself. The new gameplay trailer gave us some tantalizing tidbits about the new game, so let's sink our teeth into those momentarily.
First off, Mirage will transport us into the mystic realm of ancient Persia. We'll follow the journey of Basim. You might recognize them from Assassin's Creed. He's as swift as a desert wind and as deadly as a scorpion's sting! In addition, Ubisoft, known for its sprawling game worlds, seems to raise the bar with Mirage.
Next up, let's discuss the intriguing gameplay mechanics of Assassin's Creed Mirage. It's evident from the trailer that the game has evolved by leaps and bounds. The game really emphasizes some new stealth mechanics and the ability of choice. You can really choose how to assassinate your victims now!
However, despite all the hype and excitement, the speculation of there being no Assassin's Creed Mirage Steam port feels like a wet blanket. Especially since Ubisoft started cozying up to Steam again, many of us hoped Mirage would follow the trend. Unfortunately, the list of platforms on Ubisoft's official site for Mirage begs to differ.
Will there be an Assassin's Creed Mirage Steam port?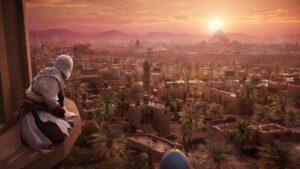 Image: Ubisoft
Featuring platforms like PLAYSTATION®5, PLAYSTATION®4, XBOX SERIES X|S, XBOX ONE, UBISOFT CONNECT, LUNA, and EPIC GAMES, there's a noticeable absence of Steam. A tough pill to swallow for us Steam loyalists, isn't it?
Now, look at the brighter side. Despite the gloomy prospect of an Assassin's Creed Mirage Steam release, there's no denying that Mirage is looking to be one of Ubisoft's most ambitious ventures yet. Just one look at the gameplay trailer, and it's evident that Ubisoft has yet again pushed the boundaries of gaming.
The whole scenario surrounding the Assassin's Creed Mirage Steam release could be a strategic move. Perhaps Ubisoft aims to boost sales on its own platform, Ubisoft Connect, or rival platforms like the Epic Games Store. Or maybe, just maybe, we'll see a surprise Steam release down the line.
Remember, though, all this is conjecture. We might just wake up tomorrow to an announcement of Assassin's Creed Mirage launching on Steam. Until then, all we can do is wait for the official word from Ubisoft.
To wrap things up, let's remember the game for what it is. Assassin's Creed Mirage promises to deliver exhilarating gameplay, a captivating narrative, and an immersive gaming experience. Isn't that why we game, after all?
So, folks, keep those controllers handy and your gaming PCs primed. Whether it graces Steam or not, this new title is set to offer us an unforgettable gaming journey. We might not see Assassin's Creed Mirage Steam just yet, but it sure seems ready to dazzle us with its gameplay.
Finally, here's hoping that we'll see Assassin's Creed Mirage grace Steam sooner rather than later. Until then, keep your gaming spirits high and your anticipation higher. Remember, it's the love of the game that keeps us hooked, Steam or not!
Hi! I'm Arvyn, and I'm an English teacher from the UK. I've been teaching English online for over 4 years to students from all across the world and all ages. Outside of work, I'm a huge fan of reading, video games, and playing with my adorable kitties. See ya!
Leave a comment