Assassin's Creed: Mirage trailer reveals plot and characters
The creators of 'Assassin's Creed' will officially offer sort of a 'reset' with the newest release titled 'Assassin's Creed: Mirage'. Ubisoft creators revealed many juicy details in the latest trailer. For one, the game is not going to be open world. Instead, we will have missions, loads of combat and roaming around Baghdad, just like the original 'Assassin's Creed'. 
Don't get me wrong: the open-world versions 'Assassin's Creed: Valhalla/Odyssey/Origins' have been amazing, but the initial game was based on adventures, missions, and city roaming, not RPG. This is why 'Assassin's Creed: Mirage' is going to be a lovely tribute to the old days, when most of us needed 2 DVDs in order to run the game *cries in Millenial*. 
Assassin's Creed: Mirage, photo by Ubisoft
'Assassin's Creed: Mirage' storyline
Ubisoft recently dropped a full trailer for 'Assassin's Creed: Mirage', giving us a preview of the mesmerising setting of Baghdad, refined combat and parkour skills, and even characters. The game takes place in the 9th century, more precisely in the year 861. Fun fact: In order to recreate the setting of Baghdad as lively as possible, Ubisoft creators utilized Samarran historical documentation. 
Baghdad will be a significantly smaller map than the previous versions of 'Assassin's Creed'. Just like in the first editions of the game, parkour and stealth are going to play an important role of the gameplay. The trailer showed us the possibility of climbing up the buildings, jumping across roofs, kicking off the walls, and much more parkour options. 
Characters 
The main character who will lead us across Baghdad in 'Assassin's Creed: Mirage' will be Basim (full name Ibn Is'haq). While he had already appeared in the previous versions such as 'Assassin's Creed: Valhalla', this time the game will show Basim in a lot younger state. In Mirage, Basim is a young street thief. Mirage will follow his ascent from being a thief to eventually becoming a master assassin himself. 
Apart from Basim's journey to becoming an Assassin, Ubisoft creators promised to give us more details and insight as to who the Hidden Ones actually are. The Hidden Ones is an ancient organization created by Aya and Bayek. Apart from this detail revealed back in 'Assassin's Creed: Origins', their story has sort of been sidelined. 
The second character revealed on the Ubisoft website is Roshan. Roshan is a female warrior, who lived most of her life under oppression. This time, she will take Basim as her apprentice, and guide him into the world of assassination.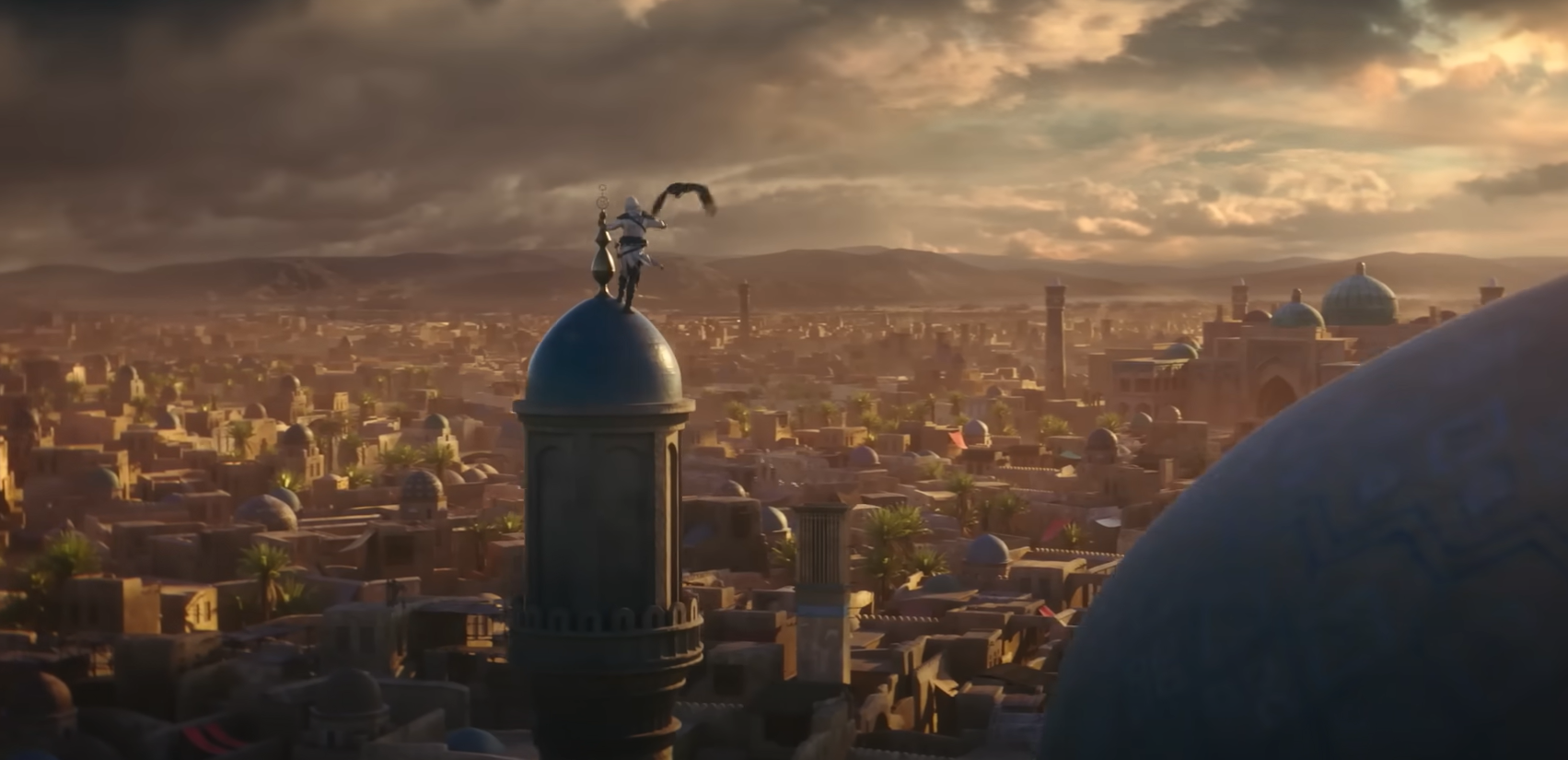 Assassin's Creed: Mirage setting, photo by Ubisoft
Baghdad Map 
Unlike the open-world version, 'Assassin's Creed: Mirage' will be solely based in one city: Mirage. Mirage is located in Baghdad. In the upcoming game, Baghdad is split into five areas. The main area is The Round City, which is the center of Baghdad. It is surrounded by areas such as Karkh, the industrial zone, as well as Science, Trade, and Military Districts).
This design of Baghdad and its five areas will allow players to roam these areas individually, no matter what mission they are on. However, there is a downside to the upcoming 'Assassin's Creed: Mirage'. However, many fans will find it strange when they find out that they can't roam Alamut freely. The players will, however, be able to go to the Assassins' headquarters Alamut.
'Assassin's Creed Mirage' Release date & Availability
While we don't have a release date yet, it is officially coming in 2023. 'Assassin's Creed: Mirage' will immediately be available on Xbox One, Xbox Series X, as well as PlayStation 4 and PlayStation 5. The PC version will quickly follow. Upon the initial launch, the game will be available in three editions (Standard, Deluxe, and Collector's Case).
Obsessed with anime, all-things magical, collecting rare editions and funko pops, Natalija is a young writer who strives to read every comic and manga out there!
Leave a comment