KOTOR Remake News – Cause of Problems Revealed (Rumor)
So, we've got some intriguing KOTOR remake news to discuss. Rumor has it that the highly anticipated Knights of the Old Republic (KOTOR) remake faced a few hurdles due to its supposed lack of cinematic appeal. Can you believe it?
So, where did this rumor originate? Well, according to allegedly leaked information from developers at Aspyr, a video by the YouTube channel 100% Star Wars spilled the beans. Now, we all know rumors can be as unreliable as a malfunctioning hyperdrive, but let's dive into the speculation and see what we can uncover!
Let's begin by acknowledging the reputation Sony has garnered for its cinematic storytelling in action-adventure games like God of War, Uncharted, and The Last of Us. Their standards have set the bar high.
Now, here's the interesting part. In an exciting piece of KOTOR remake news, Aspyr developed the gameplay, and it reportedly had turn-based elements, much like the Final Fantasy VII Remake. However, it seems the cinematic presentation didn't live up to Sony's games' seamless, movie-like experiences.
Apparently, Sony's reaction to the less-cinematic approach caused quite a stir within Aspyr. In an attempt to please their valued partner, they made a regrettable decision. They fired the game's design director and art director, the very individuals responsible for its look and feel.
This sudden turn of events came as a shock to Aspyr's employees. Until then, the KOTOR remake's morale was soaring high. The studio had a tight-knit atmosphere akin to a family unit, with some gaming industry veterans even hailing it as the best team they'd ever worked with.
KOTOR Remake News and Rumors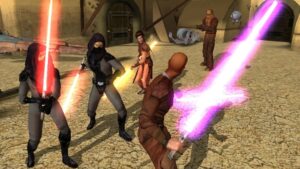 Image: Aspyr
Unfortunately, here comes some sad KOTOR remake news. The firing of the directors and subsequent fallout took a toll on Aspyr. Bloomberg's controversial article fueled the fire, depicting a doomed remake. While some aspects of the article were true, the writer did exaggerate some of the other claims for clicks.
As the situation unfolded, Aspyr found itself in a state of limbo. Employees didn't know anything when Aspyr paused development. Eventually, they shifted major positions within the project to other studios. This was under the umbrella of Saber Interactive, the parent company of Aspyr.
Despite the setbacks, franchise fans were still curious about the gameplay, features, and KOTOR remake news. According to insiders, the gameplay resembled the Final Fantasy VII Remake, and most of the original voice actors returned, except for a few who had sadly passed away.
While they didn't make any significant additions to the game, they did expand existing elements. They gave companion storylines, romances, and questlines more depth and variety. The overall narrative remained faithful, but Aspyr expanded it, promising a captivating experience for players.
As we move into the middle of the year, there's more KOTOR remake news. Saber Interactive is reportedly handling the development of the KOTOR remake. Despite speculation from various sources, including industry insiders like Jeff Grubb, the game is still believed to be in progress.
Even so, it's hard to say whether Aspyr should have been given a chance to continue working on the KOTOR remake or if the shift to Saber Interactive was right. The future remains uncertain, but for now, all we can do is eagerly await official updates and keep our hopes high for a game that pays homage to this beloved Star Wars classic.
Hi! I'm Arvyn, and I'm an English teacher from the UK. I've been teaching English online for over 4 years to students from all across the world and all ages. Outside of work, I'm a huge fan of reading, video games, and playing with my adorable kitties. See ya!
Leave a comment