New Sony Games Coming (Rumor)
So, it seems that there's something sizzling on the gaming grapevine, and no, it's not just your GPU heating up. We're talking about new Sony games. A flurry of rumors has our Discord servers popping! The source? None other than the renowned leaker, The Snitch. According to our mysterious friend, Sony's got multiple unannounced game titles and a AAA PC port ready for a July release.
First, let's just sit back and appreciate the magnitude of this rumor. We all know Sony has a knack for keeping us on our toes. With these new Sony games, they've seemingly outdone themselves. So let's dive into this juicy gossip!
It all kicked off on a regular day on Discord. Suddenly, The Snitch dropped a bomb. According to this notorious leaker, Sony is sitting on a trove of unannounced game titles. Can you believe that? A treasure chest of new Sony games is potentially just waiting for us.
Their exact words were:
"Guys. I know some announcements that were not announced during the showcase. It's super super weird. For example a PC port which is coming on July."
Moreover, they didn't stop at that. One Discord user asked the Snitch if any of the games were AAA. And the word is, according to Snitch, they've got a AAA PC port set to release in July. Now, that's enough to get any PC gamer's heart racing! 
In all this excitement, let's not forget our good ol' pal, Tom Henderson. The Snitch's whispers perfectly align with Henderson's musings. Just a while back, Tom said in a stream that Sony had some secret trailers up their sleeves. He's seen them, and boy, does he seem excited! So, are these the new Sony games he was hinting at? It seems pretty likely!
What are the new Sony Games?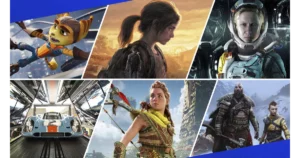 Image: PlayStation
Now, all this sounds super exciting. But there's always a grain of salt to be had with any leak or rumor. Yes, The Snitch and Henderson have proven reliable in the past. But until Sony drops the official word, it's all speculation.
Just imagine, though, if all this turns out to be true! A ton of new Sony games would surely shake up the gaming scene. And that AAA PC port could be a game-changer. Could Sony be looking to make bigger waves in the PC gaming market? It's a compelling thought, for sure!
Look, it's only a matter of time until Sony spills the beans. Meanwhile, we've got this delicious rumor to nibble on. So keep your controllers charged, your PCs ready, and your eyes on the lookout. This summer, the world of new Sony games might blow our gaming minds!
Oh, and while we're waiting for more official news, why not guess what these new titles could be? Drop your thoughts in the comments below! Let's keep this hype train rolling, folks!
So there you have it, fellow gamers. Sony's secret stash of game titles and a AAA PC port, possibly dropping this July. Are we in for a gaming feast this summer? I guess we'll just have to wait and see! Until then, keep gaming and stay tuned for more updates on these mysterious new Sony games!
Hi! I'm Arvyn, and I'm an English teacher from the UK. I've been teaching English online for over 4 years to students from all across the world and all ages. Outside of work, I'm a huge fan of reading, video games, and playing with my adorable kitties. See ya!
Leave a comment