Wednesday First Images Revealed, The Addams Family is Back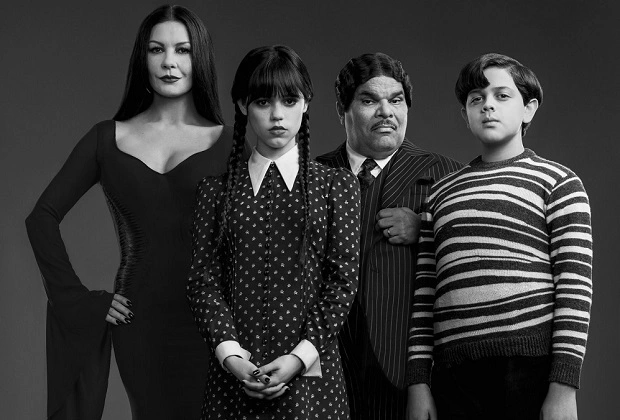 The Wednesday series has fans on edge with high expectations. Netflix brings us a reboot of The Addams Family Wednesday on Netflix Wednesday's first images revealed have not left fans indifferent. This franchise comes with everything, and this series is one of the first products that bring us in a long time. Now we know who will play the characters.
The Addams Family Wednesday on Netflix is Back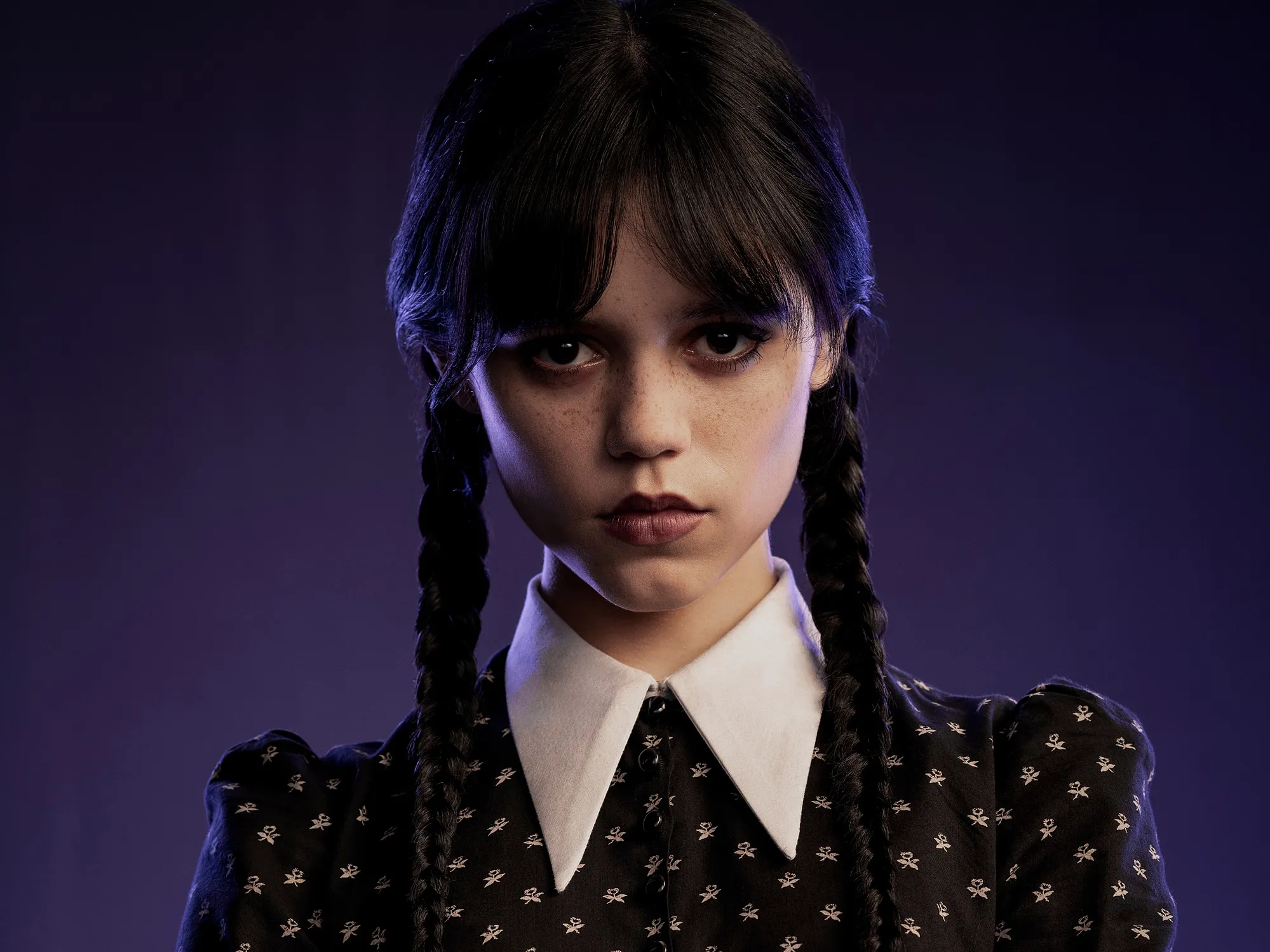 Netflix Streaming Services
The first images of Addams Family Wednesday on Netflix in the series are revealed, headed by Merlina, all through a small teaser. Netflix recently unveiled a picture of the whole family through its official Twitter account.
This first image shows Merlina (Wednesday) played by Jenna Ortega, Morticia by the hand of Catherine Zeta-Jones, Gómez(Gomez) starring Luis Gúzman, and finally, we have Pericles (Pugsley).
In Addams Family Wednesday on Netflix first images revealed, Morticia is presented in a fitted black suit that radiates sensuality. Gómez wears a typical elegant suit. Pugsley appears in ankle-length black pants and the typical horizontal striped sweater. And Merlina is in a black and white polka dot suit with a white collar.
Who was in charge of the photo shoot was the magazine "Vanity Fair". Sharing with fans on their official Instagram account a fragment of the interview conducted with Miles Millar, the co-creator of Addams Family Wednesday on Netflix.
Millar revealed that this new series does not seek to replicate the historic show of the 60s. On the contrary, it aims to create an 8-hour movie in the style of Tim Burton. Thus, there are high expectations for this new Netflix production.
Who's who in the new Adams Family series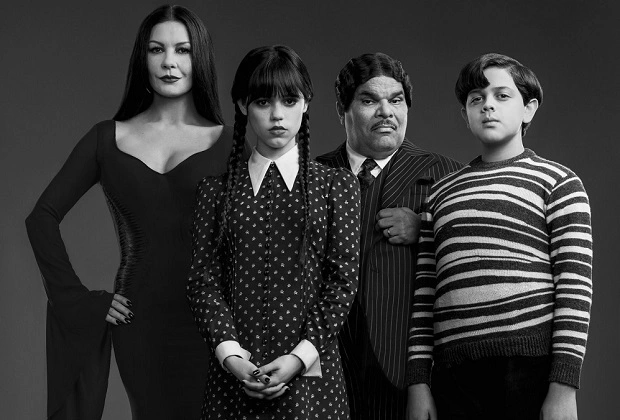 Image: Netflix
The creative part of the new Addams Family Wednesday on Netflix series will be directed by Tim Burton, focusing its plot on Merlina and her early years as a student at Nevermore Academy. This focus can be seen in Wednesday's first images revealed.
Merlina plays the eldest daughter of Morticia and Gomez. The series must learn to control her nascent powers and psychic powers, in addition to trying to find the truth about a murder spree involving her parents. This character will be played by an American actress of Puerto Rican and Mexican descent, Jenna Ortega. 
She has extensive experience in horror and dark productions. She was part of the first X and Scream cast in 2022. In this regard, Vanity Fair magazine tells us that Merlina's relationship will be key in the series, especially with her mother Morticia and her brother Pericles.
Addams Family Wednesday on Netflix first images revealed that actress Catherine Zeta-Jones will play Morticia. Known in Hollywood for works such as Red 2, No Reservations, and The Mask of Zorro. This beautiful and elegant wife of Gómez brings us a tragi-comic plot, next to her children Merlina and Pericles, where we may find very intense demonstrations of affection as in other adaptations.
Father Addams (Gómez) is Luis Gúzman, an actor of Puerto Rican origin who is well known for the extensive trajectory in different series such as Netflix's "Narcos". He will be presented to us with an unusual appearance for fans. But will retain the elegance and poise that characterize him.
The publication of the magazine mentioned above gives us a hint of what that relationship will be like, with Merlina joking about how she used a stretcher on her brother, not achieving the effect she hoped for, a noticeable growth in the boy.
A New Approach to the Adams family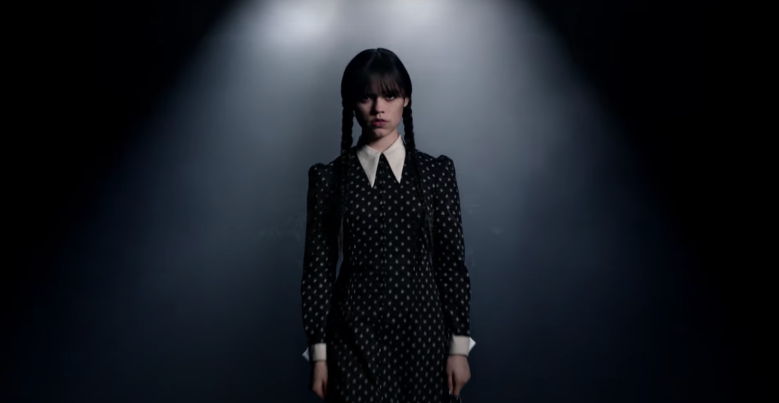 Image: Netflix
Addams Family Wednesday on Netflix showrunners will keep the characters as close as possible to the original version in this new version. In its beginnings, the creator was Charles Addams in "The New Yorker". Where he published the stories of this atypical family. Wednesday's first images show that fans will respect this peculiar family's tone and original essence.
The series will be available on Netflix this fall of 2023. It will have eight episodes in this first season that narrate the life of the teenager Merlina in the Nevermore Academy.
Its author reveals that "The style of the series is incredibly elegant and romantic and I think it has all the classic Gomez ingredients we've seen before," as well as adding his touch in this new version. That's why we hope Addams family fans will receive it well. No doubt Addams Family Wednesday on Netflix first images have pleased fans, and the series promises to be a product up to standards.
Featured Image Via Netflix Streaming Services
Leave a comment