Hawkeye Episode 3 Spoilers Review – That's Some Sharp Shooting
It would be easy to feel like we've been getting too much content from Marvel Studios these days. In the span of less than a year, we've been blessed with multiple series, films, and behind-the-scenes footage. And there's still more to come before we change our calendars next month! Even with this overabundance, Hawkeye episode 3 reminds us of why we're still so desperate for more. And that's because despite fitting within the same superhero genre, each property manages to keep it innovative and unique in its excitement. And Hawkeye keeps proving why the titular character deserves his title as an Avenger, and how he's been wasted up until now. In this spoilers review of episode 3 of Hawkeye, we'll dig into all of the action and talk about what might be coming next.
You've already read that all-important word: spoilers. So, make sure you've watched the episode before reading on!
Hawkeye Episode 3 Spoilers Review – There Is A Lot Of Personality In All The Action
Our series premiere episodes left Clint Barton and Kate Bishop in a sticky situation. Tied up and surrounded by members of the Tracksuit Mafia, led by Maya Lopez, we knew that our heroes would need to come up with a clever way to escape. The new episode opens with one of the most touching scenes of the series up until now, rather than checking in with Clint and Kate. We get to learn Maya's backstory immediately, giving some emotional force behind what's to come.
The Echo origin story shows us a young Maya. She is forced to grow up in a school for children who are not deaf like her. While it may seem like the odds are stacked against her, Maya immediately proves that she's a force to be reckoned with when it comes to brains and brawn.
As with many of our main characters, Maya has a tragic backstory that involves her beloved father getting killed by Ronin. This explains why she's desperate to get back at Clint and Kate, the ones who obviously know something about the murderous character.
In addition to seeing Maya's deceased father, the world also gets a glimpse at her uncle. Or, at least a glimpse of her uncle's hands. The internet is already going wild with theories that it's Wilson Fisk, but we think it's Mephisto. Just kidding, we'll dig into why it's probably Fisk in our predictions and theories section below.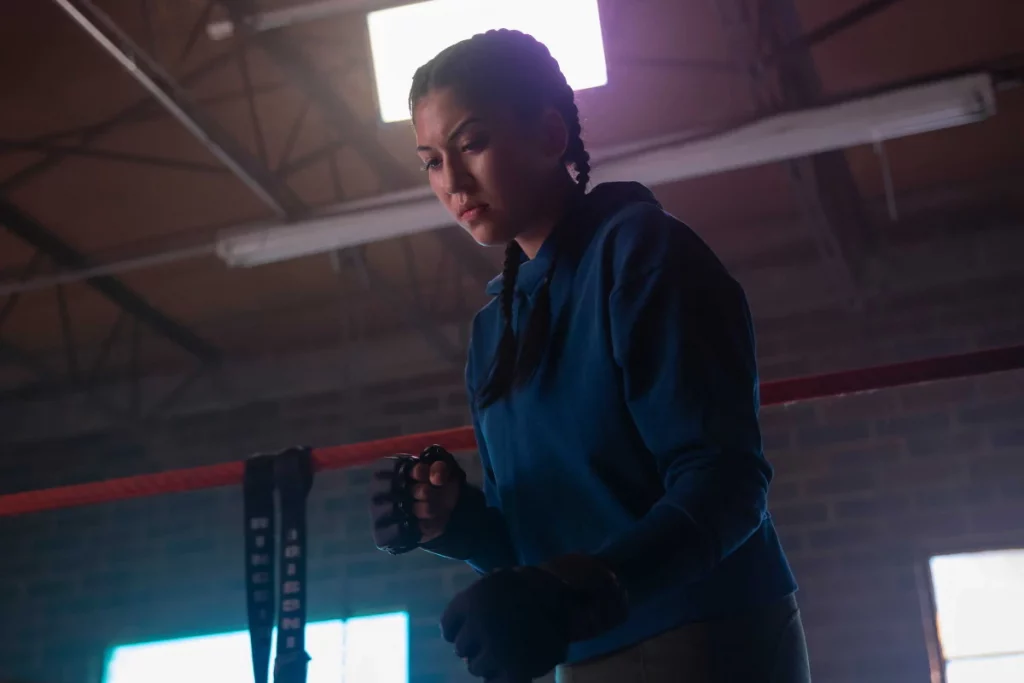 Image via Disney+.
Back In Action
We aren't ready to hate Maya after her origin story. She seems pretty badass, and we can't be mad at that. But we do still need to keep rooting for Clint and Kate, a duo who could never go down without a fight. After an impressive escape plan organized by Barton, they end up on a highspeed chase throughout New York. The scene is one that was shown in previous before the series even dropped, but some hidden moments and important context were missing.
Notably, Barton is now without his hearing aids. After it is squashed by Maya, who believes that he'd be better off without it, the entire action sequence is done without proper communication between our archers. While this provides challenges for them, it leaves the viewers with more than a few chuckles. Their exchange on the subway left me laughing out loud, which doesn't happen very often during these Marvel Studios series on Disney+. WandaVision made us cry, The Falcon and the Winter Soldier made us reflect, Loki broke our hearts, but we're finally laughing again.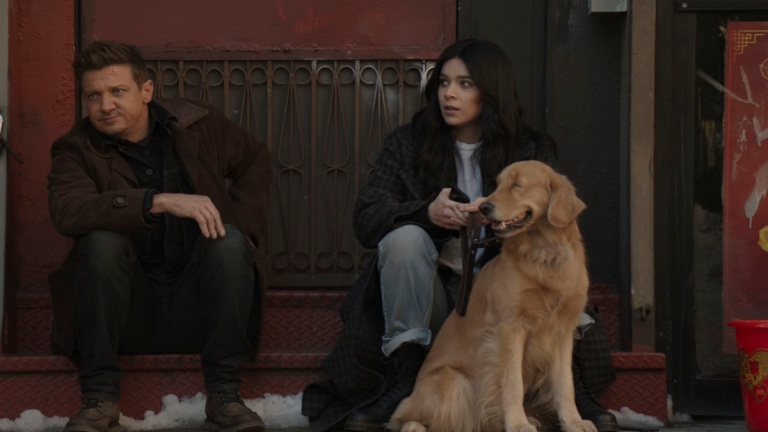 Image via Disney+.
The Action Is The Center Of This Episode
After making sure that they take Pizza Dog for a walk, Clint and Kate head out to get the former's hearing aid fixed. Eventually, they end up back in Eleanor Bishop's penthouse due to it hosting a powerful criminal database. Not much is found before they're locked out, and Duquesne threatens them with a familiar sword.
While our shooting team is off getting stuff done, Maya is off talking secretively about her mysterious uncle. Her fellow mafia pal Kazi is especially nervous about what might happen if he joins in on the excitement.
We'll be honest: Not a whole lot happens in this episode. We learn about Maya, get a wicked chase scene, and have more reason to theorize about Kate's family, but it all happens in a short period of in-universe time. But that's alright because we have a feeling that the next few episodes are going to take us on one wild ride.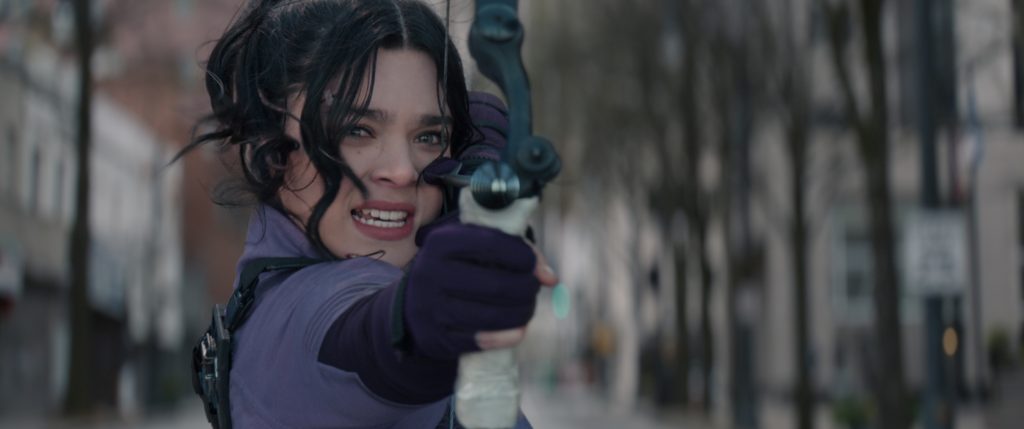 Image via Disney+.
Where Do We Go From Hawkeye Episode 3?
Hawkeye feels refreshing to our trained-for-easter-egg eyes. We aren't spending as much time focusing on all of the little clues hidden in the background like we were with WandaVision or wondering how it relates to the multiverse with Loki. Instead, we get to sit back and enjoy the ride. But this episode does leave us wanting one major reveal: Kingpin.
The man shown as Maya's uncle is clearly a pretty large guy. One might use that same descriptor for Vincent D'Onofrio's Wilson Fisk, as seen in Netflix's Daredevil. The character was already iconic, but the on-screen portrayal was next level for Marvel villains. He captured terrifying humanity from within the darkest corners of the criminal underworld, and we've been begging to see more of him.
Based on the secrecy and the later reveal of his importance by Kazi, it's safe to assume that the character will play a huge role in the future of the series. We aren't saying that it's confirmed to be D'Onofrio, or another actor in the role, but we're more confident about it than we have been with most of our Marvel predictions.
These predictions are backed up by the comics. In them, Maya was taken in by Fisk at a young age after the passing of her father (who worked for the mob boss.)
Daredevil. Image via Netflix.
A Series Ready For Kingpin And More
We're also still anticipating the appearance of Florence Pugh's Yelena. Black Widow is briefly mentioned in the episode, as it's said that she is the one to kill Ronin, but all this does is make us itch for more. Considering her nature, we're unlikely to see this one coming. Hopefully, the cool character just jumps out of nowhere in her late sister's landing pose and shows us who is boss.
Image via Marvel Studios.
We're Just Happy To Be Here
Marvel has made us feel a wide variety of emotions with its recent content. As mentioned, we've cried, smiled, and cheered. With episode 3 of Hawkeye and the promise of more excitement, this series leaves us feeling brought back to the reasons why we love comic book adaptations and superheroes in the first place. They give us something to root for, and it's something that we can see in ourselves. Having human characters with sympathetic abilities and challenges helps us identify with them, and we love them more for it.
We never expected Clint Barton to be the type to mentor somebody. Especially somebody who is just some kid to him. But the dynamic and chemistry between the partnership is humorous, sweet, and strategic. We can't get enough of them, but we can also have faith that Kate will go on to become a worthy hero even when left to her own devices.
You can stream episode 3 of Hawkeye on Disney+ today, with new episodes premiering every Wednesday.
Readers, drop your thoughts about the third episode of Hawkeye in the comments. Do you think it's Kingpin behind the mob drama? Let us know if you have a prediction that we haven't even thought of yet!
Featured image via Disney+.
Meghan Hale is the kind of movie lover that has a "must watch" that is a mile long... and growing. When she isn't talking about the latest film and television news she is writing one of her many in-process novels, screaming film trivia at anybody who will listen, and working as a mental health care professional. Follow her on Twitter @meghanrhale for some fun theories and live reactions to all things entertainment.
Leave a comment