A Spoiler Review Of The Premiere Episodes Of WandaVision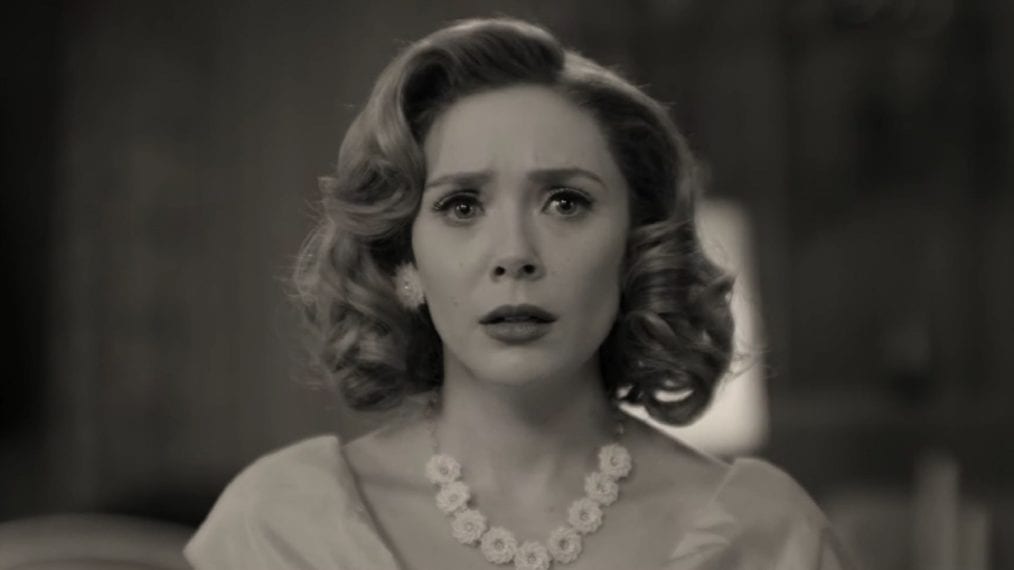 Have you ever had an overwhelmingly hectic year and found yourself wishing that things would calm down for a minute, leaving you craving mundanity? Now, imagine you're a young woman who survived insane experiments, gained wildly impressive superpowers, fought great villains, and lost your brother in the process. To say the least, you'd probably want some peace and quiet. And that's exactly what was desired when Wanda Maximoff fell in love with Vision. While they had a brief time hiding away in the honeymoon phase, these two lovers never got a real shot at a typical romance. In this spoiler review of WandaVision, we'll dig deep into how the new Disney+ show brings Wanda some fleeting peace. Even if it's all a lie.
Beware. We're spoiling everything. Haven't streamed the episodes yet, or aren't sure if you should bother watching it? Check out our non-spoiler review of the first WandaVision episodes here. But bookmark this link and come back after you watch, because–trust me–you'll have some questions.
Image via Disney+
A Spoiler Review of WandaVision – Everything That Goes Down In Episodes 1 & 2
Following a rough template of The Dick Van Dyke Show, WandaVision introduces us to a perfectly normal homemaker and her hardworking husband. Oh, except for the fact that the wife, Wanda, has telekinetic abilities. And the husband? Well, he's an android. But we already knew this. We know everything about Wanda and Vision. But these televised versions don't know anything other than their love for each other. In fact, the only reference they make to their superheroic origins is simply acknowledging that they have powers to begin with.
Wanda and Vision are new residents of Westview, which appears to be in 1950 or 1961 (based on the calendar). Ahead of a long day of work for Vision, the pair notice a heart on their calendar. In true sitcom fashion, the couple both pretend that they know exactly what the heart represents. Though, they're both caught off-guard when they discover it's a dinner party for Vision's boss and his wife. Their names? Mr. and Mrs. Hart. Hosting a dinner party for your boss is hard enough. It's even harder when you don't know how to cook (or don't eat at all, like Vision). Wanda and Vision stumble through the evening, doing their best to utilize their abilities in secret. Ultimately, the pair impresses the Harts. This might be thanks to Visions' last-minute heroism, saving Mr. Hart from choking to death on his dinner. Or it might be more sinister than that!
By this point, you're probably wondering how on earth this ties into the Marvel Cinematic Universe. A black-and-white 50s sitcom doesn't exactly scream "Marvel." It's at the end of the episode where we're snapped back into reality, as it's revealed that somebody is watching WandaVision on a TV screen. We're also granted a brand new title sequence different than the dreamy sitcom theme we got at the top.
Image via Disney+
Episode Two Pulls Us Deeper Into This Reality
With a not-too-obvious time jump, the second episode of WandaVision gives us another sitcom version of our favorite couple. For this episode, the show takes on elements from Bewitched, including a title sequence that reminds us of plenty of shows from the time. The beginnings of this episode are things we've already seen in an earlier released sneak peek. Wanda and Vision are both scared by a noise outside, which turns out to some branches against the window. While this frightens them, it appears that suburban life doesn't, as the next day they're preparing for their entry in a talent show put on by the neighborhood.
This picture-perfect town hosts various social circles that Wanda and Vision are eager to take part in. Wanda stumbles her way into a group for the town's women, which is led by an overly polite and picturesque host, Dottie. Meanwhile, Vision is cracking jokes with the neighborhood watch and fits in more than an android should. Vision, whose abilities have been impacted by an accidentally-swallowed gum piece, shows the entire town his powers. Quick-thinking Wanda uses her own magic to make Vision's look like regular old magic tricks, which ends up winning them a trophy in the end for best "comedy" performance. (Meta much, Marvel?)
After celebrating their success, Wanda looks down to learn that she is pregnant (and pretty far along, we might add.) Another strange noise catches them off guard, and a beekeeper emerges from a manhole down their street. Shocked and terrified, Wanda rewinds time to just before he had arrived. The end of the episode ends with something strange. It's not so much another time-jump, but rather the whole world turns to color. As the in-series WandaVision ends, we're hearing another voice asking Wanda who is controlling her. She's in control, but she may not be the cause of whatever is creating this TV Land.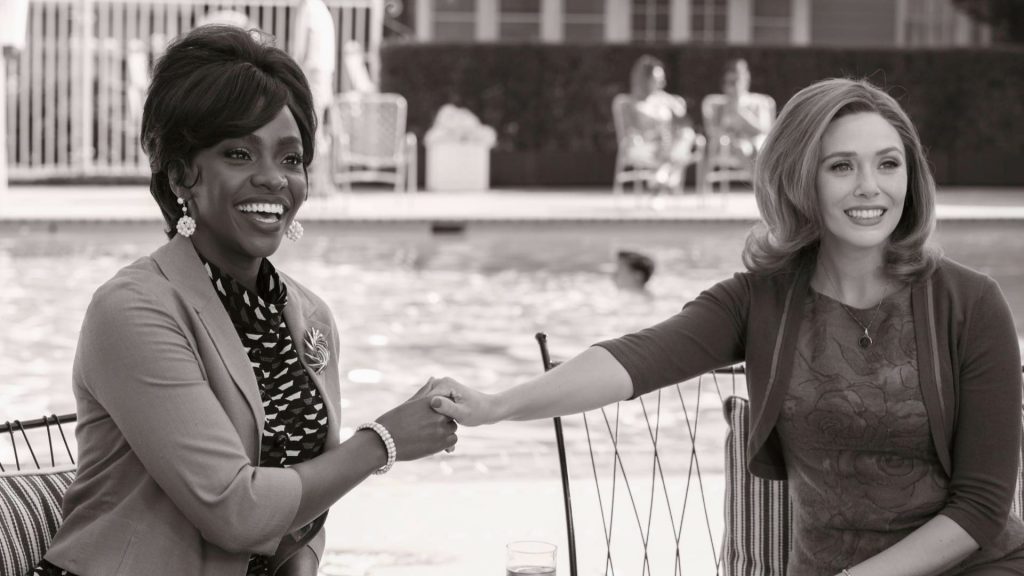 Image via Disney+.
Our Spoiler Review of Where WandaVision Might Be Going
Remember when Thanos said that reality could be whatever he wants? Well, Wanda certainly took that as a challenge. The events of this show are confirmed as taking place after the events of Avengers: Endgame. We all know that Vision didn't make it through to the end of the film (or even into the beginning, for that matter). Knowing the impressive abilities that Wanda Maximoff, a.k.a. Scarlet Witch, has, this seems to be an alternate reality where she can live out her wildest fantasies. And, as we've known, these dreams are all places where she can live happily ever after with the love of her life, Vision.
But WandaVision can't have been created just to show us what Wanda wishes her life could be. The constant interruptions in her reality are there to serve as reminders that something is up. Could she be captured? Is she using this dreamland reality as a means of escape? Or is someone trying to get information out of her or some other equally comic-book-y aim? We're a little early on in the series to know for sure, but there are a few hints to go off throughout the episode.
Let's take a look at some of the obvious clues throughout the first two episodes!
S.W.O.R.D.
We have all heard of S.H.I.E.L.D. by this point in the Marvel Cinematic Universe. This counter-terrorism agency within the world of Marvel is around to deal with threats to national security. Fans of the Marvel comics are already aware of some of the other acronyms out there, but movies-only fans have a lot to learn. The first on the list of must-knows is S.W.O.R.D. S.W.O.R.D., or Sentient Weapon Observation and Response Division, is an intelligence agency that has been created to help deal with extraterrestrial threats to security. While this agency was briefly mentioned in a deleted scene from Thor, it has yet to appear in the MCU – until now. Some believe that the post-credits scene of Spider-Man: Far From Home gave us a glimpse of the organization. Yet, they are supposed to take care of extraterrestrial threats. So, it's interesting to see them involved in whatever is going on with Wanda.
Images of a logo containing a sword are everywhere throughout the first two episodes of WandaVision. Notably, this logo is seen on the back of the beekeeper's suit at the end of the second episode, on a helicopter that Wanda finds in her bushes, and around the office of the unknown person watching episodes of the in-show WandaVision. Also, the person in the beekeeper suit is a mystery. Marvel Comics does have "beekeepers," but they are nicknames for the soldiers of villainous organization Advanced Idea Mechanics. A.I.M., as it's known, appeared in Iron Man 3 but hasn't shown up in the MCU since.
The question that remains is about how S.W.O.R.D. is connected to Wanda. She is asked who is doing "this" to her. Is S.W.O.R.D. the one doing it, or are they the ones trying to figure it out?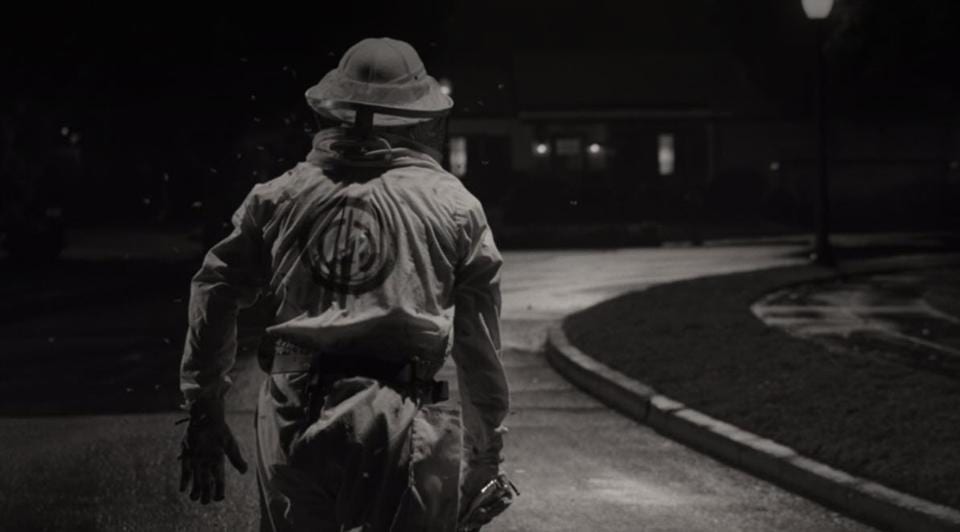 Image via Disney+.
The Grim Reaper
Over the years and various MCU films, we've come to learn that everything has a meaning. This means that each little detail can be analyzed, and odds are we'll learn something from it (even if that something is totally wrong.) This means that an incredibly brief appearance of a helmet could mean everything. During the animated intro to the second episode, we're shown all of the nooks and crannies of Wanda and Vision's home. Hidden in a crawlspace during a blink-and-you'll-miss-it transition is a spooky-looking helmet that most watchers wouldn't think anything of. Though, comic fans might notice it as The Grim Reaper's helmet.
This Marvel villain takes on the Avengers, almost winning. Losing after a defeat via Black Panther, the Grim Reaper assembles the Lethal Legion and seeks revenge.
Perhaps the inclusion of The Grim Reaper's helmet is a clue of a potential villain in the series. Or maybe it's merely an easter egg for fans to who loved the Tom King-penned series about Vision living in the suburbs, in which he played a role.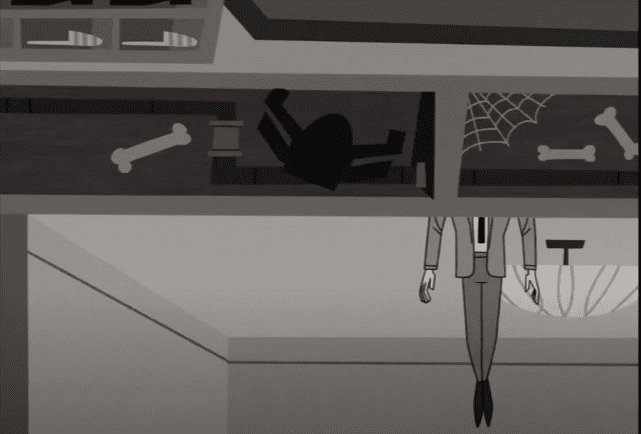 Image via Disney+.
Our Spoiler Review of Why WandaVision Has Us Hooked
Wanda is an easy Marvel character to love. She's wicked-powerful and equally charming when not in action. As such, the idea of creating a series for her to deal with the trauma of losing Vision was always an idea that had most of us on board. And as the first attempt at a Marvel television series, a lot is riding on this show. This begs us to answer the question: is it any good? Based on our spoiler review of the premiere episodes, WandaVision certainly delivers on its premiere episodes.
Most of the heroes and villains in the MCU are founded upon incredible backstories and are assisted through the world-building that's gone on for decades. Though, WandaVision, which is easily the most intimate close-up of any MCU character, needs much more than that to succeed. It needs us to fall in love with these characters. Elizabeth Olsen makes a flawless Wanda. She is confident in every step of the character, pulling us deeper into this fantasy with her. Joined by a powerhouse Paul Bettany, this is a duo that we don't want to see ripped apart.
The side characters of WandaVision have earned very little screen time as of yet. It's already clear that Kathryn Hahn's Agnes will be a fan-favorite. Her role as the enthusiastic neighbor is a little piece of realism in the madness that we're surely about to embark on. Some comics fan think Agnes is really Agatha Harkness, a magic-using character who serves Mephisto. (That's Marvel Comics' version of the devil.)
Getting pulled in to the theatrics of Marvel is easy. The set pieces are bound to be huge, the storylines intriguing, and the heartache real. But another small win for WandaVision is just how genuine and fun it is as a sitcom. You almost forget while watching that it's not just a funky spinoff of marital life when you have powers. And if Marvel is ever desperate for content (which we doubt), we'd probably tune in to weekly episodes of I Love Wanda. While this is a fun idea on its own, it also plays into the delusion aspect of it all. If these are delusions that Wanda wants to believe, and we're having an easy enough time believing it, then she's got some problems facing her when she leaves this world.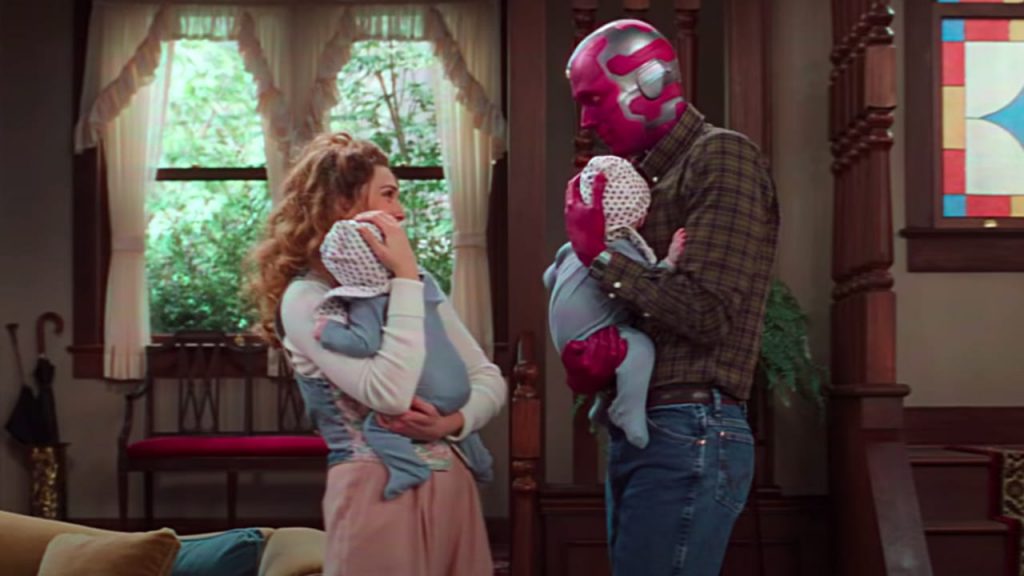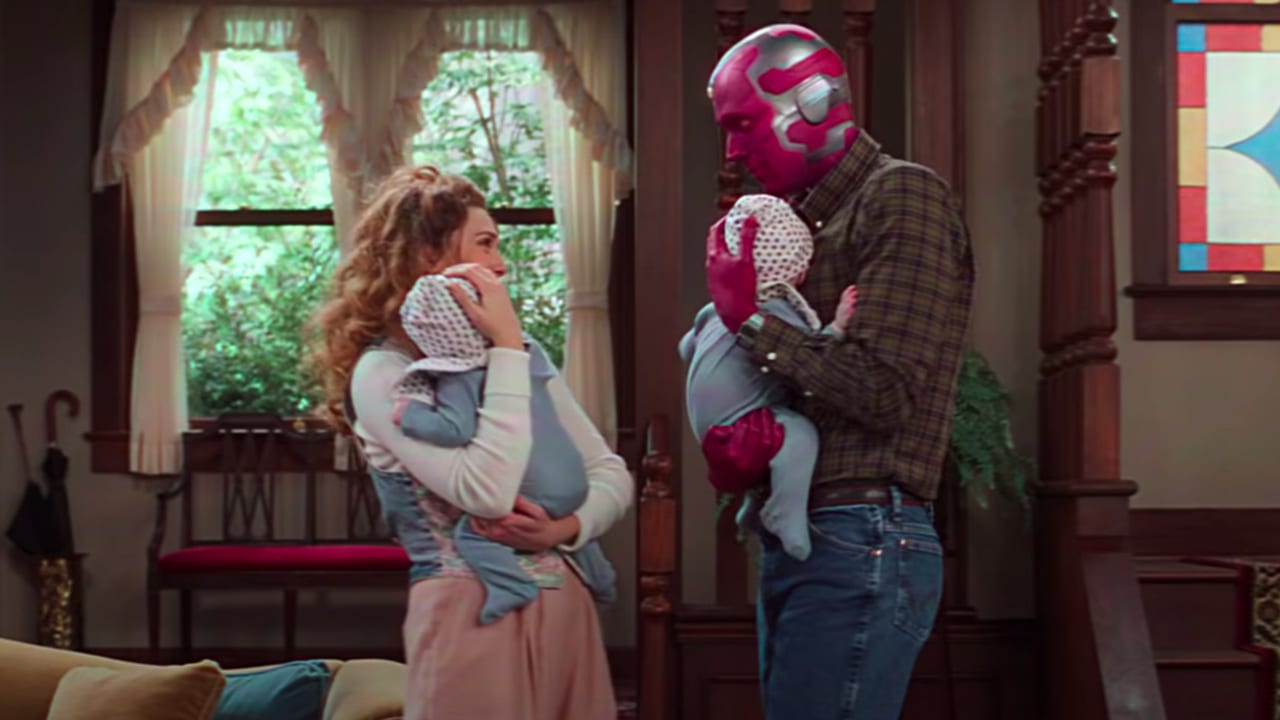 Image via Marvel/Disney+.
You can watch the first two episodes of WandaVision right now on Disney+.
The new series will release episodes weekly, with a total of nine episodes premiering until March 5th. For those who have watched the first episodes, do you agree with our spoiler review of WandaVision? We're eager to know all of your predictions, opinions, and excitement over this fun show.
Featured image via Disney+/Marvel.
Meghan Hale is the kind of movie lover that has a "must watch" that is a mile long... and growing. When she isn't talking about the latest film and television news she is writing one of her many in-process novels, screaming film trivia at anybody who will listen, and working as a mental health care professional. Follow her on Twitter @meghanrhale for some fun theories and live reactions to all things entertainment.
Leave a comment