David Harbour Spills the Tea on Stranger Things Season 4, Compares Hopper to Gandalf
It's already been two years since we all collectively sat on our couches and sobbed at the finale of Stranger Things 3. We were still coping with the loss of Bob Newby, Superhero, and weren't ready for more heartache. Fans were quickly pleased with a season 4 teaser, giving us more than a little bit of Hopper-fueled hope. And then the coronavirus pandemic began. The upcoming season has been more than a little bit delayed, and so at this point, we'll take all of the news that we can get. Fortunately, David Harbour is more than ready to give us some juicy details on season 4 of Stranger Things.
David Harbour Teases Season 4 of Stranger Things – Could It Be The Best Yet?
As explained in our season 3 review of Stranger Things, we're (mostly) out of Hawkins.  The finale saw the Byers family, including Eleven, move away to cope with the trauma of the past few years. This family has been through the wringer, dealing with everything from missing kids to supernatural creatures. And after all of that, they're left to believe that Hopper has tragically passed after closing the gate and defeating the Mind Flayer. Though, fans know better. The first teaser for the fourth season includes some pretty clear indications that Hopper is alive and in Kamchatka, Russia.
It would be tough to find a fan of Stranger Things who isn't a fan of David Harbour's Jim Hopper. He has Chaotic Dad Energy, has obvious and adorable heart-eyes for Winona Ryder's Joyce Byers, and will always refuse to go down without a fight. His immense character development over the prior seasons, in addition to his near-death, makes it pretty obvious that upcoming episodes will be all about him. And we're here for it. As it turns out, so is David Harbour.
Harbour Is As Hyped As We Are
While doing press for the upcoming Marvel film Black Widow, in which Harbour also stars, the actor was ready to get us excited for Stranger Things. His most exciting statement is comparing the next character arc for Hopper to the legendary Gandalf. "He gets to have a rebirth from what he had become, and we'd always sort of planned this almost resurrection of you have Gandalf dies, Gandalf the Grey re-emerge, and I'm really interested in this resurgence of him," he shares in an interview with Steve Weintraub.
So, it's certain that Hopper is back, and the character just won't be the same. He has been closer to death than Eleven at the end of the first season, where we were similarly teased with a resurrection. Thanks to all the gate-closing drama and Russian interference, we bet that Harbour is right in claiming how thrilling it'll be. Though, what could change with Hopper? Will he still be our lovable bad dancer? Apparently, he'll be at his "purest" and his "most vulnerable."
Not only does Harbour tease the future of his character, but he also comments on the scale of the season. Reportedly, it will be bigger "in scope, in scale, even in the idea that we're not in Hawkins anymore." We have spent plenty of time in that small Indiana town, and the characters are ready to grow out of it. We have seen an increase in the threats against our favorite characters grow bigger each season, with the terrifying Mind Flayer giving us nightmares that only recently faded. It's hard to imagine something bigger, but we're ready.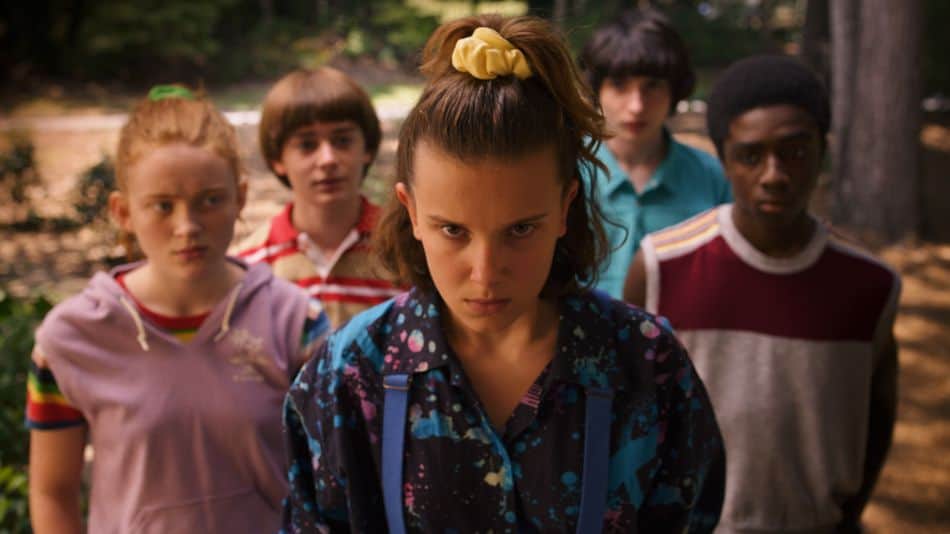 Image via Netflix
Stranger Things Season 4 Might Be Far Away, But We're As Excited as David Harbour
We still don't have a release date for the fourth season. Finn Wolfhard, the young actor behind Mike Wheeler, recently claimed that it would be coming out next year. After these exciting reveals by David Harbour, we aren't sure that we can wait that long for season 4 of Stranger Things.
Readers, based on Harbour's comments, we want to hear what you expect to see in the upcoming season. Who do you think we'll see as the main villain or monster? And what type of rebirth are you expecting from Hopper? Drop your thoughts in the comments. We do have quite some time to kill, after all.
Featured image via Netflix.
Meghan Hale is the kind of movie lover that has a "must watch" that is a mile long... and growing. When she isn't talking about the latest film and television news she is writing one of her many in-process novels, screaming film trivia at anybody who will listen, and working as a mental health care professional. Follow her on Twitter @meghanrhale for some fun theories and live reactions to all things entertainment.
Leave a comment