Stranger Things 3 Review – Almost Meets Expectations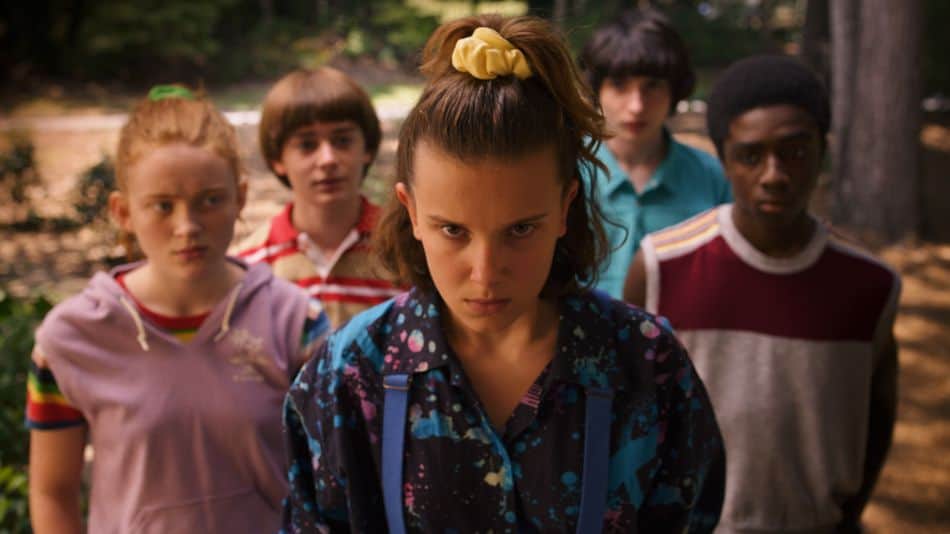 Stranger Things hit Netflix in 2016, and the streaming platform forever changed. I don't think anybody could have expected it to blow up the way it did. Countless Eleven cosplays, millions of fans, a mobile game, and even a Lego set came from the hit series. Season one was perfect and innovative. Season two was exciting and thrilling. With the July 4th release of season three, fans had high expectations. The show delivered. Well, sort of. In this review of Stranger Things 3, we'll talk about what the show did right, and where it faltered. The first portion of this review won't have any Stranger Things 3 spoilers, but the second half will. So, proceed with caution for those who haven't quite hit the end of the new season.
New Friendships and New Threats In Stranger Things 3
Following the dramatic events of season two (click here for a Stranger Things Refresher), season three starts with a one-year time jump. The kids have grown up (a little bit) and are spending their summer watching movies at the new town mall and kissing up a storm to the frustration of everybody's favorite Netflix Dad, Jim Hopper. I think we would all love a season of the kids being kids, and Joyce Byers finally finding happiness. But alas, Stranger Things doesn't allow for any long-lasting joy. The gang is quickly reminded that evil is still out there and that El closing the portal in the final season didn't really do much.
Nancy and Jonathan are out of high school and working at their first internship. Steve Harrington is serving ice-cream for kids at the new mall. And he isn't alone. He shares his minimum wage suffering with Robin, played by the newcomer, Maya Hawke (yes, that name should sound familiar – she's the daughter of Ethan Hawke and Uma Thurman). Lucas and Max are learning how to juggle friendships and relationships at the same time. Dustin is returning from camp, more excited to reunite with Steve than anybody else. And Will? Well, he just wants to play Dungeons and Dragons.
What Worked For Stranger Things 3
I want to take a minute to review just how beautifully Stranger Things 3 was edited and filmed. The 80s nostalgia allows for lots of colors and exciting outfits, but the season gave us so much more than that. There was clearly a huge increase in their budget, and it did a lot more than give Millie Bobby Brown a good payday. The practical and special effects, along with the cinematography of even the most basic scenes, were absolutely awe-inspiring. And not only did the scenes look beautiful, but the scene transitions were so well done that they go seamlessly from one plotline to the next, and it was done in such creative ways that had me jumping out of my seat thinking, "How did they even come up with that!?"
No matter how absurd the plot gets in Stranger Things, it will always be the characters that keep us wanting more. This season allowed each character to have a chance to show off their skills and dive a little bit deeper into their motivations and personalities. This is especially true for Joe Keery's Steve Harrington, who seems to get better and better with each season. He started out as a typical high-school jock in season one. In season two, he became the designated mom of the crew. And in season three, he gets to decide who he wants to be in life as he faces the fallout from his earlier life decisions. He has easily become a fan-favorite, and I spent the season with my fingers crossed that he would stay safe.
What Didn't Work
I think that the simplest way to explain why I didn't love this season is that season one and two were just too good. We got to see so much character development throughout the first two seasons that we began this one with almost fully realised characters, who we already love or hate. There was little room to improve on them, as heroes or otherwise. Sure, we got to expand on the friendships that had already been built. Watching Max and El bond over a shopping trip was fun to watch. But you end the season feeling the exact same things for each character as you did when you started it.
We all know and love the characters, and we've watched them all be a bad-ass before in fighting off evil. You enter this season knowing what to expect – more friendship, more evil, and more scenes of David Harbour being the coolest. No matter how this season played out, I think it would have been an enjoyable ride just because of how well built its foundation was. But, because of this, it doesn't feel like anything new
Now For Some Spoilers…
It's impossible to give a proper review of Stranger Things 3 without a few spoilers. Season one was heartbreaking because you could feel Joyce's desperation. We need Will to be safe and feel relief when he is. And in the second season, we just want him to finally be free of evil. While it was a relief that Will stayed safe this season, Billy being the one to be possessed is really what ruined a lot of the potential. He was a great antagonist to Steve in season two, because he was easy to hate. But we've learned by this point that there really aren't any redeeming qualities about him, so I didn't care that he was suffering underneath everything. Even with El seeing into his past, it wasn't a loss to have him go. And having him spend the entire season under the influence of the Mind Flayer keeps us from seeing his true self, which could have been an interesting turn to explore.
I preferred season two to season one, simply because of the build-up to watching El and Mike reunite. Separating her from the group like that gave the plot a clear goal. However, with this season, everybody is grouped together in a way that doesn't feel right. Each of the three separated groups just began to feel like totally different stories. They weren't really looking for each other, and they were exploring entirely different threats. The only real benefit was getting to watch Dustin and Steve play out their friendships. Eventually, the tables turned and Dustin was the one babysitting Steve. He and Robin tripped on sci-fi Soviet drugs, and it played for some glorious comedy. Still, it made the plot feel too jumbled amongst an already crowded season.
That Ending
We all knew that El wasn't really dead at the end of season one. After all, how could they kill a star character that was created to be loved by everybody? With Jim Hopper, it's almost the same thing. Joyce already lost her last partner. How could they let her have to suffer through that again? And come on, nobody wants to have to deal with the fallout of El losing her new father. That's just too sad. Though I won't be surprised if many people missed that post-credit scene entirely, I refuse to believe that Hopper is dead. When the Russian says not to open the door with the "American", it has to be Hopper. So, the reason for his "death" had to be done as a set up for season four. Though, some fans on social media note he stood in front of the closing portal and may have been blown into the Upside-Down.
Binge-Worthy, Fun, but Not Perfect
I sat through the entire eight episodes in one night, only getting up to re-heat my pizza and take bathroom breaks. Watching it all at once makes this viewing feel like a long movie, which is a shout-out to the solid pacing of the season. I laughed harder than anything in recent memory watching Steve and Robin trip on undisclosed drugs. And I cried like a baby for the last half of the season finale, wanting nothing more than to give El a big hug. But, despite my journey of emotions, I didn't come away from this season feeling like I'd experienced anything all that new.
Season three was a joy to watch, and I don't feel like it was a waste of time. But when I think of Stranger Things, I'm not going to think about Nancy and Jonathan's brief breakup, or Mike trying to figure out women. What I will think about is the history of how El came to be, and how beautiful it was watching her become a part of a family – both things that happened in the first two seasons. My review of Stranger Things 3 is positive, because how can it not be? But it failed to reach the heights attained by the previous two seasons. It's not officially renewed, but this series seems sure to get a fourth season.
Featured image via Netflix
Meghan Hale is the kind of movie lover that has a "must watch" that is a mile long... and growing. When she isn't talking about the latest film and television news she is writing one of her many in-process novels, screaming film trivia at anybody who will listen, and working as a mental health care professional. Follow her on Twitter @meghanrhale for some fun theories and live reactions to all things entertainment.
Leave a comment