Finn Wolfhard Announces Disappointing Release Date News About Stranger Things Season 4
Remember when we had to wait *gasp* fifteen months between season two and season three of Stranger Things? We thought that was rough. Fortunately, we all made it through the wait and approached the third season with excitement. And just as quickly as it arrived, it ended, and we were left with anticipation for the fourth. Unfortunately, its production was halted due to the ongoing coronavirus, and we've been waiting for news. Finn Wolfhard recently answered a fan question, suggesting when the Stranger Things season 4 release date could be expected. The bad news? 2021 won't see a season.
Finn Wolfhard Talks Release Date of Stranger Things Season 4
We may have taken some time off from seeing Finn Wolfhard on screen, but the young actor hasn't had as much of a rest. He's been busy starring in the upcoming Ghostbusters: Afterlife, filming Pinocchio and answering fans on Fanmio. Thankfully, somebody asked the question we've all been wanting to learn: when will season four come out? Wolfhard's response? "It should be out sometime next year, hopefully." NEXT YEAR? HOPEFULLY? Finn. You're breaking our hearts.
Take a look at the actor's brief answer below.
— StrangerThingsSpoilers (@SThingsSpoilers) April 18, 2021
Why the delay? Well, we know the obvious answer: COVID-19. However, even with delayed shoots worldwide, this series is taking things especially slow. Gaten Matarazzo, who plays fan-favorite Dustin, recently spoke about the filming process. It is reportedly being done in "little increments here and there." Rather than a consistent months-long shoot, they're doing the best that they can whenever the opportunity presents itself.
Season 4 Could Be Worth The Wait
While it's disappointing to hear that a fourth season is far away, all hints lead to us thinking that this may be the most ambitious and exciting season yet. An early 2020 Stranger Things 4 teaser, From Russia With Love, hinted at the return of Hopper. This comes after the heartbreaking cliffhanger ending of season three, which led us to believe that the character had sacrificed his life for the safety of Hawkins (and the world.)
Our Comic Years review of Stranger Things 3 discussed how the thrilling addition to the show was great but lacked something special. Following the mind-blowing first two seasons, it felt like they replayed many of the same twists to provide an element of fan service. Still, it remained binge-worthy and fulfilling. And we'll always be back for more.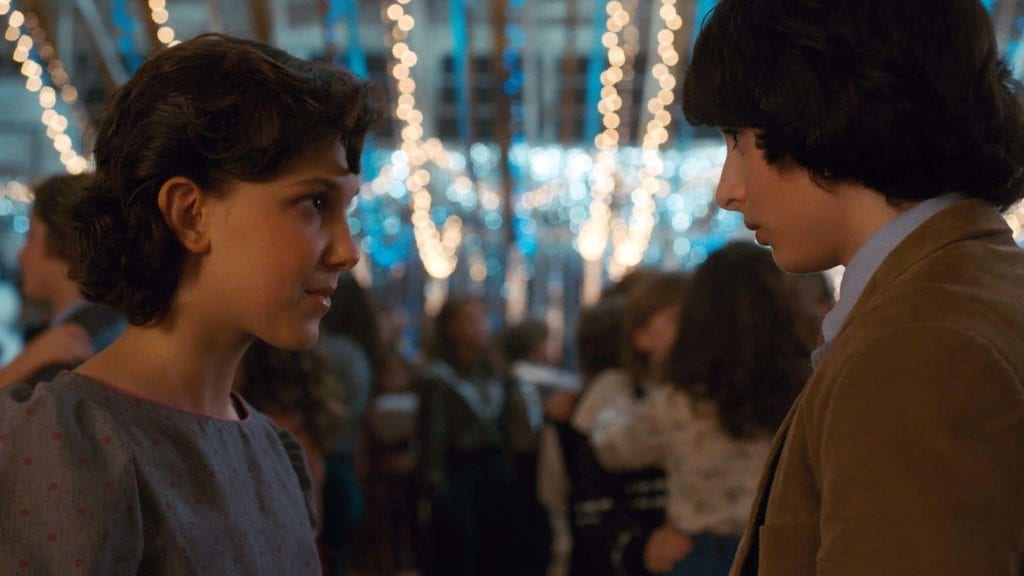 Image via Netflix.
The Duffer Brothers, a.k.a. the masterminds behind the show, revealed that the pandemic gave them the opportunity to rewrite the upcoming season. With so much thought and effort going into detailing what could be one of the last installments of the show, we're pretty hopeful that it'll turn out great.
Readers, we're pretty bummed out with the news from Finn Wolfhard that Stranger Things 4 won't have a release date for some time. I would say that it gives us time to binge-watch the earlier seasons, but we all know that only takes a week (at most.) So, I guess it's time to start making our predictions!
Featured image via Netflix.
Meghan Hale is the kind of movie lover that has a "must watch" that is a mile long... and growing. When she isn't talking about the latest film and television news she is writing one of her many in-process novels, screaming film trivia at anybody who will listen, and working as a mental health care professional. Follow her on Twitter @meghanrhale for some fun theories and live reactions to all things entertainment.
Leave a comment