The 2022 Golden Globes Broadcast Drama – Does Anyone Really Win This Year?
Anyone who keeps up with Hollywood awards shows may have noticed something missing this year. Whether you pay attention to the ceremony schedules or just keep an eye on trending topics, the 2022 Golden Globes were noticeably absent from our television programming this past weekend. They still happened, but you wouldn't have been able to watch them live like you usually do. Let's dig into the 2022 Golden Globes broadcast drama and find out who those hidden winners really were.
The 2022 Golden Globes Broadcast Drama That Kept It Off Televisions
The Golden Globes is an award ceremony that is often forgotten about by the time that the more distinguished shows roll around. However, they decided to make an even bigger name for themselves in the past few years, collecting criticism left and right for their lack of diversity on the voting board and other accusations.
We covered the entire controversy back in 2021 as the drama began to unfold. To sum it up, years of scandals, threats, and assault cover-ups rushed to headlines after the LA Times released an investigation into the culture of corruption going on inside of the Hollywood Foreign Press Association.
The negative news caused various celebrities to boycott the Golden Globes, even going so far as to return their trophies. Realizing that they couldn't continue on as normal, the HFPA canceled the 2022 Golden Globes broadcast. They are working on significant reforms within their organization, and only time will tell if they're big enough changes to make us support them again.
Despite the cancellation, there are still 2022 Golden Globes winners. But where were they?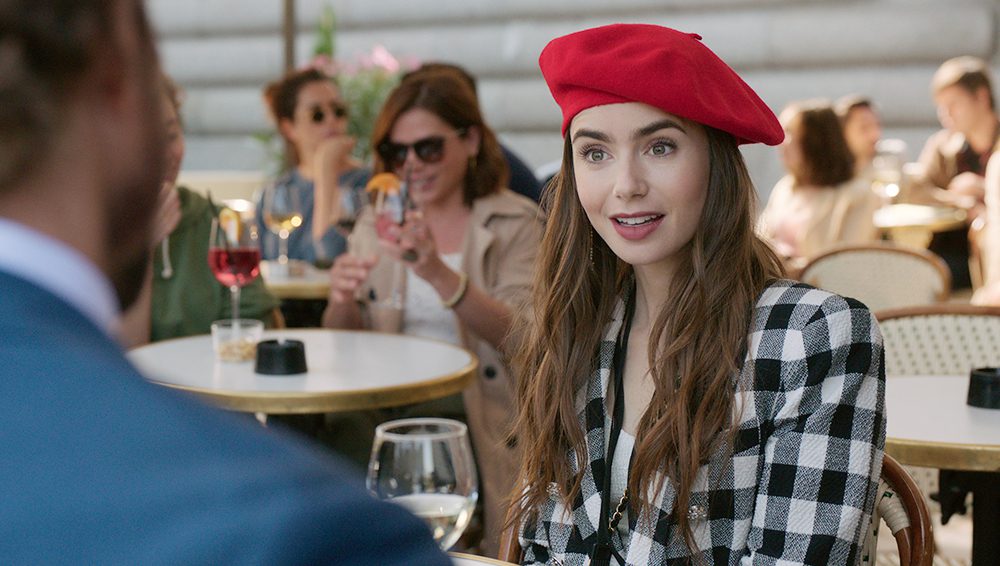 The HFPA's favorite show, Emily in Paris. Image via Netflix.
Did The 2022 Broadcast Happen?
The 2022 Golden Globes broadcast was a glorified live blog instead of its regular programming that typically pulls in millions of viewers. It is usually a place for stars to party and celebrate, as its structure and meaning have always given less pressure to stars compared to the Academy Awards. But there were no stars to party this year. Instead, they waited on Twitter for notifications of winners like the rest of us.
The 2022 Golden Globes drama led to the broadcast happening to a nearly empty room. There was no telecast or in-person celebration with the nominees. There wasn't even a live stream like last year. The HFPA did gather, along with a few guests, at the Beverly Hilton Hotel, but it looked more like a work event than the celebration of the season.
Anybody who sat around and waited for news was left confused, as the official Golden Globes Twitter account announced the winners in Tweets that hardly looked official. Many excluded the name of the project that they won for, like when they announced Andrew Garfield's win for Tick, Tick… Boom!
It takes 43 muscles to smile. Thanks for the work out 🏋️‍♀️ Andrew Garfield, and congratulations for taking home the #GoldenGlobe for Best Actor — Motion Picture — Musical/Comedy. pic.twitter.com/V55dore2eH

— Golden Globe Awards (@goldenglobes) January 10, 2022
The Winners Of The 2022 Golden Globes Drama
Winning a prize for your involvement in a project is always a reason to celebrate. After all, somebody noticed your hard work and wants to show you how thankful they are. The HFPA has snubbed incredible performances before, and our confidence in their ability to choose the best of the best is weak at best. Despite this, there were a few 2022 Golden Globes winners worth celebrating.
Jane Campion's The Power of the Dog won the most competitive award of the night, for Best Picture – Drama. Campion won for Best Director for the project as well, marking the second year in a row that a woman won the directing award. (Chloé Zhao won last year for Nomadland.)
Best Picture – Musical or Comedy was won by West Side Story, proving that box office returns don't always impact awards wins.
The awards for television were similar to the Emmys last year. Big winners included Hacks, Succession, and Ted Lasso. We were bummed to see Elizabeth Olsen lose for her iconic performance in WandaVision again, but Kate Winslet remains a deserving winner for Mare of Easttown.
You can see the full list of the 2022 Golden Globes winners here.
The Power of the Dog. Image via Netflix.
The 2022 Golden Globes broadcast is not available for streaming.
We all know that no award show can change our opinions on the best films and television shows. But wins and losses can convince more people to watch our favorites and can mean more opportunities for the folks starring in them. Plus, it's always nice to see our favorite stars walk up to the podium.
Readers, let us know your thoughts on the 2022 Golden Globes broadcast drama, and if you agree with the winners. We'll be back for a real award show broadcast after the Academy Awards on March 27th!
Featured image (West Side Story) via 20th Century Studios.
Meghan Hale is the kind of movie lover that has a "must watch" that is a mile long... and growing. When she isn't talking about the latest film and television news she is writing one of her many in-process novels, screaming film trivia at anybody who will listen, and working as a mental health care professional. Follow her on Twitter @meghanrhale for some fun theories and live reactions to all things entertainment.
Leave a comment