Nomadland TIFF Review – A Film Worth Waiting For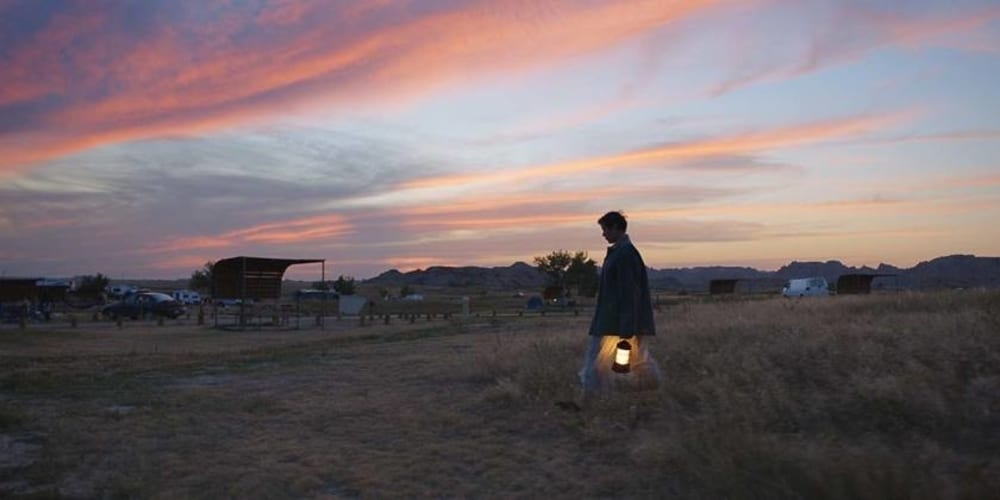 We all know that Marvel movies tend to be big spectacles. Even the lower-budget films see intense action, stunning cinematography, and flawless battle choreography. That kind of thing needs a skilled director. So, when Marvel Studios announced that Chloé Zhao would be directing the upcoming film Eternals, we were left wondering if such an inexperienced director was up for the task. Her latest film, Nomadland, could not be any more different than a big-budget superhero film, yet it gives us a serious glance at her skills as a director. I (virtually) went to TIFF, and in this review of Nomadland, we'll look at how this quietly exceptional film manages to capture just the right emotions, and see how Zhao manages to blow us away.
TIFF Nomadland Review – A Character Study of Isolation and Love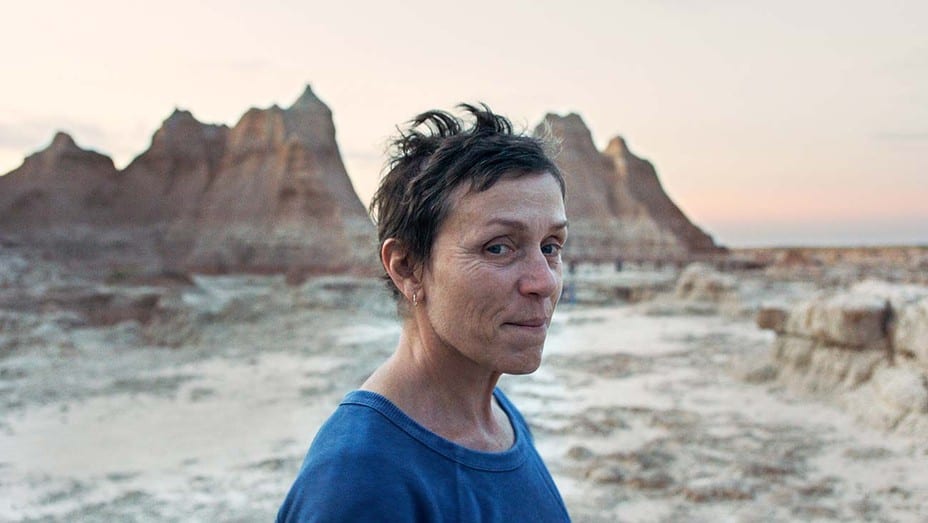 image via Searchlight Pictures
Nomadland follows Frances McDormand's Fern, a recently widowed woman who has a history of not wanting to sit still. After the closure of a gypsum plant in Empire, Nevada, and the death of her husband, Fern has nothing tying her down. Whether it's always been her dream to be a nomad or she's just forced into it is unclear, but that doesn't matter. She hits the road with her van, Vanguard, and spends time bouncing between jobs, deserts, and nomadic friends.
The film is a reminder that life isn't just made up of the significant events that we think we'll remember until our dying days. It's about the little moments in between. Every laugh, smile, dance, drink, cry, celebration, and heartwrenching second of despair is worth it because it makes up who we are. Chloé Zhao shows us this by focusing on the experiences of one woman, while also highlighting how the experiences of fellow nomads touch her life.
Swankie (played by Charlene Swankie) is one of Fern's biggest mentors and leaves us with the most magnificent reflection of what it is to feel alive. What made her life worth living was the beautiful things she's seen, and not what she's done. It serves as a reminder that no matter how much money we make, how many friends we have, or how many vacations we go on, it all boils down to the moments we've spent with ourselves. She teaches both Fern and the viewer what really matters, and it's not what we think.
Nomadland Reminds Us What It Is To Be Human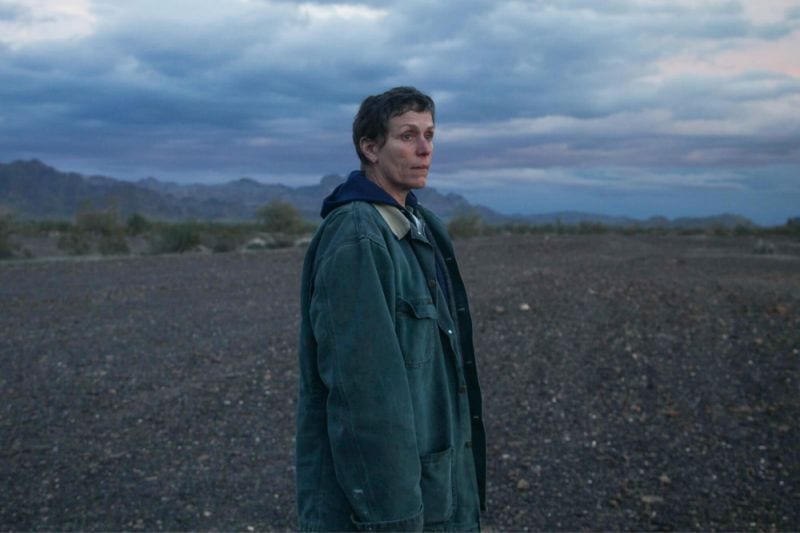 Image via Searchlight Pictures
Now, most of us aren't nomads. While we don't all understand the unique struggles or joys of van life, we do understand what it feels like to feel at home somewhere. And for Fern, at home is with herself, having the world in front of her. She finds the deepest of pleasures in exploring the natural land, leaving modern civilization behind. But she also recognizes the intimate beauty of appreciating an unforgettable sunset with a loved one.
We spend all of the film's runtime with Fern. From her uncomfortable bathroom situations to nude bathing in a stream, we see her alone more than anything. The dialogue that she has is memorable, but we learn everything that we need to know from her solo laughs and wide-eyed experiences. And no better actress could have played her other than Frances McDormand herself.
We know that Frances McDormand can do just about anything. Her two Oscar-winning roles (Fargo and Three Billboards Outside Ebbing, Missouri) show us what we thought was an impressive range. Yet with Nomadland, she is so introspective and quietly powerful that we're blown away yet again. She manages to convey hundreds of emotions with the slightest smile, frown, or brow furrow. Playing a mostly silent character with such depth sounds impossible on paper, yet it's easy to lose sight of where Frances begins, and Fern ends.
A Film That Deserves Your Full Attention
I desperately wish that I had managed to see Nomadland in a dark theatre. It a movie where you benefit more from being forced to turn off your phone, keep quiet, and keep still for two hours. Regardless, the TIFF movie-going experience was far easier than I ever could have imagined. Upon purchasing a ticket, you're sent instructions to set up your online TIFF library. From there, you're able to watch films within 24 hours after it's made available (with no re-watches allowed). Kudos to TIFF for setting up such an easy online festival!
Nomadland tells me that Chloé Zhao can do anything. This is only her third film, yet she tells a story with so much confidence and structure. No single second of screen time goes to waste. Eternals will be a much different film than Nomadland, and she'll have a larger scope to direct. Zhao also wrote and produced all of her movies prior to Eternals, so we'll see how she manages with less creative control. But if she can do it with as much confidence as she's done here, then she might just nail it.
After such a dry year of films, Nomadland is sure to stand out. It has already won the Golden Lion at the Venice Film Festival, which means a handful of Oscar nominations (click here to see the 2020 Oscars winners!) will surely follow. Could she be the sixth female director to get nominated for Best Director? I think so.
Our TIFF review of Nomadland is nothing but positive. Chloé Zhao's take on Jessica Bruder's novel is a confident and inspired character study led by a flawless Frances McDormand. You won't want to miss it when it releases in theatres later this year.
Featured image via Searchlight Pictures.
Meghan Hale is the kind of movie lover that has a "must watch" that is a mile long... and growing. When she isn't talking about the latest film and television news she is writing one of her many in-process novels, screaming film trivia at anybody who will listen, and working as a mental health care professional. Follow her on Twitter @meghanrhale for some fun theories and live reactions to all things entertainment.
Leave a comment