The Devil All The Time Review – A Perfectly Performed Film
We had our doubts when the trailer for The Devil All The Time was released earlier this summer. Despite a star-studded cast, the plot seemed overly complicated, and we feared that the Netflix film could just become a long and boring adaptation. Though, we're pleased to report that these fears were completely wrong. In this review of The Devil All The Time, we'll look at how the performances by the cast defied our expectations, and talk about if the story is as good as its leads.
The Devil All The Time Review – A Complicated Journey
The trailer for The Devil All The Time gave us very little expectations about what the movie was about. So, unless you read Donald Ray Pollock's novel of the same name, there was a good chance that you wouldn't know what to expect. And honestly, it took us half of the film's runtime to figure it out. But don't let that deter you from watching. You only get more hooked as the story takes its time to unravel itself.
The Devil All The Time tells the story of the lives impacted by Willard Russell (Bill Skarsgård), a former Marine who fought in World War 2. His mother prayed for his safe return and promised God that he would wed Helen Hatton if his life is spared in the war. Against his mother's wishes, Willard marries Charlotte (Haley Bennett), whom he loves more than anything. Well, it seems that God isn't happy that he didn't hold up his end of the bargain, and everyone he touches seems to find plenty of misfortune.
We watch the lives of Willard, his son, Arvin (played by Tom Holland), and everyone they meet as they navigate love, loss, lust, and absolute chaos. Every inch of this film is coated in religious affiliations, and the story is a reminder of what some people will do when they have something to believe in. Unfortunately, many of those things aren't the most positive.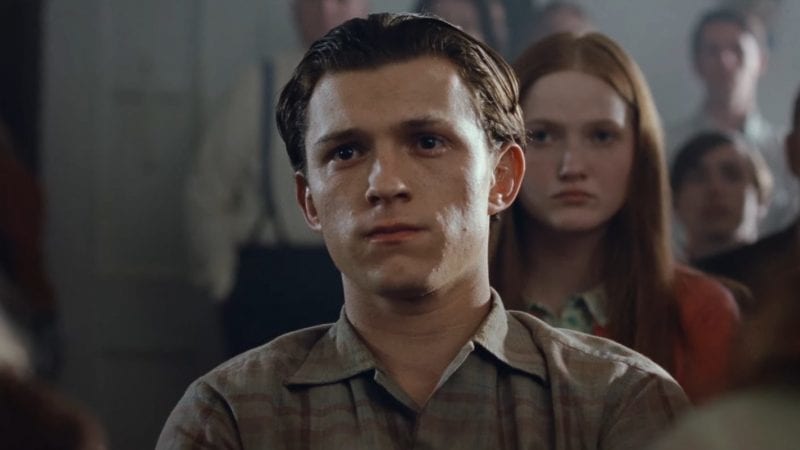 Image via Netflix.
A Flawless Timeline That Keeps You Interested
It's tough to tell a story about multiple generations. The Devil All The Time somehow manages to do it in its 138-minute runtime. We jump from year to year, point of view to point of view, and yet never feel unsettled. Nor do we wish we could revert to the previous story. They're all intriguing enough to keep us questioning, yet meaty enough to keep us satisfied.
Some folks gave a review of The Devil All The Time that spoke about the strange pacing throughout the film. While there are moments slower than others, it's not enough to distract you from the story in front of you. It allows us to become so pulled in to the movie, wondering which characters we'll end up rooting for.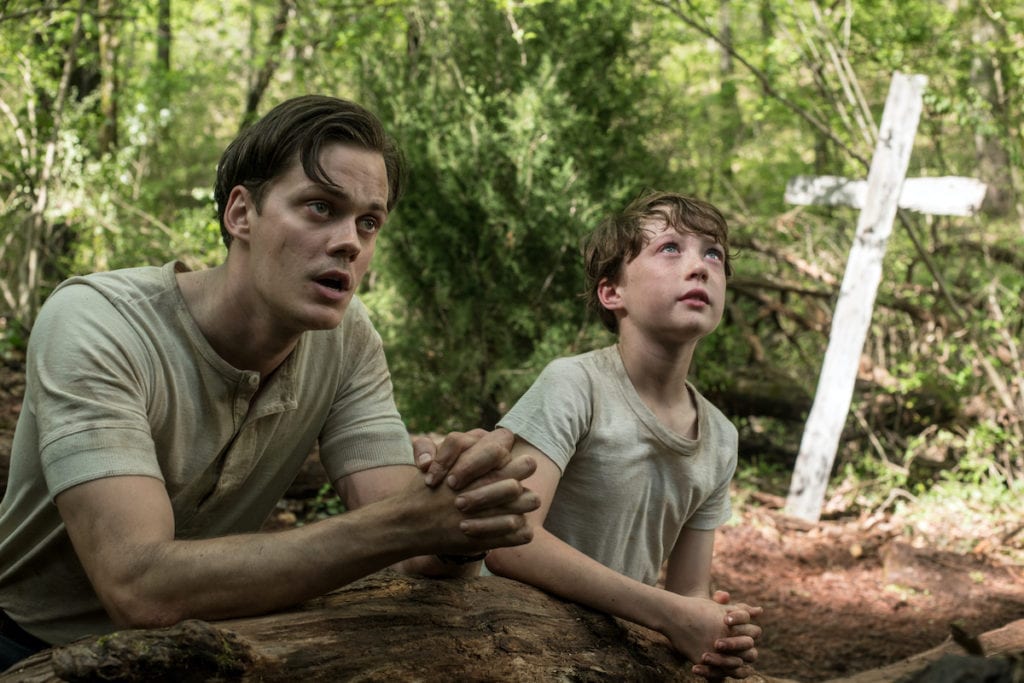 image via Netflix.
A Cast Worth Sticking Around For
Tom Holland, Bill Skarsgård, Robert Pattinson, Riley Keough, Jason Clarke, Sebastian Stan, Eliza Scanlen… the list goes on. Yes, those are all names of people in this movie. We told you it was a star-studded cast! But this is more than just a Spider-Man versus Bucky Barnes versus Batman story, and the performances are enough to help us forget that these are the faces of massive franchises.
Tom Holland, Robert Pattinson, and Bill Skarsgård are all impressive standouts. Bill's haunting glare, Holland's fierce intensity, and Pattinson's flawless mannerisms keep us impressed at every turn. However, its Harry Melling as Roy Laferty that gives us a character that we won't forget for a long time. His relentless devotion to God and desperation to please him is chilling, and we could have used far more time focusing on him. It's hard to stand out against such an impressive crowd, but the actor that we once best knew for playing Dudley Dursley managed to do it.
Image via Netflix.
The Devil All The Time Is Worth A Stream
Are you starting to feel the frustrations of not being able to see new movies in theaters? Whether you're willing to risk it all for movies like Tenet or not, it's nice to have a fantastic new film to stream at home. Our final review of The Devil All The Time is that the Antonio Campos film is worth watching, even if its just to admire Tom Holland finally get the chance to be a badass.
Featured image via Netflix.
Meghan Hale is the kind of movie lover that has a "must watch" that is a mile long... and growing. When she isn't talking about the latest film and television news she is writing one of her many in-process novels, screaming film trivia at anybody who will listen, and working as a mental health care professional. Follow her on Twitter @meghanrhale for some fun theories and live reactions to all things entertainment.
Leave a comment