Tenet $20 Million US Box Office, Meets Expectations For Strange Labor Day Weekend
The Labor Day Weekend at the box office usually signals the end of the big blockbuster summer movie season, paving the way for horror, awards films, and other smaller stories to fill the screens until something big drops at Christmas. However, in the age of COVID-19, there was no summer box office or big blockbusters bringing people into movie theaters. Christopher Nolan's Tenet earned $20 million for the US box office over Labor Day Weekend. There's still a chance it can do better than that, with a strong Monday. Yet, the studio issued a statement saying they were pleased with these earnings, even though the film still has a long way to go to even make back its estimated $225 million budget.
Earlier, we asked if the COVID-19 shutdown would alter the experience of going to the movies at a theater forever. With on-demand and digital streaming, studios could deliver their big films directly to their audiences, like Disney has done with Mulan. Yet, there's nothing quite like going to see a movie in a theater. When watching the final Star Wars film or Avengers: Endgame with the Thursday-night preview audience, the energy is palpable. When Cap lifted Thor's hammer, it was a moment shared with a roomful of people gasping and cheering along. Movies are simply more fun this way.
Still, Tenet only earned $20 million in the US and a little more than half its budget back and the studio is happy. Perhaps, rather than the end of movie theaters, it's more of a reversion to a time when box offices were smaller, and movies stayed on big screens longer.
What the $20 Million Tenet Box Office Over Labor Day Weekend Means for Other Movies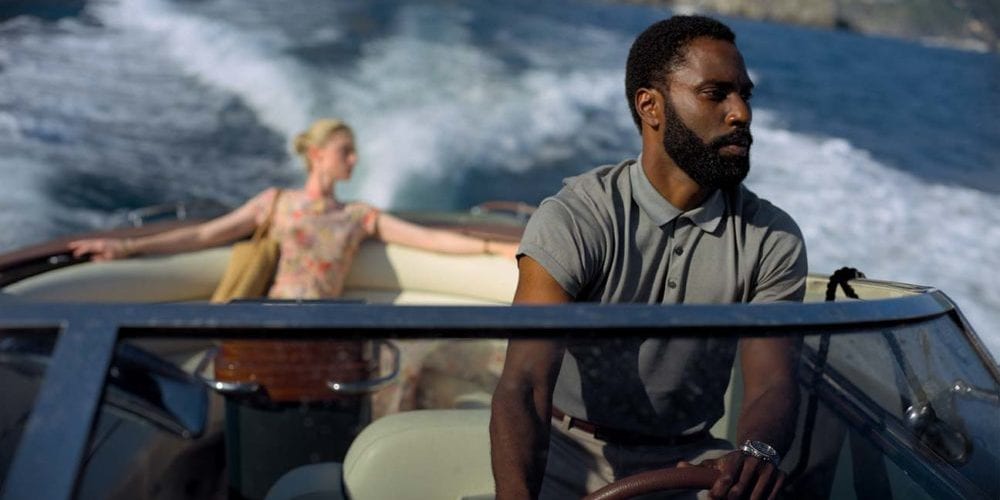 Image via Warner Bros. Pictures
Earlier this year, Warner Bros. likely expected Tenet to earn more than $500 million during its run in theaters. Originally set to arrive in July, it didn't have much competition even before COVID-19. Black Widow and Wonder Woman would already be released. Other than more family-friendly fare like Jungle Cruise and the new Minions film, July might have been all Tenet. So, if it had made $150 million after about a week and only $20 million in the US, it would be one of the greatest "flops" in modern times. Yet, these are strange days. Tenet earning a meager box office over Labor Day Weekend is actually a victory. It's possible this film will still be in theaters for the winter holidays.
Warner Bros. seems to understand this, according to Variety:
"Warner Bros., in a note Sunday afternoon to press, said the studio was 'very pleased' with initial results, stressing that the rollout of Tenet will be 'a marathon not a sprint' — meaning it doesn't need splashy inaugural weekend grosses to justify its release and turn a profit.

"'There is literally no context in which to compare the results of a film opening during a pandemic with any other circumstance,' the studio said. 'We are in unprecedented territory, so any comparisons to the pre-COVID world would be inequitable and baseless.'"
Tenet debuted on 2,800 screens in the US, which may seem like a lot but is much smaller than normal. While more than two-thirds of the movie houses in the US are open, many in major cities are not. Also, places where the coronavirus pandemic hit really hard may be more hesitant to risk going out to see a film.
Still, the box office returns thanks to Tenet over Labor Day Weekend signal that a recovery will happen, but studios have to be patient and realistic in what they expect to earn.
What do you think? Will you be going to see Tenet in theaters? Share your thoughts in the comments below.
Featured image via Warner Bros.
Joshua M. Patton is a father, veteran, and writer living in Pittsburgh, PA. The first books he read on his own were comics, and he's loved the medium ever since. He is the greatest star-pilot in the galaxy, a cunning warrior, and a good friend. His book of superhero short stories, Tales of Adventure & Fantasy: Book One is available as an ebook or paperback from Amazon.
Leave a comment