ARRAY, Diversity Initiative Launched by Ava DuVernay, Has Partnered With Google on New Film Grant
Earlier this year, news broke that iconic director Ava DuVernay was expanding on ARRAY. The new diversity database was designed to be a necessary resource to help Hollywood kick its inclusion problems to the curb. Promising to focus on below-the-line talent and behind-the-scenes filmmakers, we were curious to see how this would work in practice. In one of many major moves from the organization, and following news of their groundbreaking database, the Ava DuVernay led initiative ARRAY has partnered with Google on an exciting new film grant. So, what's it all about?
ARRAY, The Diversity Initiative Led by Ava DuVernay Partners With Google
The partnership has announced the Array + Google Feature Film Grant, a $500,000 award for new filmmakers. The grant is designed to be given to emerging creatives coming from "historically underrepresented communities" to promote their storytelling desires.  They seek new writers and directors who have something to show the world and they are more than eager to help them do so.
In addition to the $500,000 grant, the chosen filmmaker will have the production of their film staffed by the ARRAY crew. These folks will come directly from the new hiring database, which includes thousands of potential female and POC staff members.
The advisory board for the Array + Google Feature Film Grant consists of Gabrielle Glore, Francis Cullado, Crystal Echo Hawk, María Raquel Bozzi, and Smriti Kiran. Brokered by UTA Marketing, the partnership also stems from a commitment by Google to create "more meaningful change" and take greater steps towards racial equity and inclusion.
Why Inclusion Acts Like This Matter
The new film grant launched through Ava DuVernay, the ARRAY crew, and Google is a fantastic step in the right direction for more inclusive filmmaking. As we have uncovered in studies on diversity in filmmaking, it's clear that some stories are being told far more often than others. Notably, only 16% of the top 100 grossing films in 2020 were directed by women, and even fewer were POC.
Simply put, many storytellers and filmmakers from underrepresented groups aren't given the same opportunities that others are. There is a great privilege in making the exact movie that you want to, and too often, we see this advantage going to white men.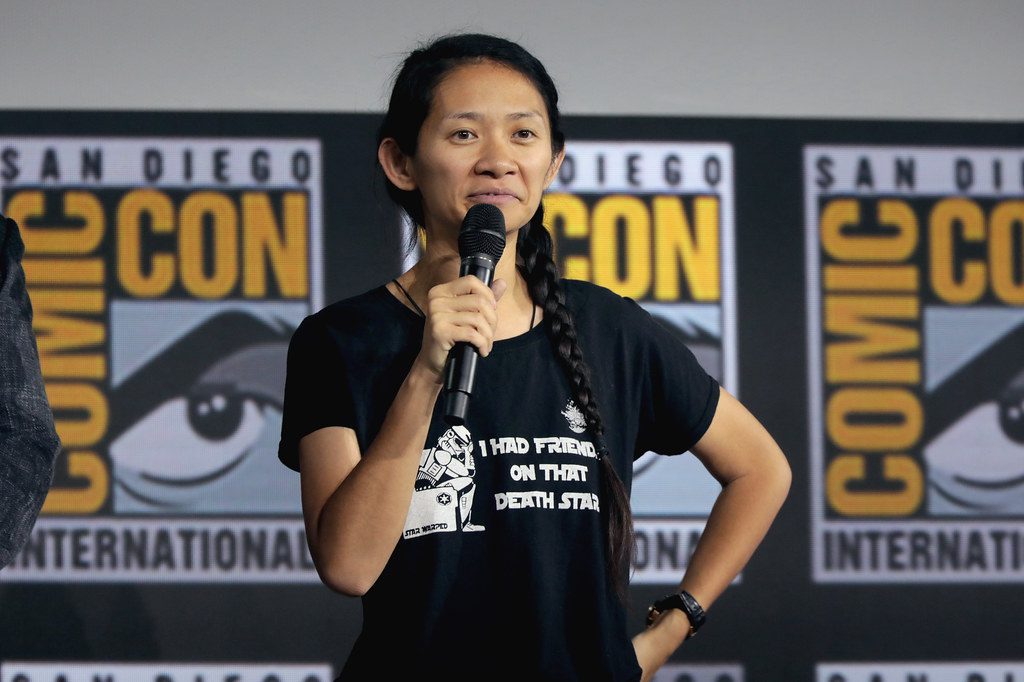 History-making moments like Zhao's Oscar win are great, but why can't they be the norm? Image via Gage Skidmore on Flickr.
2021 made history with Chloé Zhao's legendary Best Director Oscar win for Nomadland, making her the first woman of color to win the award. But we can't let the excitement stop us from making sure that these thrilling pieces of news become the norm. By having these types of grants available, we open the door to hundreds of filmmakers who don't just have the chance to become the next Scorsese, Spielberg, or Hitchcock. Instead, they have the opportunity to pave a completely new direction of how they want films to look like.
ARRAY was initially founded in 2011 and has seen various evolutions of output. Though, one thing has remained at the center of its decade-long existence: the desire to provide narrative change within the vast world of filmmaking. We're eager to see what Ava DuVernay, ARRAY, and Google have in store for us next.
Image by Stephanie Moreno for the Peabody Awards via Flickr.
Meghan Hale is the kind of movie lover that has a "must watch" that is a mile long... and growing. When she isn't talking about the latest film and television news she is writing one of her many in-process novels, screaming film trivia at anybody who will listen, and working as a mental health care professional. Follow her on Twitter @meghanrhale for some fun theories and live reactions to all things entertainment.
Leave a comment