The Last Starship – From The Prison Architect Devs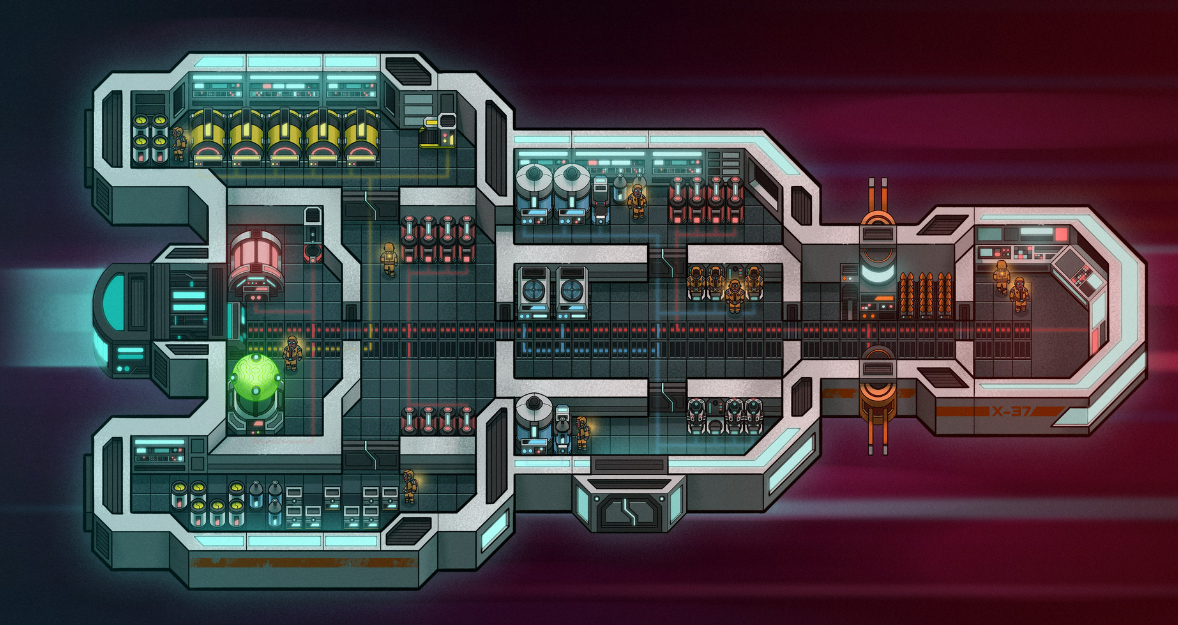 Eurogamer recently shed light on The Last Starship. It's the latest title from Introversion Software. They're the minds behind Prison Architect, the beloved prison simulator. Naturally, this might get fans excited about a similar experience.
But, how similar could it be?
The Last Starship has a fairly self-explanatory name. It takes place in outer space. And, it tasks players with building and maintaining their own spaceship. They can look for adventures. And, they get to upgrade and improve their ships with time.
That said, what can Prison Architect fans expect from this title? Is it the same gameplay but in a different setting? Or, does it bring something truly new to the table?
Let's find out!
The Last Starship: Prison Architect in space?
The game has a similar style of gameplay set in space. Players get to build their spaceships and tailor them to their needs. But, they can also travel to other star systems and go on adventures.
In that regard, it's somewhat similar to Faster Than Light. But, it offers the unique ship-building gameplay that reminds us of Prison Architect. In the video above, the developers state that players are ship architects.
Players receive a basic ship when they start the game. It offers all the basics. Yet, the real fun is in upgrading and developing its systems. Players can kit out their spaceships with reactors, air supplies, and engines.
Of course, that's only the tip. It offers a rich environment with multiple systems. Of course, all of them are connected. There are relatively complex pipes and resources systems. Players can gradually unlock new systems for their spaceship.
In the end, it's quite similar to Prison Architect in that development sense. But, it brings a bunch of new features to the table.
The role of players within the game
As mentioned, players can build and upgrade their ships as they like. They're free to add any features they need. And, from there, it's mostly up to their choice.
Players can swap to a tactical view of the world map. The Last Starship lets players use a Faster Than Light drive to travel. They can visit different star systems and interact with these worlds.
There'll also be a trading system. Players can use this to sell equipment, fuel, and hardware. Moreover, they're free to take on different contracts. They may include mining, rescuing, transporting, and delivering.
What's possible in The Last Starship?
It's a feature-rich game, where the possibilities are seemingly endless. Players can kit out their spaceships however they want. They can create complex systems that fuel different sections of the ship. And, this enables more functions for their ships.
Right now, the game is working toward early access. So, everything is still quite bare bones. But, basic ship building is fully implemented.
Players need to build reactors, engines, and more. Plus, they must link them with pipe systems to get them working.
Players can also pressurize the spaceship to relieve the need for space suits. And, they can unlock more gameplay by visiting star sectors outside the beginning one.
What can we expect from The Last Starship?
Overall, this title feels like a combination of multiple games. We have Prison Architect, Factorio, and Faster Than Light. And, it has a bit of Star Trek thrown in for good measure!
The game does seem quite promising. And, early access should be releasing soon. Right now, it's possible to join the play test phase. Just don't expect a killer soundtrack like Guardians Of The Galaxy's.
Leave a comment