Ezra Miller Accused Of Grooming Underage Girl
The actor and star of The Flash movie, Ezra Miller, is back in the spotlight, not positively. The actor, already accused of other crimes in Hawaii, was now charged with drugging and grooming a girl when she was still a minor. The girl's parents, who have requested a protective order, made the accusation.
Ezra Miller is a danger to the well-being of an 18-year-old woman … at least according to her parents, who are asking a court to step in and keep the actor away from her. https://t.co/NlwKetcQWX

— TMZ (@TMZ) June 8, 2022
The lawsuit by Tokata Iron Eyes' parents states that Miller is controlling, violent and manipulative. He uses any means to make young people obey him as if he were a cult. They are highlighting several incidents they noticed in their daughter during her interactions with the actor.
Tokata's Parents Accuse Ezra Miller
Tokata's parents officially accused Ezra Miller of child abuse, manipulating and drugging their daughter. The young girl is 18 years old; however, the parents presented facts from six years ago. Miller and Tokata met on the Standing Rock Indian Reservation when the actor was traveling in North Dakota. At that time, the girl would be 12 years old, and Miller 23, and they would start a friendship.
Chase Iron Eyes and Sara Jumping Eagle noted that Miller and his daughter interacted on several occasions. Miller allegedly took Tokata on a trip to London in 2017 to visit the set of Fantastic Beasts and Where to Find Them. After interacting with the actor, the parents noticed that their daughter had bruises on her body.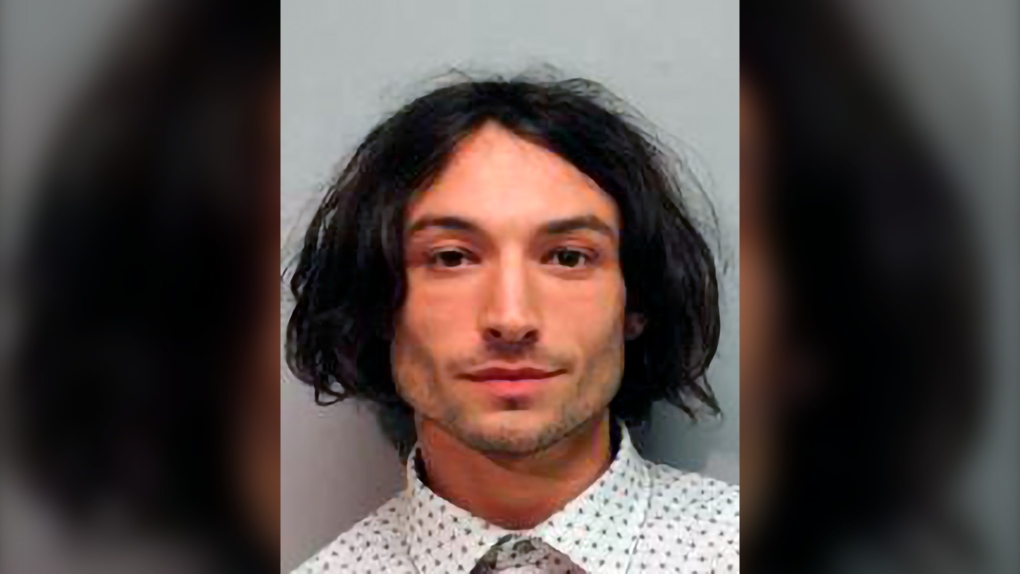 Image via Hawaii Police Department
They also accuse him of providing her with drugs such as LSD, marijuana, alcohol, and other addictive substances. Tokata's parents allege their daughter suffered such a radical change that she dropped out of school in 2021. Another of their comments states that their daughter declared herself transitioning when she had previously said she was gay.
Another behavior they detailed in an opportunity to visit the actor's house was the intimidation that Miller exerts on Tokata. The parents allege that when they saw Tokata, she did not have any of her documents, credit cards, or even the keys to her house. All of these items were in Miller's possession, and her parents allege that he did this to suppress her independence.
Tokata's parents are frightened by the negative influence they have detected Miller is having on their daughter. For that reason, they requested a restraining order from the actor against them, as they fear for their future and that of their daughter.
Tokata's Response
Tokata's response was not long in coming when she found out about her parents' accusations against Miller. She posted her relationship with Miller on social media, detailing that he is just her friend. She stressed that he has only given her support in challenging times for her.
Tokata posted on her Instagram account about her relationship with the actor, "I'd like to make a statement to acknowledge the tragedy I dropped out of bard five months ago, my friend and comrade William passed shortly there after, my mind was incredibly impacted and I've needed space and time for the processing of grief." She added, "My comrade Ezra Miller for the entirety of the aforementioned era has only provided loving support and invaluable protection throughout this period of loss."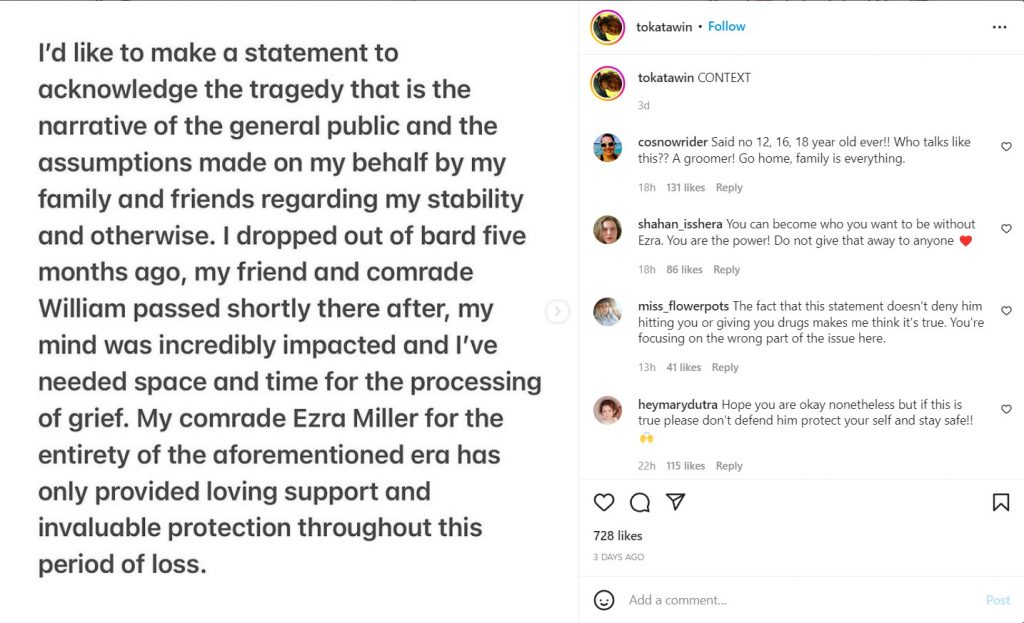 Image via Instagram
She also detailed her situation at home, her relationship with her parents, and the accusations they made, "My father and his allegations hold no weight and are frankly transphobic and based in the notion that I am somehow incapable of coherent thought or opposing opinions to those of my own kindred worrying about my well being. I am now aware of the severity of emotional and psychological manipulation I was made to endure while in my parents home."
This incident would be another in the long list that Miller would have with the law, highlighting the multiple charges and convictions he has in Hawaii. He has a felony for assault, but also for causing a public disturbance, threatening to kill a couple, and assaulting a person in a bar.
Leave a comment