Doctor Who Fortnite Collab Rumored to Be Delayed
Hey, Fortnite and Doctor Who fans, we've got some juicy news for you! The much-anticipated collaboration between your favorite game and the beloved sci-fi series might be hitting a small speed bump. According to the latest whispers, Epic has shifted the release date from November to an unconfirmed date. Hold onto your TARDISes, folks, because this Doctor Who Fortnite crossover will take an unexpected turn!
While the DW team hopes for a December launch of the Fortnite X Doctor Who extravaganza, nothing is yet etched in stone. The speculation is rampant, and we must exercise more patience before diving into the action. But fear not, my fellow gamers and Whovians, for this delay is bound to make the collaboration even more epic when it finally arrives!
Now, why the hold-up, you ask? It seems that Epic Games is prioritizing another colossal collaboration that is set to drop in November. Brace yourselves for a legendary clash of worlds as the gaming giant joins forces with none other than Lego. Yes, you heard it right! Epic Games is pulling out all the stops to ensure that both these collaborations are absolutely mind-blowing. So, while we eagerly await the Doctor Who Fortnite goodness, we'll have to wait a little longer for this double dose of awesomeness.
But hey, let's not despair just yet! While we twiddle our thumbs in anticipation of the Fortnite x Doctor Who extravaganza, there's another big event looming on the horizon. Drumroll, please! November 2023 will mark the 60th anniversary of Doctor Who, a momentous occasion for all the time-traveling fans out there. Let's take a breather and bask in the excitement of this grand celebration!
Doctor Who Fortnite Collab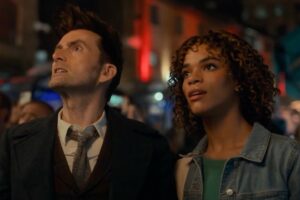 Image: BBC
As we gear up for the Doctor Who 60th anniversary, we can expect a treasure trove of magnificent surprises and treats from the DW team. Picture this: special episodes that will leave us on the edge of our seats. There'll be behind-the-scenes features that will unravel the secrets of the TARDIS. Also, there's commemorative merchandise that will make our hearts skip a beat.
Oh, and here's a little nugget of hope. Could there be a cheeky reference or a sneaky teaser about the impending Fortnite collaboration during this spectacular anniversary celebration? Time will tell, my friends!
Now, let's not lose sight of the fact that the highly anticipated Doctor Who Fortnite collaboration is still in the works. Whether it graces our screens in December or January 2024, one thing is for sure: this cosmic crossover will blow our minds! Get ready to witness the collision of two fan-favorite universes. It'll be an explosive, action-packed adventure that will leave us gasping for more!
While we eagerly await the official announcement, it's crucial to stay plugged into @FNBRintel, the source of this tantalizing rumor. They've got their fingers on the pulse of Fortnite and have kept the community informed about the latest updates, leaks, and collaborations. So, follow them for any breaking news regarding the Doctor Who Fortnite extravaganza!
Doctor Who 60th Anniversary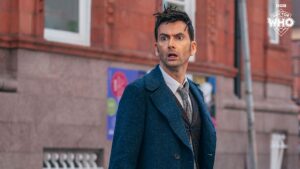 Image: BBC
In the meantime, let's revel in the glory of the Doctor Who 60th Anniversary celebrations. Let's savor every moment as we pay homage to this iconic series that has captured our imaginations for six decades. And when the time finally comes, we'll be ready to dive headfirst into the Fortnite universe, battling it out on the virtual battlefield alongside our favorite Time Lord. Brace yourselves for a mind-bending fusion of these two epic worlds that promises to deliver an unforgettable experience!
So, my fellow gamers and Whovians, stay tuned, keep your consoles primed, and embark on a truly extraordinary adventure when the Doctor Who Fortnite collaboration finally graces our screens. Remember, good things come to those who wait – and this collaboration will be legendary!
Hi! I'm Arvyn, and I'm an English teacher from the UK. I've been teaching English online for over 4 years to students from all across the world and all ages. Outside of work, I'm a huge fan of reading, video games, and playing with my adorable kitties. See ya!
Leave a comment