Who Is Cindy Moon (Silk)? Peter Parker's Classmate And Power Companion
An alternate version of Spider-Man is Cindy Moon, also known as Silk. She belongs to the most successful versions of the character. Her origin is similar to the original Spider-Man. Cindy was bitten by the same genetically altered spider that bit Peter Parker. This event gave her special powers and abilities. In addition, Cindy's characteristics make her complement very well with our favorite arachnid. Let's take a look at them. 
Who is Cindy Moon (Silk)?
Image: Marvel Comics
Dan Slott and Humberto Ramos were the creators of Cindy Moon (Silk) in 2014. She had her debut in Amazing Spider-Man Vol 3 #1. Here she makes a cameo, where although we don't see her face, Marvel Comics hinted the character's existence.
His plot goes back to the same time Peter Parker was bitten by the spider that turned him into Spider-Man. In fact, she attended the same exhibit Parker went to, hence her knowledge of his existence.
Cindy was just a teenager at the time, so it is not surprising that when Ezekiel Sims contacted her, she was captivated. He warned her about the Inheritors and the role she would play in all this.
To protect her from Morlun, Ezekiel locked her in a secret vault, so Cindy was isolated for years from the world. But, while she was cloistered, she always knew Spider-Man's identity. She followed the superhero's entire career in captivity, becoming a great fan and follower.
When the Watcher's Eye exploded, Peter learned of Cindy's existence, freeing her immediately. Upon realizing this, Morlun and his family started The Great Hunt. They defeated The Inheritors together, and he set out to find his family. At the same time, she worked for Fact Channel and fought against evil like Silk.
Cindy finally found her family, managing to stabilize herself. Until then, she has been part of several superheroic teams, such as Agents of Atlas. She also returned to work as a journalist in Threats and Menaces.
Silk's History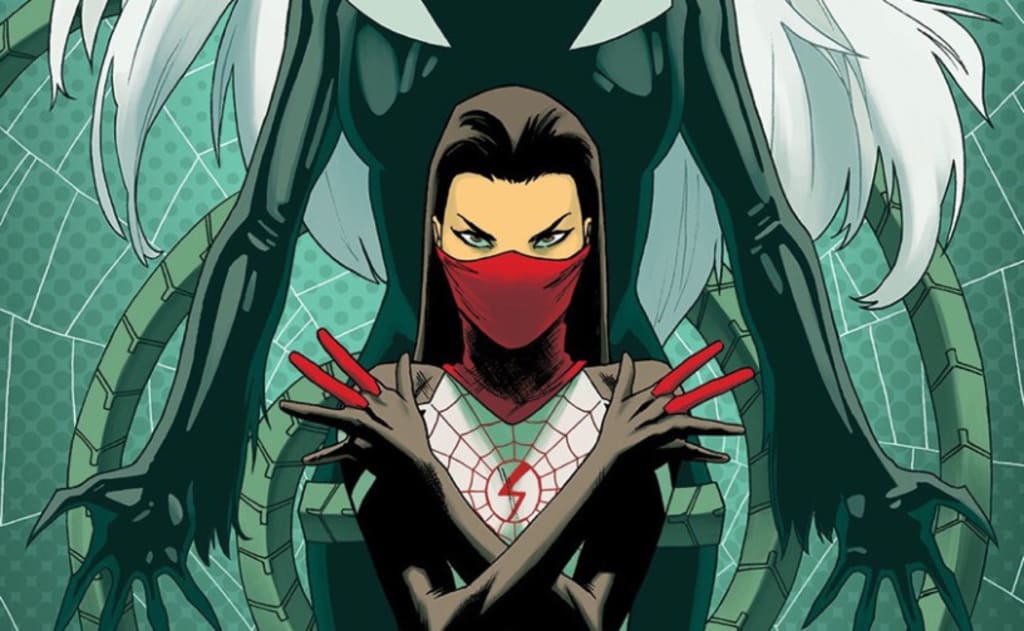 Image: Marvel Comics
Cindy was brilliant as a child; her parents noted that she possessed an eidetic memory. That's why her mother tried to focus on her studies. But Cindy had other plans for it, turning her attention to the field hockey team with her boyfriend, Hector Cervantez.
When her mother discovered this relationship, she forced her to attend a school trip to the General Techtronics Corporation. At the site, an experiment was being conducted with radioactive rays that affected a spider. Who bit Peter Parker, turning him into Spider-Man, but also bit Cindy.
This caused both Peter and Cindy to develop similar abilities and powers. But in Cindy's case, she developed powers that she could not control, worrying her parents a lot.
Thus Ezekiel Sims appeared, offering help to Cindy's parents. But under his tutelage, she was locked in a fortified bunker under his tutelage to protect her from Morlun. There she developed her spider abilities.
Original Sin
After the events unleashed by the Eye of the Watcher, Spider-Man frees Cindy from the bunker, convincing her that Morlun is dead. As they flee, Cindy asks how Morlun died. 
To Cindy's astonishment, Spider-Man confesses that he has already killed him twice. This event unleashes Silk's fury and leads her to confront the superhero. For her, the years locked up were in vain.
Amidst this, the two discover that their spidey sense somehow connects them, ending the fight early and kissing passionately.
The superheroes try to get to know each other more intimately, but Peter breaks off the relationship when Cindy tries to remove his mask. She reveals to him that she knows his identity, as the same spider bit both of them in the same place, explaining that maybe this is how they are connected with that primal sense.
While on this surveillance, Anna Maria arrives at the apartment, asking Peter to go to Parker Industries for an interview on Fact Channel. Cindy accompanies him, and Electro and the Black Cat attack them.
In the struggle, the Black Cat removes Peter's mask so that they are focused by the camera that is interviewing them. But Silk acts quickly and covers his face with her webbing.
The two heroes confront the criminal duo, Electro attacks Spider-Man, but he is unharmed thanks to Silk and his webs. The Black Cat attacks Spider-Man again, and Silk comes to his rescue, not allowing him to be harmed.
Thus Cindy ends up hired by Natalie Long, where she is proposed to be a reporter for Fact Channel. Cindy accepts, setting as her main mission to find her family, using the studio's news resources.
A New Change
Image: Marvel Comics
Because of Cindy's irresistible attraction to Peter, she decides to move out independently, which was a high risk for Peter. But they both know that staying could interfere with his relationship with Anna.
Working at Fact Channel, Cindy converses with her boss Natalie Long. She proposed that Silk become the new heroine of the Channel. Only Silk's costume should be improved, as it was a bit vulgar.
At the same time, it is received that two crimes are in progress, which Spider-Man and Diamond are containing. Before Natalie could say anything, Silk stopped Ringer with a new look. This was recorded and broadcast live.
Finding her Parents
Silk, alongside Spider-Man, discovers the Spider-verse, fighting several iconic battles. After finishing the battle with the Inheritors, he focused on finding his parents with the resources provided by Fact Channel News.
Thus Silk began a tough fight against crime, where the villain Gragonclaw was among the first he defeated. Then he faced a skull-shaped robot HYDRA created, which he easily destroyed.
In this process, she is reunited with her old high school sweetheart, Hector, who is now engaged. In the meantime, she fights twice with the Black Cat, being defeated both times.
She ends up helping her enemy Dragonclaw to get his daughter back with the help of Spider-Man. In this way, Silk ends up being kidnapped by the Repairman, who reveals to her the whereabouts of her family. Unfortunately, before this was revealed to her, the villain was killed.
In the final raid, Cindy receives information that can lead her to her brother, Albert Moon. When she goes to look for him, she has to save several people. But she manages to go to the hospital and find her brother before Earth-616 and Earth-1610 collided and killed everyone.
After this event, the entire universe was restored, and Silk returned to her existence, like the other inhabitants, with no memory of her temporary disappearance. After a few months, he managed to regain his life, but his parents were still missing, and his brother was without memory.
Spider-Women
Silk sets out on a journey alongside Jessica Drew from Earth-616 to Earth-65 – there, she discovers that her counterpart is the cause of Gwen's powers. Who has traveled to steal and invest the technology of the brightest minds for the Mongering war?
Here there is a confrontation between the two, being imprisoned by Mockingbird and later released by the Black Cat. Which made Silk gain more trust from the Black Cat to learn details about her criminal gang.
Sometime later, Rafferty and Lola, Cindy's former partners in Fact Channel, discover her secret identity. They set out to investigate the possible clue to her parents' whereabouts.
This leads them to the Negative Zone, where Cindy finally meets her parents, discovering they went there to find a cure for her powers. After some adventures in that zone, Cindy returns with her parents to New York. There, they receive financial support for their entire family.
Silk's Powers and Abilities
Cindy Moon's powers and abilities have been practically the same as those granted to Peter Parker by the irradiated spider. But so far, these powers have manifested at their lowest levels. So, her highest potential has been to be the totemic representative of the Mystic Spirit of the Spider. 
Cindy possesses an arachnid physiology, thanks to radioactive enzymes with mutagenic compounds from the spider that bit her. This produced amazing changes in Cindy's body. Hence she has:
Silk's Powers
Superhuman speed, being one of the fastest characters in Marvel. This makes that both her reflexes and speed are 10 times greater than that of any person with good physical conditions. It is considered that his speed is superior to that of Spider-Man.

Superhuman strength, such as that which gave Parker his spider strength. This strength, combined with her agility, speed and spider-sense, make her one of the heroines on par with the original Spider-Man.

Superhuman agility gives her incredible body flexibility, where her tendons can extend beyond a normal person's.

Organic webbing, which like Parker, can be secreted organically by his secretory glands housed in his fingertips. But, these are limited by nutrition and fitness. The arachnid webs produced have a high resistance and a special insulator against electricity.

Spider hyper-sense is a kind of psychic thread connected to the Web of Life and Fate. This gives Cindy a prophecy, alerting her to causes or phenomena that threaten her life. Thanks to this gift, she has saved herself from more than one danger and defeated many enemies. While it is true that her spider-sense does not allow her to identify the nature of the danger, it warns her in advance of where it comes from. This sense can guide her to the source of the threat, informing her of its magnitude.

She climbs walls with the same agility as Spider-Man, mastering as he does electrostatics and her ability to concentrate on her hands and feet.

Retractable claws are located in his fingers, with which he can cut metal and defeat machines.

Eidetic memory is remembering anything she has seen or heard, even if it happened only once. This ability she has possessed since she was a child.
A Strong Connection With Peter Parker
Image: Marvel Comics
One of Cindy Moon's peculiarities is that she is somehow connected to Peter Parker. This arachnid connection is because the same spider bit them. For example, this makes Silk find and feel Spider-Man anywhere in the Multiverse. 
The same is true in reverse, so Peter freed Cindy for the first time. This could be the cause for the strange attraction Cindy and Peter feel for each other. So far, no other explanation has been found.
Versions of Silk in Other Media
Image: Marvel Studios / Marvel Comics
Versions of Cindy Moon in other media are:
Movies
Among the movies set in Marvel Cinematic Universe (UCM), Cindy appears, played by actress Tiffany Espensen, in:
2017, Spider-Man: Homecoming, where she is Peter Parker's sidekick and a member of the decathlon.
2018, Avengers: Infinity War, Cindy appears, causing a distraction that allows Parker to switch to Spider-Man.

In 2018, Sony Pictures was reportedly developing a live-action film featuring Cindy.

Cindy appears in Spider-Man: Into the Spider-Verse animated film.
2023, Cindy appears in Across the Spider-verse.
Video Games
In video games, we can see Cindy Moon as Silk, where she is a playable character, such as in:
Marvel Avengers Academy, voiced by Victoria Wong.

Lego Marvel Super Heroes 2.

Marvel Future Fight.
Cindy Moon Silk, our Spider-Bride
Image: Marvel Comics
Spider-Man is one of the characters with more versions, and the movie Across the Spider-verse brought us several of them. However, we will see Silk in a different production.
Amazon and Sony have a deal in place, and the first stop will be Silk, a new series under the supervision of The Walking Dead producer Angela Kang. "The recent animated and live-action reinvention of the Spider-Man franchise by Amy Pascal, Phil Lord, Chris Miller and Sony represents some of the most dynamic superhero stories on film," commented Jennifer Salke, head of Amazon Studios. "Together with Angela Kang's creative vision, we couldn't be more pleased to bring Silk: Spider Society to our MGM+ and Prime Video customers." Amazon wants to bet big on Sony's ties to Marvel, and the first project will be Spider-Man related.
Here the character is allowed to appear as the superheroine she is, showing several of her potentialities. Not for nothing is this film considered one of the best-animated films ever made. And who knows, maybe the franchise is thinking about a movie of its own for this version of Spider-Man.
Featured Image Via Marvel Comics
Leave a comment