Who Is Miles Morales? Peter Parker's Spider-Man's Companion and Successor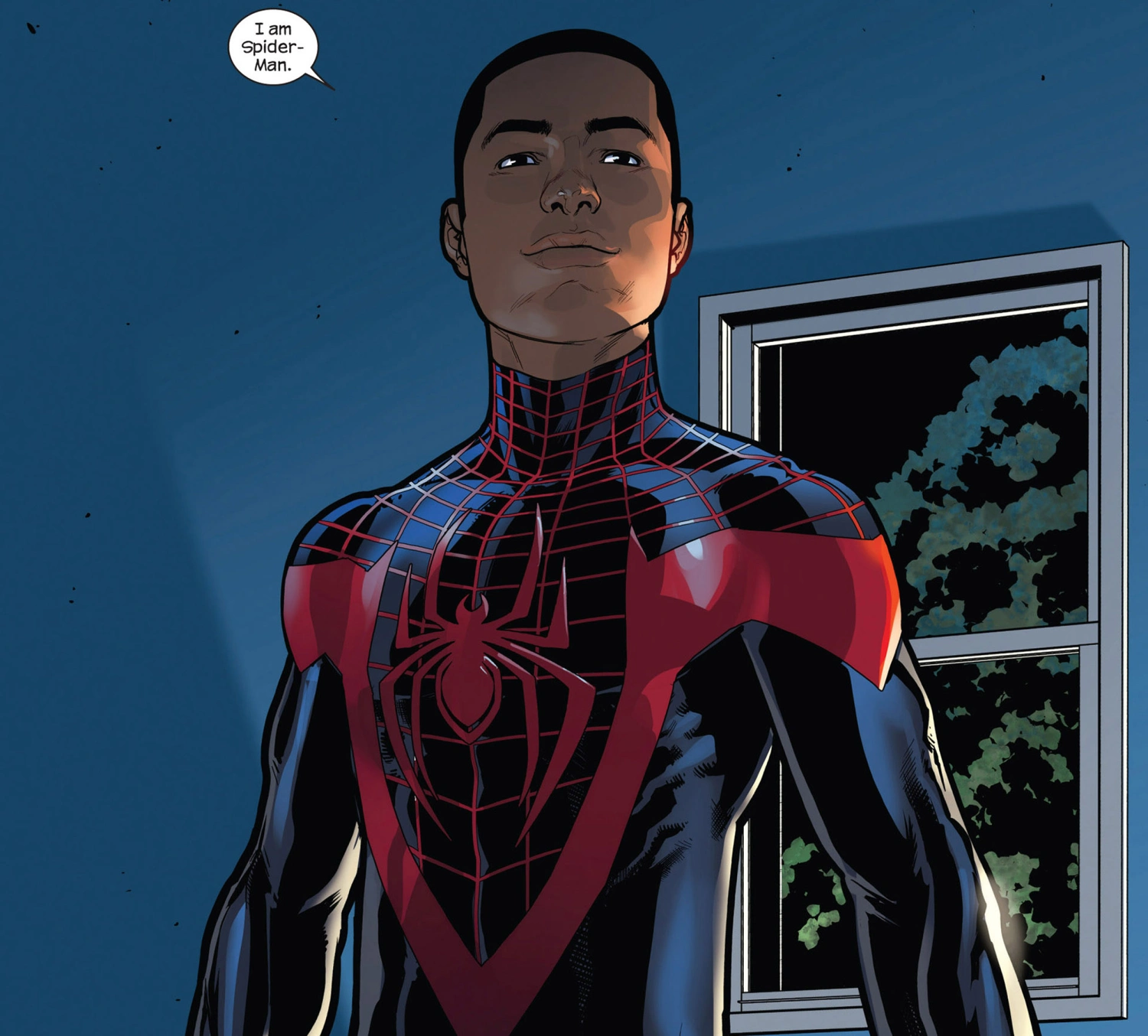 Spider-Man is Marvel Comics' most important character and an icon of the superhero world. This success has dragged numerous residual products derived from him, some more thriving than others, one of the successful cases is the Miles Gonzalo Morales character. The superhero was born thanks to writer Brian Michael Davis and artist Sara Pichelli, with input from Marvel's then-editor-in-chief Axel Alonso. This conjunction of artists and creatives gave life to what is so far the most successful by-product of the Spider-Man queue.
The story of Miles Morales is very similar to the other versions of Spider-Man. A genetically modified radioactive spider bit him, and he gained superpowers. Norman Osborn was the designer of this interdimensional bug. This event was derived from the classic journey of the arachnid hero, with twists and turns of events that only enriched the narrative. The hit was so great that Miles Morales acquired his own life, not only in the comics. The character also made it to the movies with very booming productions. Let's get to know this arachnid in depth. 
Who is Miles Morales?
Writer Brian Michael Bendis and artist Sara Pichelli created Miles Morales. The character embodies a young African-American and Latino teenager residing in Brooklyn, United States.
A genetically modified spider kills the young man and gives him superpowers. These abilities gave him, among other things, extraordinary reflexes, which, combined with his agility, speed and spider-sense, he is almost untouchable.
He first appeared in 2011, in the fourth issue of Ultimate Fallout. The reason for his arrival was the death of Peter Parker. In this moment of crisis, someone had to assume the role of this superhero. Thus was born the version of Spider-Man in the Spider-Verse, Miles Morales.
Miles Morales Origin
Miles Morales comes from a humble home, whose parents are of Puerto Rican origin, the mother, and African-American, the father. He was born and raised in Brooklyn. And from a very young age, he was inclined towards science, just like his predecessor, Peter Parker.
When he was about to start college, and against his parents' wishes, Morales decided to visit his uncle Aaron Davis. For him, there was no other option; he was a senior on a scholarship to graduate school.
While discussing the different study opportunities, Aaron and Morales, a genetic spider Aaron had stolen from Oscorp, bites Morales on the hand. This causes him to lose consciousness, and he ends up convulsing.
When Morales wakes up, his father and uncle are in a frank discussion about what happened. He flees Aaron's apartment and hides from his father. In this way, he discovers he has superhuman abilities, such as enhanced agility, camouflage, and a stun ray.
He confesses to his best friend, Ganke Lee, that he has superpowers. Thus begins his adventures, initially saving a group of people trapped in a burning building. But despite this heroic deed, Morales feels he is not cut out to be a superhero.
After some time, Morales and Lee are in the process of fitting in at Brooklyn Visions Academy. There, they are called to a gymnasium in the middle of the night. They are informed that the Queensboro Bridge is a superhero war zone.
They are told that Spider-Man has been shot and is critically wounded. Morales heads straight to where Spider-Man is fighting the Green Goblin. To see the tragic death of Peter Parker in the arms of his loved ones.
Both Lee and Morales attend Peter Parker's funeral. The latter asks Gwen Stacy why Parker decided to be a superhero. She told him, "With great power comes great responsibility," and Parker lived by that premise. Thus, Miles Morales assumed the Spider-Man legacy in honor of Peter Parker.
Becoming the New Spider-Man
Miles Morales, the new Spider-Man, assumed his role with gallantry. His first mission was to confront the villainous Kangaroo. He managed to defeat him using his poisonous ray and then escaped.
He continued patrolling the rooftops, being attacked by Spider-Woman. Who captures him and takes him to Nick Fury. Who confesses that he knows everything about him, his family, and even about the criminal activities of his uncle, the Prowler.
This led Morales to ask many questions, but before they could be clarified, Electro attacked them. The superhero controls the situation using his poison ray and camouflage ability. Electro ends up back in prison.
Miles Morales was worried about his costume; he thought it looked ridiculous. And the civilians' comments didn't help either. Therefore, Jessica takes to Morales' school a modified suit with black and red colors. Which was well earned by the feats performed.
War Against Venom
Miles Morales' father, Jefferson, was present during the Civil War era. He fought as a soldier against the Hydra. This drew the attention of the press and attracted a powerful enemy, Venom.
Jefferson was attacked by this villain, who mistakenly thought he was the new Spider-Man. Thus, Miles, now as Spider-Man enters the scene and rescues his father.
Once the civil war is over, Miles begins his training with web-slinging. But, when his webs ran out, he climbed up a lamppost. There he noticed that his fingers and pee allowed him to hold on.
Miles told Gankee, who showed him some equipment to create a web-slinger. Thus began his research and creation of his own formula of spider fluid. For this, he based it on the one left by his predecessor, Peter Parker.
During a family dinner, Jefferson, Miles' father, is again attacked by Venom, along with the press. The battle begins, already Miles Morales as Spider-Man, using his new web-slinger and starting his fight in his invisible mode.
Venom traps Miles, so Jefferson intervenes and rescues him. Miles defeats Venom again. But those fights continued, and his parents and loved ones were in danger. And sadly, his mother passed away. Despite his victory, he decides to put a one-year hold on Spider-Man.
Miles Morales in
Spider-Verse
Miles Morales meets Black Widow in the cemetery in the infinite number of universes or realities. The hero would visit the grave of his mother, Rio Morales. But, Verna immediately appears, unleashes the Hounds, and they attack the two characters.
When they are about to be defeated for being outnumbered, a portal opens from Earth-928. Superior Spider-Army arrives and saves them. Both Superior Spider-Man and Anarchic Spider-Man kill the hounds. This unleashes Verna's wrath and destroys Rio's tomb. For Miles, this is now personal.
Back at the Superior Spider-Army's base of operations, Miles and Jessica are recruited to go to Earth. 13. There, a battle is fought against Daemos. In the fight, Miles and Jess meet the real parallel, Peter Parker. 
So they start a whole adventure to defeat the Heirs together, of course, this alongside his army of spiders. The Inheritors were banished to Earth-3145. In this way, Spider-UK opens a portal for Ultimate Spider-Man Animated.
New Adventures on Earth-616
Image: Marvel Comics
On Earth-616, Miles' reality changed radically. While it is true, he was still bitten by the genetically modified spider. He becomes a superhero like the original Spider-Man, Peter Parker.
His mother, Rio, was never killed by Venom, and he received support from his best friend Ganke and his father to become a superhero. He was recruited to join the Avengers team consisting of Iron Man and other superheroes while still at Brooklyn Visions Academy.
The goal was to stop the threat of various incarnations of Kang the Conqueror. The young Nova and Ms. Marvel also joined the team, from which a deep friendship was born.
In this way, they faced several villains, including the demon Blackheart, son of Mephisto where only Spider-Man showed the ability to defeat him because he was vulnerable to his poisonous ray. 
Thus, he earned the respect of much of the superhero community. But, in the end, his personal life was declining and his life in the academy. Ending the grandmother hiring Jessica Jones to watch over him.
Powers and Abilities of Miles Morales
The powers and abilities of Miles Morales are similar to the traditional Spider-Man, counting among them:
Superhuman agility, having incredible body flexibility. His tendons are capable of stretching far beyond what an ordinary person could.

He had superhuman strength, lifting 25 or more tons of weight above his head. They can also reach heights of several stories with just a few jumps.

Superhuman reflexes, he has enviable reflexes, being able to dodge almost any object that is traveling at high speeds. This makes him practically untouchable, being able to escape almost any attack.

Superhuman resistance, he has developed a musculature that produces less toxins when he performs physical activities. Compared to a normal human being, he can perform more physical activities for longer.

Superhuman durability, it has much tougher tissues than any other human, so it resists almost any attack and physical damage.

In Arachnid camouflage, he wears clothing that produces an invisibility effect. This way, he blends in with his surroundings and gets closer to his enemies more easily.

Energy blast, he can generate a strong burst of energy when stressed.

Poison rays he can channel and discharge a large amount of bio-energy. This temporarily paralyzes his enemies just by touching them.

Wall climbing, it can cling to any surface, using fingers and feet.

Spidey-sense, which makes him prevent danger. Even today, it is still unknown how it works. While it is true that this sense does not indicate the magnitude of the danger, it does warn it of where it comes from and how dangerous it is.
Versions of Miles Morales in Other Media
Image: Sony
Versions of Miles Morales are present in other media, such as
TV Series
In television series, Miles Morales appears in the TV series:
Ultimate Spider-Man: Warrior Network, in the third season, where Donald Glover performs the voice.
Episode 11, "The Spider-Universe, Part 3".

Episode 12, "The Spider-Universe, Part 4".
Ultimate Spider-Man vs. The Sinister 6, in the fourth season, where Ogie Banks performs the voice.
Episode 3, "A Thousand Miles from Home".

Episode 4, "The Iron Vulture".

Episode 5, "Lizards".

Episode 7, "Day at the Beach".

Episode 9, "Forces of Nature".

Episode 10, "The New Sinister 6, Part 1".

Episode 11, "The New Sinister 6, Part 2".

Episode 15, "The Symbiote Saga, Part 3".

Episode 16, "Return to the Spider-Universe, Part 1".

Episode 17, "Return to the Spider-Universe, Part 2".

Episode 18, "Return to the Spider-Universe, Part 3".

Episode 19, "Return to the Spider-Universe, Part 4".

Episode 22, "The Spider Destroyers, Part 2".

Episode 23, "The Spider Destroyers, Part 3".

Episode 25, "Graduation Day, Part 1".

Episode 26, "Graduation Day, Part 2".

New Spider-Man series from 2017, where Nadji Jeter performed the voice.

Spidey and His Amazing Friends, voiced by Jakari Fraser.
Miles Morales in Movies
In the cinematic world, there have been several mentions and some appearances of Miles Morales. This, at first, was given thanks to the intervention of writer Brian Michael Bendis, who prefers to include the character in Spider-Man movies in some way.
By 2014, producers Matt Tolmach and Avi Arad initially stated that they did not intend for any other character to replace Peter Parker in his role. This changed completely when Somy agreed with Marvel, adding Peter Parker to the Marvel Cinematic Universe (MCU).
So, in 2014, producer Kevin Feige indicated that Miles Morales was not scheduled to appear in the UCM immediately. What changed in 2017 when in Spider-Man: Homecoming alludes to Miles Morales?
He has likewise made himself present in:
Spider-Man: A New Universe, animated film.

Spider-Man: No Way Home, an indirect mention is made about Miles Morales.

Miles Morales is the protagonist of Spider-Man: Across the Spider-Verse.
Video Games
Image: Sony
Miles Morales is present in several video games, in almost all as a playable character, such as in:
Spider-Man Edge of Time.

Marvel Super Hero Squad Online.

Marvel Avengers Alliance for Facebook.

Spider-Man 2018.

Spider-Man: Miles Morales.

Spider-Man: Ultimate Power.

Spider-Man Unlimited.

Marvel Spider-Man Miles Morales.
The Marvelous Mister Miles Morales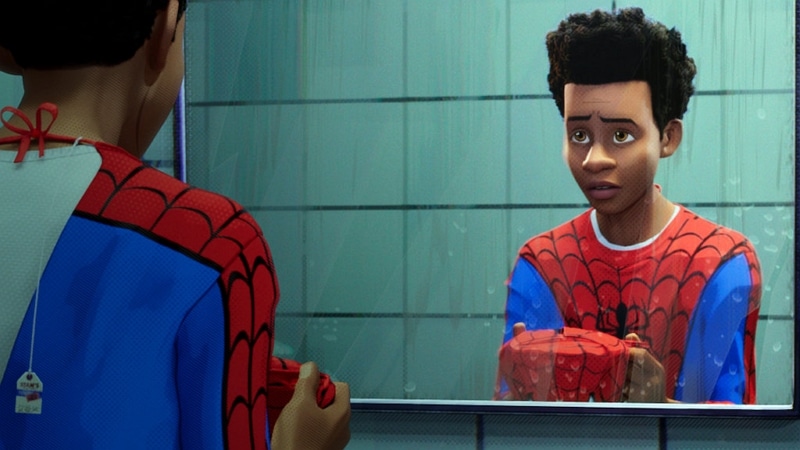 Image: Sony
Miles Morales has earned his throne as one of the most successful Spider-Man spin-offs. His film adaptation took the character to the next level, changing the format forever. The film won Best Animated Feature at the 91st Academy Awards. It also won awards at the 76th Golden Globes, the 72nd British Academy Film Awards and the 46th Annie Awards. 
Its latest release when writing Spider-Man Across the Spider-Verse, is sweeping the box office. This production is undoubtedly one of the best-animated films in history. This level puts this film on par with its predecessor and will surely sweep the Academy Awards. 
This cinematic success will have an impact on the comics, we will surely see the character evolve and grow. Spider-Man is one of the greatest superheroes ever, and Miles Morales is a successor to match. His humble, intelligent and brave character makes him more than worthy of wearing the spider on his chest. We can only wait and see what Marvel and Sony have in store in comics and movies for the future.
Featured Image Via Sony 
I am a circus aerialist influenced by Dick Grayson and Spider-Man. Fortunate to write about the characters that inspired me. I also have a Bachelor's degree in Political Science and a Master's degree in International Trade.
Leave a comment