Heroes Reborn Week One: A Small Start To A Big Story (Spoiler Review!)
Marvel's event train has now entered its fourth stage. Following Empyre, X of Swords, and King in Black, Jason Aaron and Ed McGuinness's Heroes Reborn kicks off week one with just the opening issue and no tie-ins. This is a welcome break from King in Black, which was so cluttered with tie-ins, it became hard to keep up with. In fact, though it's a big event as far as story, it's a small event when compared to the former three. While it's a weekly event, no week has more than 3 comics; two tie-ins and the main event. This might even be a trend. The Hellfire Gala has fewer issues, and Extreme Carnage even less than that. And we don't know how long The Last Annihilation event will be yet. But for now, let's take a look at Heroes Reborn #1, Marvel's latest alternate existence events.
Before Diving Into Heroes Reborn Week One, A History of Alternate Histories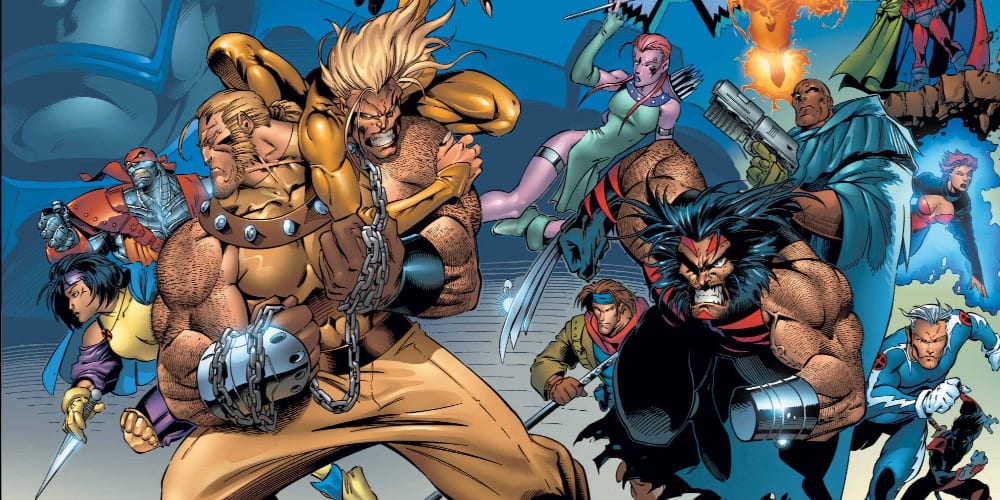 Probably the most popular alternate reality story ever told. (Image X-Men: The Complete Age of Apocalypse Epic Book Two, Marvel Comics)
Marvel can't go a decade without an event that explores an alternate reality or existence. Not simply an Elseworld kind of stories, such as Marvel 1602 and Marvel Zombies, but actual big events that have ramifications in the 616-universe. Age of Apocalypse, House of M, Age of X, and Age of X-Man are some of the biggest and most recent. And yes, they love Age of titles. In a way, House of X/Powers of X was also an alternate reality…or maybe mixed realities? Moira X's power is weird. And in each of these stories, there is generally one person who remembers and "wakes up" the rest of the universe. Bishop in Age of Apocalypse, Layla Miller in House of X, and so on. But that character in Heroes Reborn week one is a surprising choice: Blade.
This history also includes, of course, the pocket universe Franklin Richards created to send several heroes to in the epic X-Men/Avengers/Fantastic Four event "Onslaught." That was twenty-five years ago, but if you've read enough comics, you know that Onslaught and the original Heroes Reborn still have effects today. In this new Heroes Reborn, we have no idea if the new reality is connected to Onslaught or the X-Men at all. And it would be hard for Franklin Richards to be involved, considering he lost his reality-warping powers. Also, at the same time, discovering that he was never a mutant to begin with. But that's how these stories usually go: we're thrown into the new reality and work our way backward. Like The Hangover with apocalyptic ramifications.
But for now, let's look at what this truly weird world (not Weirdworld) Blade woke up in.
Week One of Heroes Reborn Sets the Groundwork for Heroes Return Next Month
Maybe get him a horn of coffee first. (Image: Heroes Reborn (2021) #1, Marvel Comics)
No Avengers. That's what this universe is missing. Instead of the Avengers, however, they have the Squadron Supreme. The Squadron is marvel's facsimile version of the Justice League. We'll dive into their history another time. Blade has been trying to find the Avengers for a few weeks after waking up in a crappy apartment covered in blood. But so far, none of them remember ever being an Avenger. Even worse, the "Big Four" are nowhere near Avenger material. Bruce Banner is in a negative zone prison. Meanwhile, Thor is in a horrible state of depression and alcoholism (he calls his mead horn his only friend." And then there's Tony Stark, a shady arms dealer. But the worst is Captain America – he's still frozen in the arctic circle. Blade knows that he needs these four heroes, but getting them is going to be difficult.
But it doesn't end there. Carol Danvers is a reckless pilot, always being reprimanded and never made it to Captain. Robbie Reyes is just a kid who can barely get to school on time, let alone call up the spirit of vengeance. Jessica Walters, She-Hulk, is a regular attorney. And nobody has even heard of Wakanda or the Black Panther. However, one of the strangest developments is with Phil Coulson. Not only is he the president, but we quickly learn that he's a corrupt president. This might have something to do with Mephisto bringing him back to life…
Heroes Reborn Asks an Interesting Question in Week One: What if the World was Better This Way?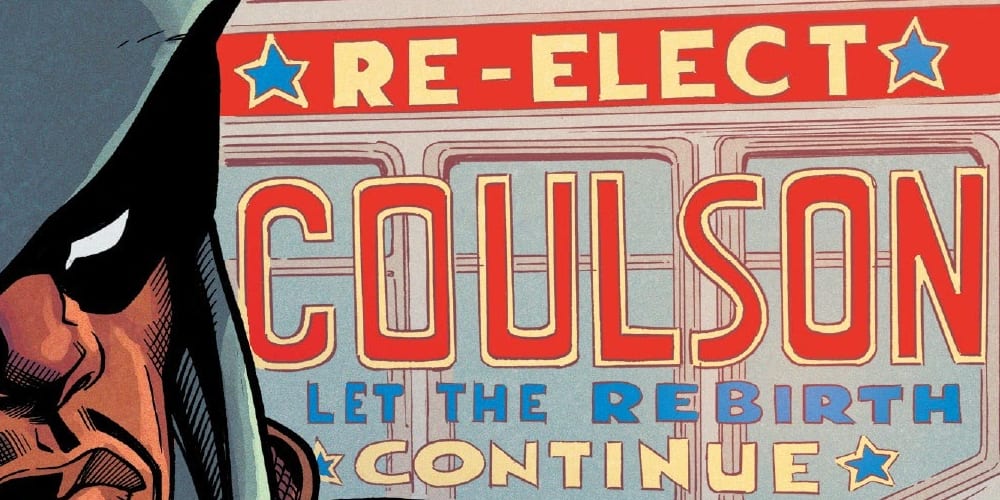 Well, that's a little on the nose. (Image: Heroes Reborn (2021) #1, Marvel Comics)
Most alternate realities present a ruined world ruled by some despotic leader. We don't know if that's the case here, though Coulson is "dark side of the moon" levels of shady. We also don't know, yet, who might be suffering in this new existence, and we won't find that out until later. For now, like Blade, we have to work with the information we have. Indeed, there is one major difference in this Squadron reality than the Avengers reality: there are no vampires. Blade is the only one, which leaves him wondering if the world is better off without the Avengers. But this isn't the only way Heroes Reborn challenges that question in Week One. The style Aaron uses for dialogue offers an even better glimpse.
Throughout the first issue, characters talk like they did in comics from the 40s through 70s. Very stilted, overly-declarative, and weirdly narrating what they are doing in the moment. For instance, when Doctor Doom marches onto the White House lawn, revealing his new power: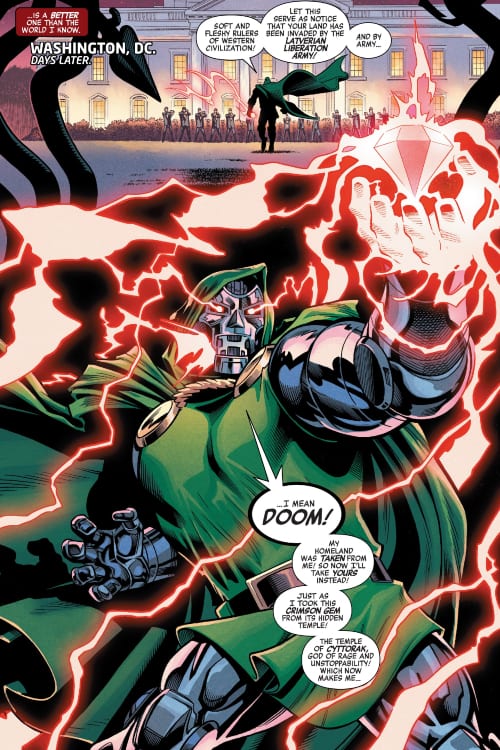 (Image: Heroes Reborn (2021) #1, Marvel Comics)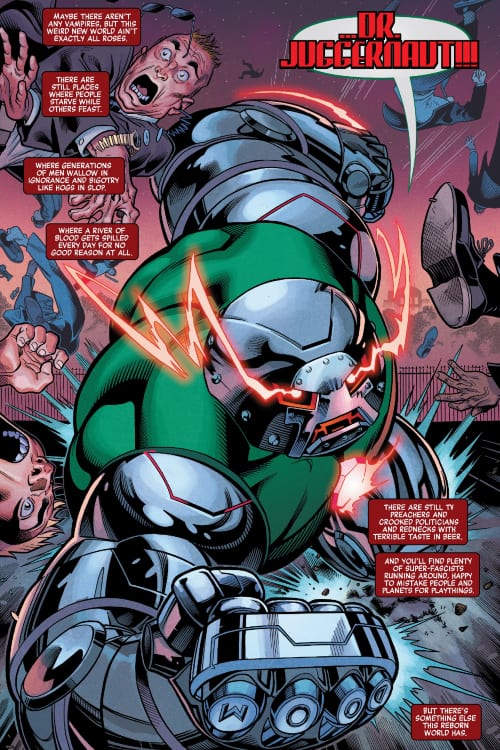 (Image: Heroes Reborn (2021) #1, Marvel Comics)
This classic form is itself a clue. However, the weird thing is that Blade doesn't seem to notice the strange way everyone talks, even though he doesn't converse like the rest of them. It's interesting to look back at older comics, and that's where this style might help. If the world is indeed better without the Avengers, then the style of comics from the 1960s would have changed very little. It's a throwback to "simpler" times. Also, the style might connect Heroes Reborn to a specific event from that era. But more than likely, a certain demonic character is involved.
It's Not Just the Heroes Who are Reborn in Week One – The Villains Are Too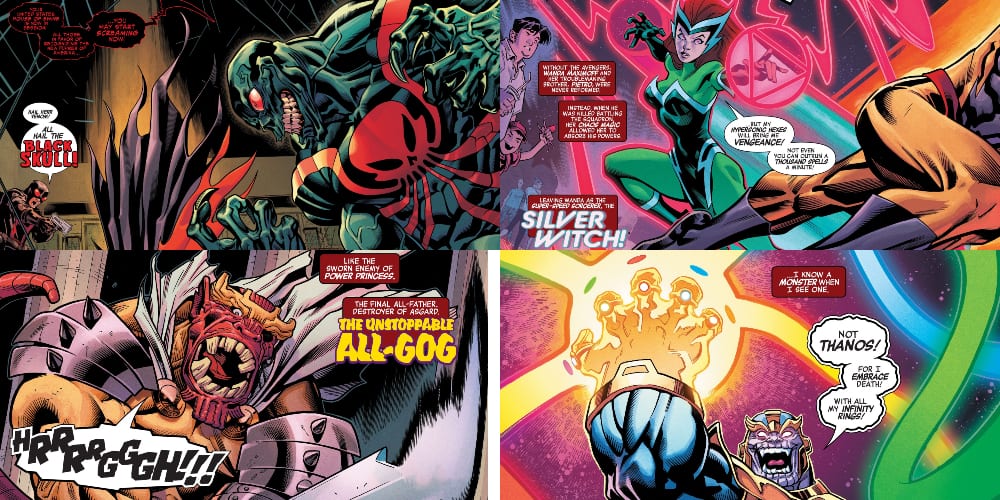 They're probably going to team up with Blade by the end of this event. (Image: Heroes Reborn (2021) #1, Marvel Comics)
Besides meeting the Squadron Supreme, we also meet some of the major villains of the new reality. But they aren't replacement characters like the Squadron, they're mash-ups of the villains we love. Above, we've already seen one: Doctor Juggernaut. Although, wouldn't the Unstoppable Doom have been better? We also meet the Silver Witch – a version of Scalet Witch that absorbed her brother's powers when he died; The Black Skull – the Red Skull with the Venom symbiote; The Unstoppable All-Gog – a mix of Odin and a very rarely seen villain, Gog (and not Juggernaut at all, despite the name), and Thanos – but with five "infinity rings" which is one short of the stone, and five short of the Mandarin's ten rings. Considering how much Aaron and McGuinness highlight these characters in Heroes Reborn week one, they are certain to be more important later on.
The Missing Infinity Ring is a More Important Point Than We Think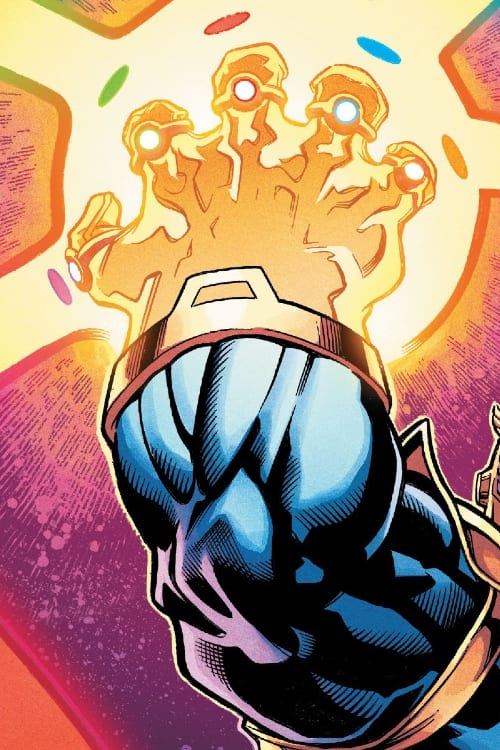 For a genocidal maniac, Thanos sure loves colorful jewelry. (Image: Heroes Reborn (2021) #1, Marvel Comics)
Five rings. Six stones. One of the stones is missing, but thanks to Matthew Wilson's vibrant colorwork, we know which one: the yellow one. However, this doesn't narrow it down as much as we'd want it to. In the MCU, Yellow is the mind stone, which the comics started reflecting in 2017. Originally, in the comics, the yellow gem controlled reality. Both of these possibilities are logical for what's happening now. If the villain does indeed have one of these stones, they could be controlling reality, manipulating it into a version of the world they want. But it could also mean that this entire reality isn't real at all, but only in the minds of everyone—Universe-wide mind control.
But the missing ring/stone/gem is definitely going to come up.
Blade Brings Heroes Reborn Week One to a Thundering Cliffhanger.
That must be some good mead. (Image: Heroes Reborn (2021) #1, Marvel Comics)
So, big spoilers ahead. As stated above, Blade is trying to find the Avengers, hoping that one of them will remember the real world. But there's one Avenger he hasn't been able to ask: Captain America. He's still frozen in a block of ice. Yet that doesn't stop Blade. After some detective work, he finds the crash location in the arctic where Steve Rogers went down. So, he goes into the ice and finds Captain America frozen.
Yet when this happens, something else happens that will change everything. We see Thor again, still drunk at the bar, wallowing in self-loathing and as far from "worthy" as we've ever seen him. But as he goes for his drink again, the horn transforms to..well…check it out:
A mead horn turning into Mjolnir is much cooler than a cane. (Image: Heroes Reborn (2021) #1, Marvel Comics)
This Event Has a Great Week-to-Week Structure.
We'll excuse the publishing issues Empyre faced since COVID-19 interfered with it – a lot. Similarly, X of Swords had to move quickly, so we got multiple chapters each week. But then came King in Black, and things got out of control a bit. Some weeks had just two issues, and some had six or seven. And there are somehow tie-ins after the event ended. It just got a bit convoluted. Now, one of the best parts of Heroes Reborn Week One was seeing the checklist – and it's a beautifully simple checklist. For these big tentpole events, cap each week at three comics. If it's an event that isn't weekly, that means every other week is just three tie-ins at most Then the alternating weeks would include the main title plus two tie-ins, again, at most.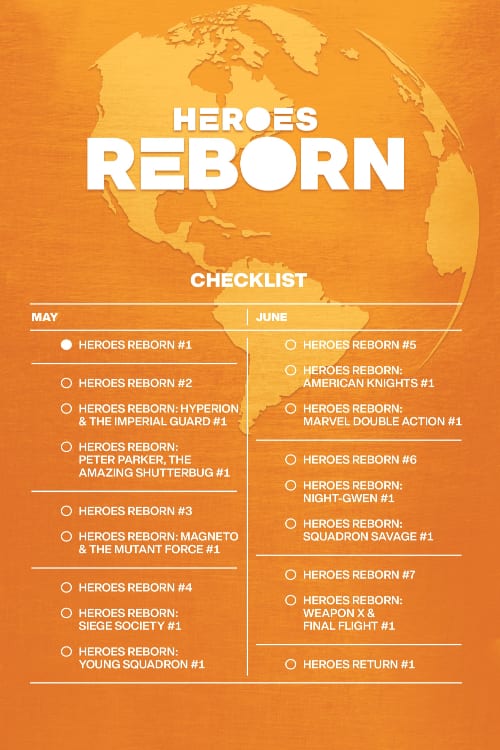 Best event structure Marvel's had yet. (Image: Heroes Reborn (2021) #1, Marvel Comics)
So, everyone put your palms together and bow your heads because we're all about to be reborn. Heroes Reborn that is, and hopefully, the next seven weeks are even better than week one.
(Featured Image: Heroes Reborn (2021) #1, Marvel Comics)
Roman Colombo finished his MFA in 2010 and now teaches writing and graphic novel literature at various Philadelphia colleges. His first novel, Trading Saints for Sinners, was published in 2014. He's currently working on his next novel and hoping to find an agent soon.
Leave a comment