Extreme Carnage Keeps The Marvel Comics Event Train Rolling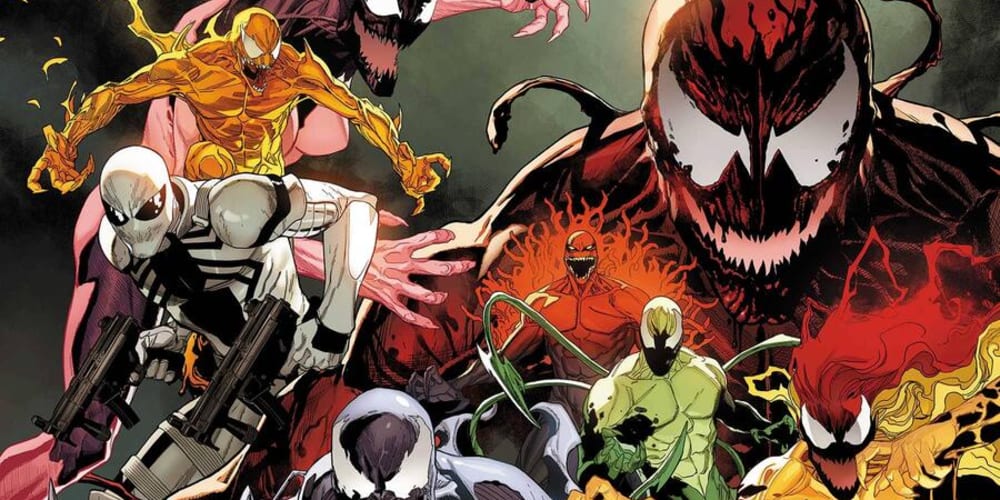 We're in the final weeks of King in Black. Right after, we go into Heroes Reborn. But immediately following that, we get The Hellfire Gala. And now we have another Marvel event just after the X-Men extravaganza: Extreme Carnage. That's right, less than one year after a symbiote event, we're getting another symbiote event. It's too many events. I'm writing the word "event" too many times. However, in the event that we all feel overwhelmed by said events, we'll still try to cover as much of the Extreme Carnage event as possible. (Heads up: I'll fail)
What is Marvel Doing with this Extreme Carnage Event? Something Kind of Interesting
The best Venom is back! Sorry, Eddie. (Image: Extreme Carnage Alpha #1, Marvel Comics)
From Empyre to X of Swords to King in Black to Heroes Reborn to Hellfire Gala to Extreme Carnage, Marvel just keeps the event train rolling. However, if we look at how they constructed each event, we see Marvel playing with the mechanisms of events. Empyre and King in Black were very straightforward events. A main series with a lot of tie-ins. With X of Swords, we somewhat returned to the standard X-Men event format, where all the series told a single chapter at a time, but on a massive scale, ending with X of Swords Chapter 22: Destruction. We generally got 2-3 chapters per week for 2 months.
With the next event, Heroes Reborn, Marvel is releasing the eight-issue series week to week. For an Avenger title, that's ambitious, especially with all the one-shots and various other mini-series tying in. And now, with Extreme Carnage, Marvel is, to paraphrase Doctor Moira MacTaggert in House of X/Powers of X, breaking all the rules of event comics. Actually, HoX/PoX also broke the rules while telling a story about breaking the rules. As Marvel describes:
"In the pages of EXTREME CARNAGE, we'll not only explain what Carnage is in this new, post-KING IN BLACK era, but also see a return-to-form for the deadliest symbiotes that have ever lived while putting them on a lethal new path for the future."

"After kicking off in July with EXTREME CARNAGE ALPHA #1, the event will take place over a series of one-shots, each one spotlighting a different symbiote offspring beginning with Scream!"
The First Three One-Shots Sound Pretty Cool, Actually.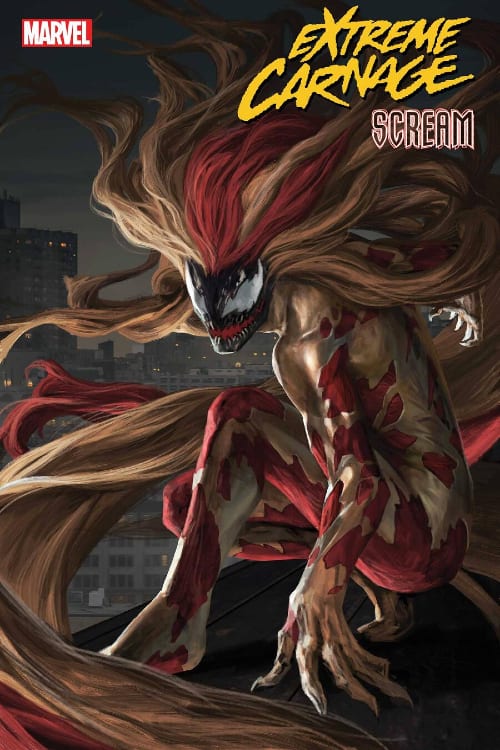 I love red/orange/yellow heads. (Image: Extreme Carnage: Scream #1, Marvel Comics)
Marvel released a few details recently about some of the one-shots, starting with Extreme Carnage, continuing in Scream, and then to Phage. However, they also revealed that Flash Thompson's Agent Venom will return to the Marvel Universe, probably in a big way. In Extreme Carnage: Scream, we'll see:
…the return of writer Clay McLeod Chapman and artist Chris Mooneyham, the hit creative team behind SCREAM: CURSE OF CARNAGE. Their reinvention of one of Marvel's most iconic—and lethal—symbiotes continues as Scream must find a way to put an end to the twisted vision that Carnage has in store for their kind.
Following Scream, we'll get a symbiote we haven't seen any of in quite some time. In Extreme Carnage: Phage, writer Steve Orlando and artist Gerardo Sandoval will "explore how Phage fits into has been a great moment. He'll come out of our issue with a power and charisma even more terrifying than before – and trust me, he'll live up to his name in the first five pages alone!" as Orlando said in the Marvel announcement.
So, Will Marvel Really Let the Extreme Carnage Event Cap at Just Ten Issues?
Take out the spikes, veins, muscle-red body color, razor-sharp teeth, freaky eyes, and giant bone claws, and he's kind of hot. (Image: Extreme Carnage: Phage #1, Marvel Comics)
One alpha, eight one-shots exploring the symbiotes featured on Leinil Francis Yu's wraparound variant, and probably one omega issue. If Marvel commits to ten issues of Extreme Carnage,  that will be more impressive than a massive event. And if that's the case, maybe I won't fall behind in covering each week!
(Featured Image: Extreme Carnage Alpha #1 Wraparound Variant, Marvel Comics)
Roman Colombo finished his MFA in 2010 and now teaches writing and graphic novel literature at various Philadelphia colleges. His first novel, Trading Saints for Sinners, was published in 2014. He's currently working on his next novel and hoping to find an agent soon.
Leave a comment