The Last Annihilation Event From Marvel Continues The Marvel Comic Event Blitz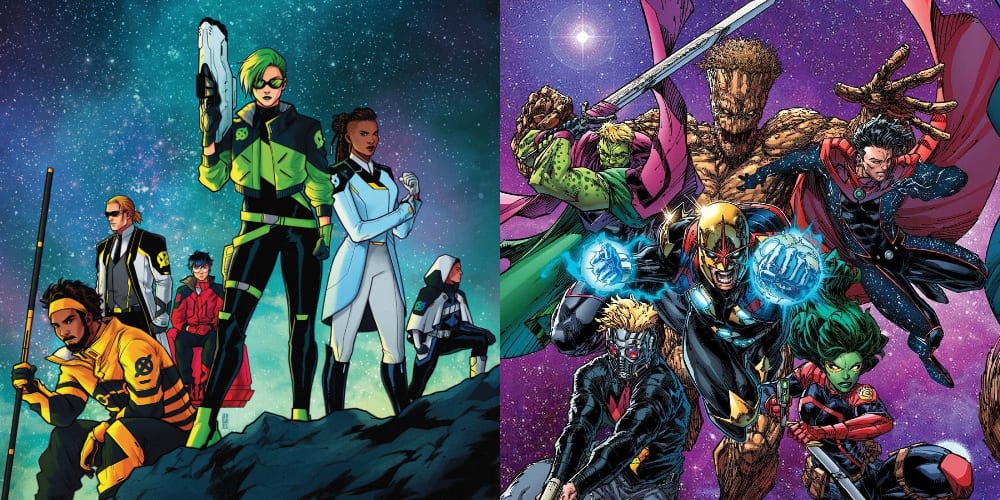 They keep announcing more events. Why? Why do they keep announcing new events? Eleven days ago, we covered the announcement of the Marvel event Extreme Carnage.  Right before that, we're getting the Planet-Sized X-Men: Hellfire Gala. And before that? Heroes Reborn, which starts soon. Meanwhile, Marvel is wrapping up King in Black, which followed X of Swords which Followed Avengers/Fantastic Four: Empyre. But if you thought Marvel filled the slate enough, you'd be wrong. We're getting yet another! The Last Annihilation, a crossover event between Guardians of the Galaxy and SWORD. And yet again, it sounds like an awesome epic.
The Last Annihilation Celebrates the Original Annihilation Event Fifteen Years Later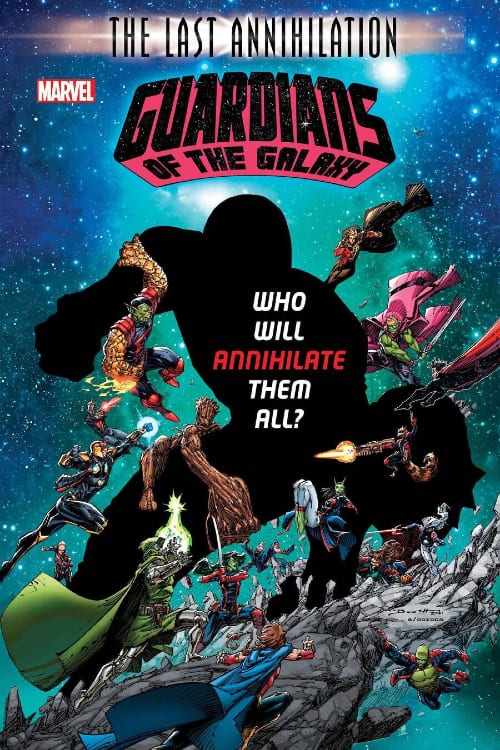 Hypothesis: The blacked-out character is, most definitely, a character. (Image: Guardians of the Galaxy #16, Marvel Comics)
Just as Heroes Reborn celebrates the event's 25th Anniversary, The Last Annihilation does so with Annihilation from 2006. If you haven't read Annihilation, you really should. It's one of the greatest Marvel events of all time. However, Marvel's cosmic side is also in the perfect place for another Annihilation wave. Empyre set up a very shaky peace in the universe, with the Kree and Skrulls uniting under Emperor Hulkling. But, just as the structure of intergalactic society started stabilizing, Knull came through. And he, well, annihilated several star systems, culminating in King in Black.
The Last Annihilation is an Event that Truly Culminates Several Events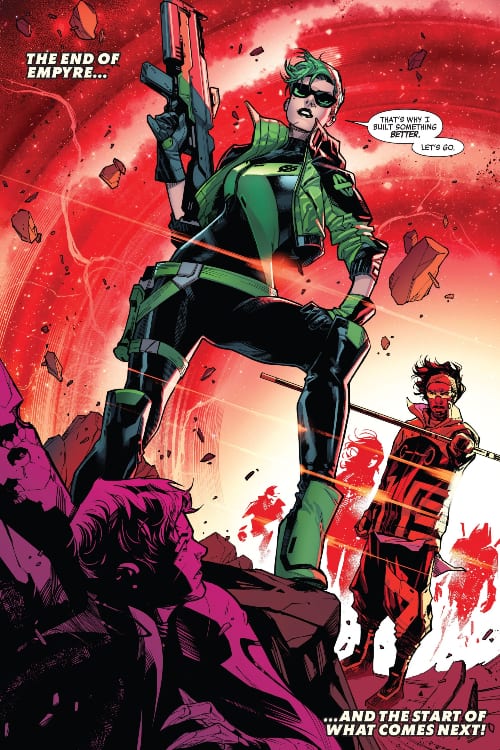 This comic was meant to come out over a year ago. In the background, we see the silhouette of the new character we met this week. Awesome planning, Al! (Image: Empyre Aftermath: Avengers #1, Marvel Comics)
Currently, the Guardians of the Galaxy are struggling to keep these new alliances. Meanwhile, the X-Men have resurrected the SWORD agency. In fact, in April 21st's SWORD #5, Abigail Brand swiftly ended the brutal "Snarkwar" conflict. It just took a few swift assassinations from a remarkable new character (seriously, read it!). Yet, thanks to Empyre Avengers: Aftermath, we know that SWORD arrives to save the Guardians' collective asses. Did we know that with the remarkable last page of Aftermath? No – it was perfectly ambiguous. But now we know what all of this means. SWORD isn't there to punish Hulkling, as some have speculated. The X-Men are once again going to save the universe.
And that brings us to X of Swords, which brought SWORD back. The X-Men literally just beat a villain called Annihilation, saving Otherworld, the Earth, and the universe all at once. If Apocalypse didn't master the Annihilation helm, the "last annihilation" would have been horrifying. Actually, Wolverine saw it in a vision Saturnyne gave him. Here's a hint: it wasn't good. Now, Saturnyne transformed the helm into a scepter. So, will the Annihilation scepter play a part in the event? Or have we seen the last of it in X of Swords?
The Event Kicks Off in Guardians of the Galaxy #16 and SWORD #7 – and Will Likely Include Several Titles.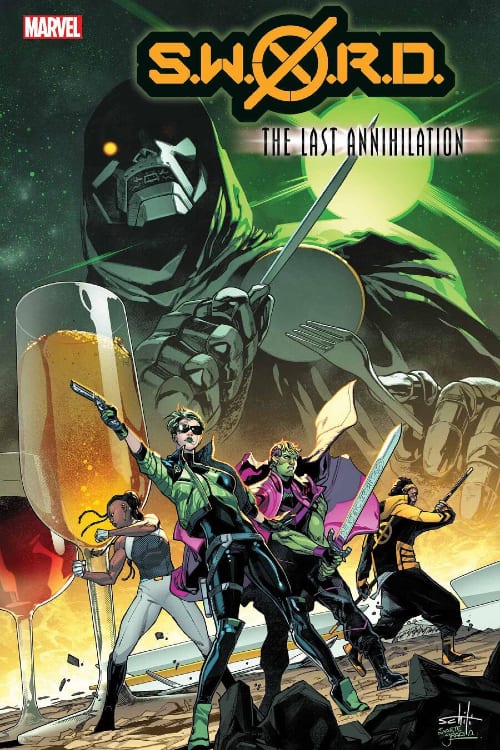 So, it looks like Hulkling and Doctor Doom are going to the Hellfire Gala…awesome! (Image: SWORD #7, Marvel Comics)
Marvel's announcement suggests a massive event, and if we're talking about worlds of Guardians and X-Men colliding, it should be. Yes, event burnout is already a problem. But some events just call for all the tie-ins and crossovers. As the writer of both Guardians and SWORD said:
"GUARDIANS and S.W.O.R.D. have been building their own unique gravity for a while now. In space, when two objects have gravity, there's a pretty good chance they'll crash into each other – or get sucked into the orbit of something even bigger. Marvel Space these days is a fragile coalition of worlds that chose peace over war. A little bubble of hope in a cruel void. But there's an enemy nobody ever suspected readying an attack that'll either cement all those frail alliances or tear them to pieces."
So, what will be the event coming after The Last Annihilation? We got two symbiote events, two space events, two x-men events. I'm thinking Mole Man is overdue for a mass crossover event. So, get ready for the eight-part, 96 tie-in issues, crossover, Alpha Flight + Defenders: Subterranea.
(Featured Images: Guardians of the Galaxy (2020) #13 and SWORD (2021) #1 (variant), Marvel Comics)
Roman Colombo finished his MFA in 2010 and now teaches writing and graphic novel literature at various Philadelphia colleges. His first novel, Trading Saints for Sinners, was published in 2014. He's currently working on his next novel and hoping to find an agent soon.
Leave a comment