War of the Bounty Hunters Event For Star Wars Is Marvel's Biggest, Longest, And Most Manageable Yet
The year of big events continues at Marvel, but this time, we're not looking at the 616. We're looking at Star Wars. Or, if you prefer to call it, Marvel's other cash cow. However, the publishing of this event is interesting. While Marvel is hitting us with at least four events of varying lengths (Heroes Reborn, The Hellfire Gala, Extreme Carnage, and The Last Annihilation event) from now until October, Star Wars is releasing one issue per week…for thirty-four weeks.  So grab your best Chewbacca pillow, Throw on that Kylo Ren hoodie, fill your R2D2 coffee thermos with a fine brew, and dig out those Jar Jar Binks slippers you bought over 20 years ago but are just too comfy to let go of. Because the War of the Bounty Hunters event is only just starting, and we have a long way to go.
Star Wars: War of the Bounty Hunters is a Han Solo Event that Doesn't Star Han Solo…Technically.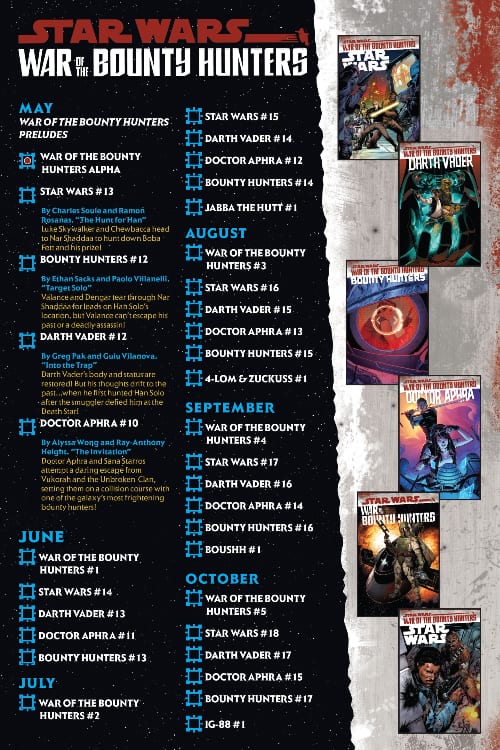 That's a long list. Better start making room in my long boxes. (Image: Star Wars: War of the Bounty Hunters: Alpha, Marvel Comics)
Currently, the Star Wars titles take place between The Empyre Strikes Back and Return of the Jedi. But, if you remember your Star Wars mythos, Han Solo was a block of carbonite at the time. So, he isn't doing much besides hanging out with a frozen scream. Yet even as an avant-garde art piece, Solo is still the center of the War of the Bounty Hunters event. As far as we knew, before this crossover, Boba flew straight from Cloud City to Jaba's Palace and delivered the goods. Now we'll see the real story behind the transfer.
Bounty Hunters from all over the galaxy are about to descend on Boba Fett and his prize. Some of them want to claim Jaba's reward. Some, obviously, want to rescue Han, and some hate Han more than Jaba does and would rather see him dead instead of frozen. In fact, we'll see Fett already have to deal with these threats in the event kickoff War of the Bounty Hunters Alpha. Indeed, the character at the center of the war not frozen in carbonite is Boba Fett. As head writer Charles Soule said for the announcement:
"War of the Bounty Hunters is a story about Boba Fett doing his thing, but it builds into something much bigger, and that's what the best comic crossovers and big stories do. They tell a great story in and of themselves, but they're also the start of something, and they open a lot of new doors. And this story will absolutely do that."
Are you ready for the War of the Bounty Hunters event?
If so, Alpha is available now. Let us know what you think below!
(Featured Image: Star Wars: War of the Bounty Hunters: Alpha, Marvel Comics)
Roman Colombo finished his MFA in 2010 and now teaches writing and graphic novel literature at various Philadelphia colleges. His first novel, Trading Saints for Sinners, was published in 2014. He's currently working on his next novel and hoping to find an agent soon.
Leave a comment