Who Is Blue Beetle? The First Latino Superhero In The DCEU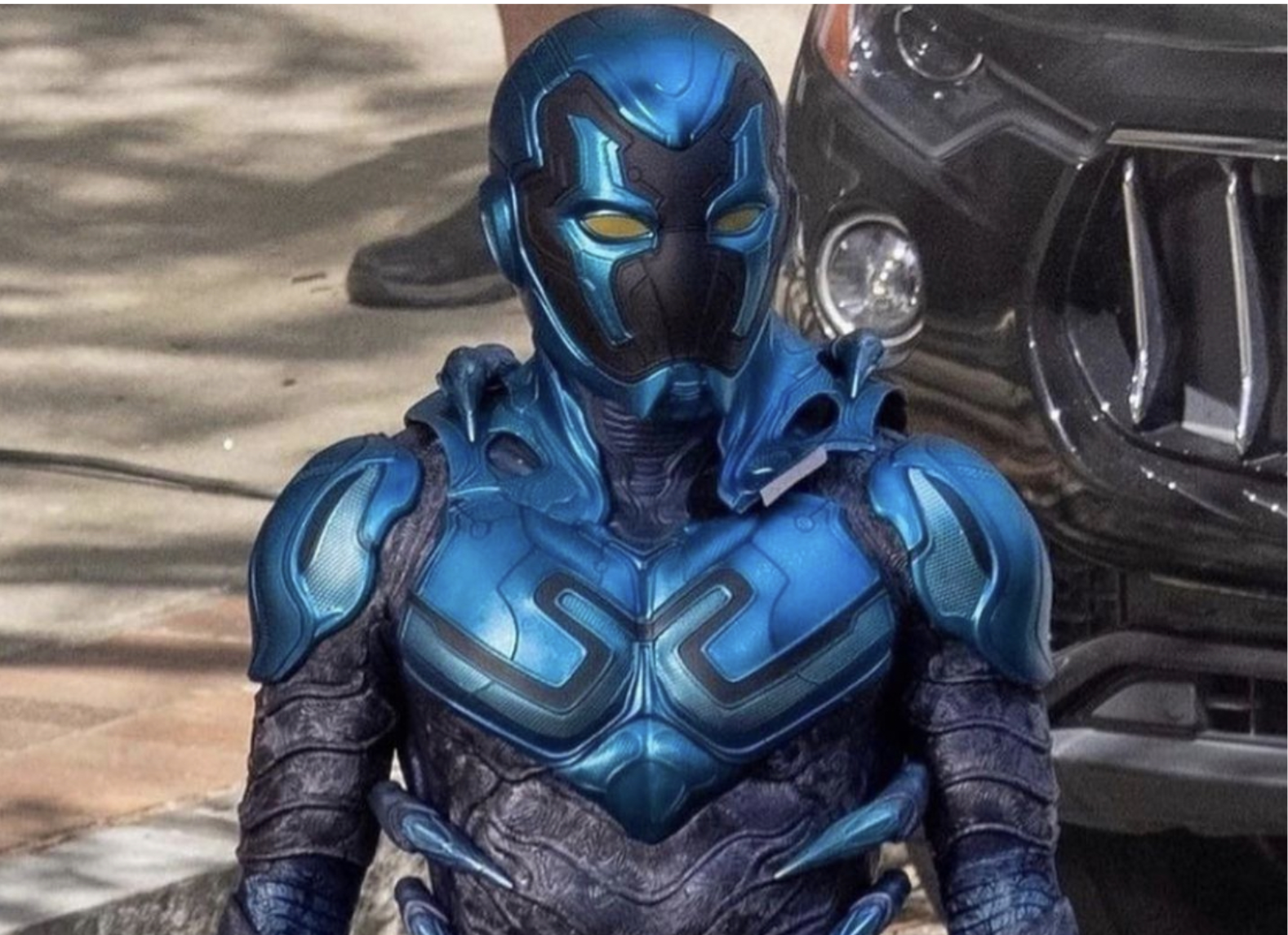 Blue Beetle is a fictional DC Comics superhero created in 1939. Several American companies have published Blue Beetle comics. The most recent is DC, which bought the rights in 1983, using this character over the years.
The first version of this superhero was Dan Garret/Garrett, his successor was Ted Kord, and the third Beetle was Jaime Reyes. Each one has his role and importance in each appearance. Although Blue Beetle may not be very well known to fans, they have a whole trajectory in the world of comics.
Image via Wikimedia Commons
Blue Beetle's Biography
Dan Garret/Garrett
The first version of Blue Beetle to appear was Dan Garret, which Charles Nicholas Wojkowski created. Garrett was the son of a dead policeman. This first Beetle was a rookie cop with special equipment, most notably a special bulletproof vest. Garret fought crime using "vitamins" that gave him superpowers. He also had a pharmacist friend who helped him fight crime. 
The new version of Dan Garrett (spelled with an extra t) came from Charlton Comics, giving a twist to his origin. This time, Garrett was an archaeologist who found an Egyptian scarab that gave him superpowers such as flying, luminosity, and super strength. Garret obtained his powers through a particular vitamin that gave him super strength.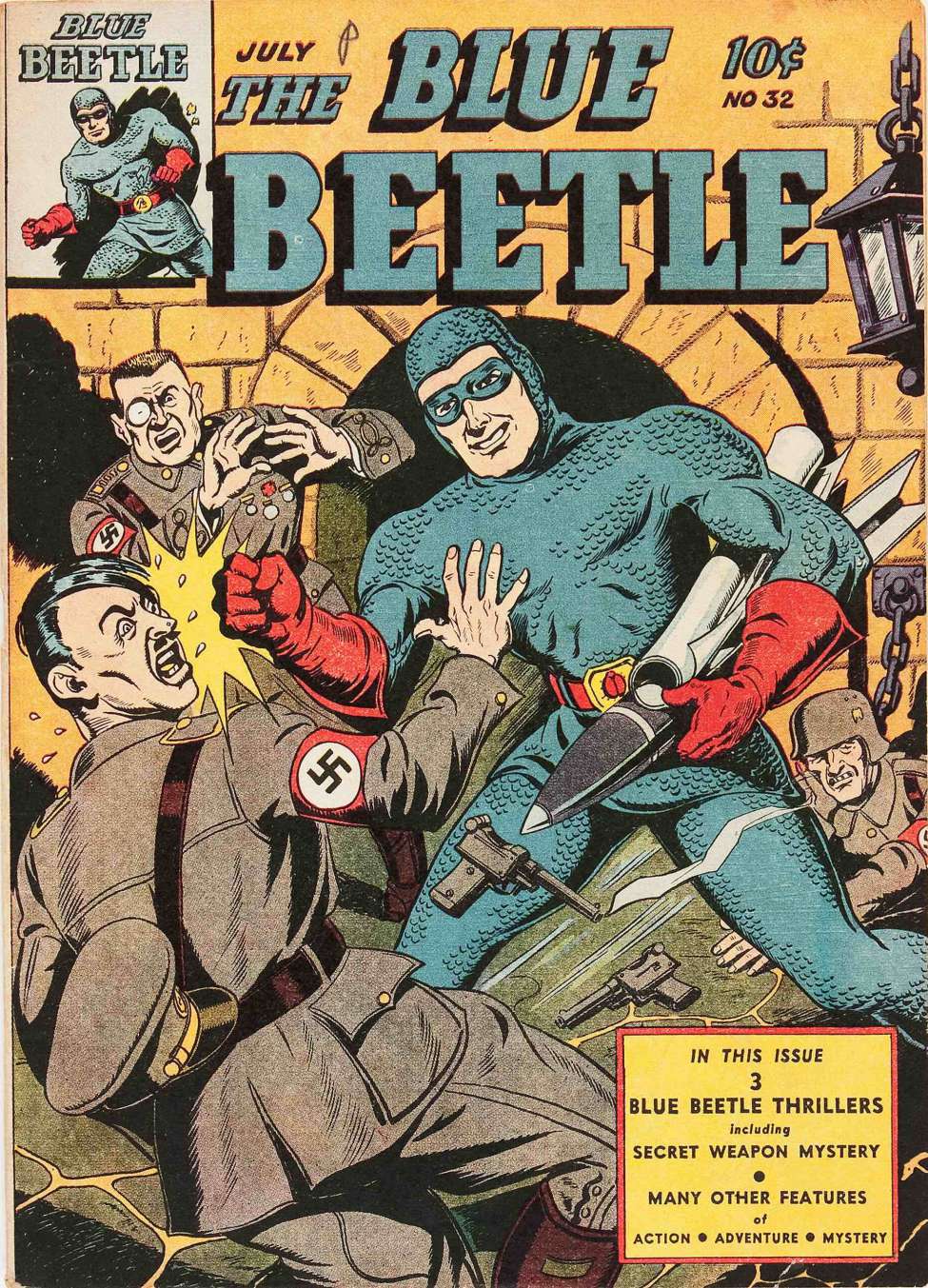 Image via Fox Feature Syndicate
Ted Kord
In 1966, Ted Kord entered the scene and became the second Blue Beetle. This version of the Beetle came from the hands of artist Steve Ditko, who co-created of Spider-Man. 
Ted was one of Dan Garrett's students who stood out for being a great inventor and athlete. He combined that with his BB gun skills. Unlike Dan, Kord didn't have superpowers but used different gadgets and science to fight crime. 
This version became a member of the Justice League, a team that later assumed the name Justice League International. There he teamed up and formed a friendship with Booster Gold.
Image via DC Comics
When Hielo died, the League was restructured, and Blue Beetle formed his own branch with Booster, Captain Atom and others, making Extreme Justice. Ted later joins the Super Buddles.
In Countdown to Infinite Crisis, Ted discovers that someone stole a satellite Batman created. This device could spy on all the heroes of the world, and a stranger could manipulate it. In his arduous search, he reached Maxwell Lord, who was in charge of the corrupt organization Checkmate.
Maxwell Lord offered Ted to join him or die. After refusing, Maxwell killed Ted with a gunshot to the head. That, of course, was one of the events that triggered the Infinite Crisis.
Jaime Reyes
Already in 2006, DC introduced a new Blue Beetle. This version featured a teenager named Jaime Reyes, who had superpowers derived from Dan Garrett's scarab.
During the Infinite Crisis, Shazam took the magic scarab from the first Blue Beetle that Ted Kord had recovered. The Rock of Eternity was destroyed when the Sorcerer died in the fight against the Wraith, called the Day of Vengeance. The scarab ended up in El Paso, Texas, where Jaime Reyes, a Latino student, found it.
Jaime Reyes lives in Mexico, specifically in the El Paso area between Texas and Ciudad Juarez. He has a large and robust Hispanic family that supports all his activities.
Image via DC Comics
Booster Gold pursued this character without his knowledge to snatch the scarab from him. However, when he managed to enter his house the following day, he discovered that the artifact had slipped to Reyes while sleeping, sheathing itself in his spine, so he instantly became the new Blue Beetle.
Unlike his predecessors, Jaime Reyes possesses symbiotic armor with advanced alien technology, giving him power and access to various armaments. Likewise, he can interfere, at will, in advanced computer systems.
During the Infinite Crisis, this new Beetle actively participated in helping Booster Gold to find Brother Eye. To do so, he made Brother Eye's satellite visible, disappearing at the mission's end and moving away.
Throughout the life of this superhero, he became best friends with Doctor Midnight. Midnight was a super surgeon with a lot of wisdom who gave valuable advice to this Blue Beetle.
Over the years, Reyes became a member of the Teen Titans, starring in two series of Blue Beetle comics. When DC Comics' New 52 reboot occurred in 2011, Reyes became the main Blue Beetle. On some occasions, he referenced his previous versions, all thanks to the continuity of DC Rebirth.
Blue Beetle's Publication history
Blue Beetle first appeared in 1939 in Fox Comics in Mystery Men Comics #1. The character became known in newspaper strips, comic book series and radio serials. As such, Blue Beetle had excellent acceptance in the Golden Age, but like other superheroes, he fell into oblivion when the 50s arrived.
When the comic book issues with Dan Garrett were published, they had a series of anomalies in their publications. There were 19 issues under the Holyoke Publishing imprint, specifically from 12 to 30. Issue 43 was never published, and the frequency of their publications varied steadily.
With the decline from the 50s, Fox Comics closed and sold the rights of Blue Beetle to Charlton Comics. The issues published were few, and their frequency was very sporadic.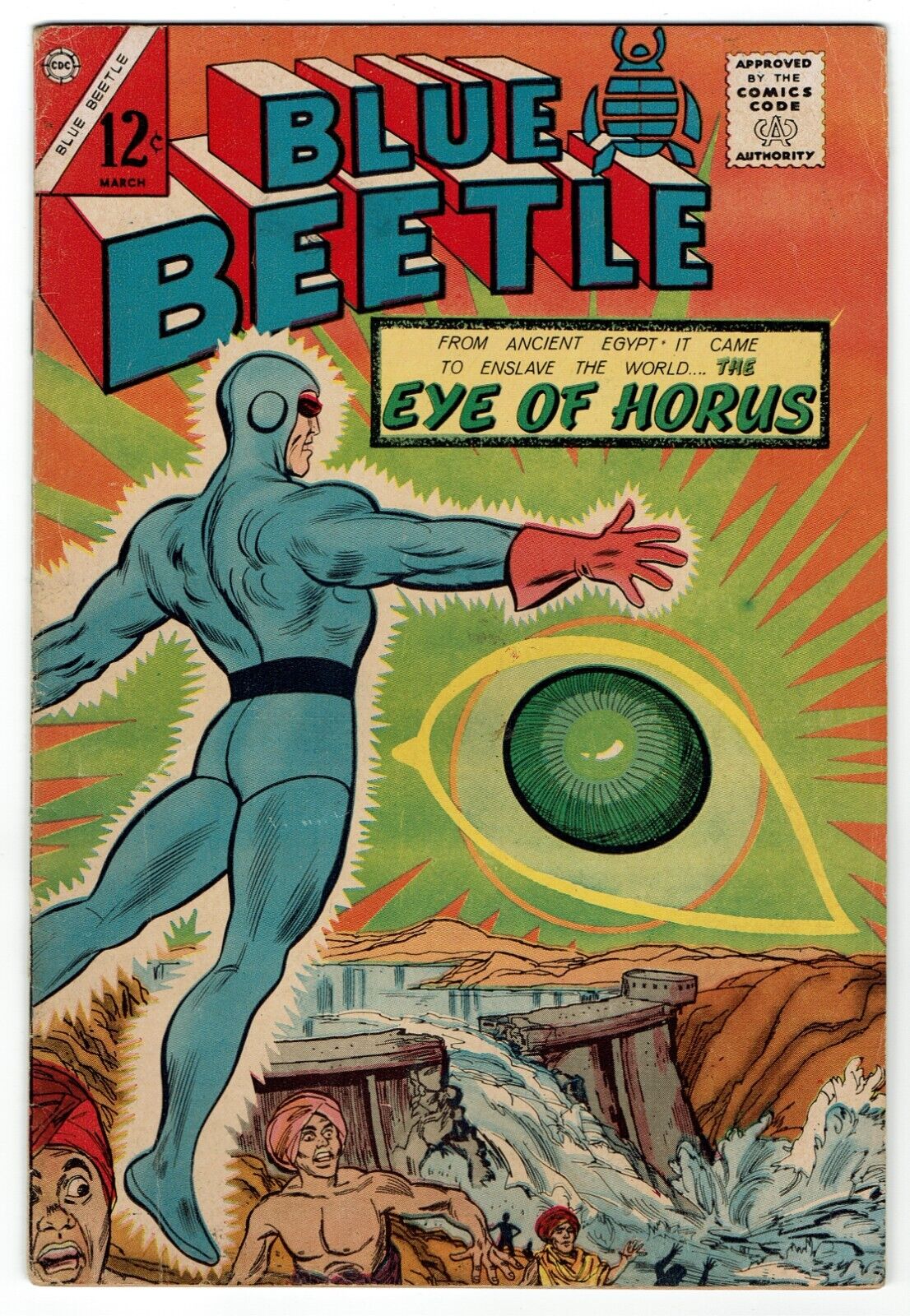 Blue Beetle was relaunched in 1967 with some changes. The origin of its plot was an archaeologist in Egypt. He finds a magical device in the shape of a scarab that grants him powers to fight crimes. But this did not change Blue Beetle's luck. Charlton tried three times to make a collection but failed. This time, DC Comics took over the leading role, where the character achieved 24 issues. 
In 1983, when Charlton Comics closed several lines of superheroes, Charlton sold its property rights to DC Comics. Since then, Blue Beetle has appeared in DC Comics' products. 
Thus appears the third Blue Beetle, Jaime Reyes, a teenager who discovers Dan Garrett's scarab. Reyes' version of the Blue Beetle has had a constant presence in DC Comics until today, waiting for his own movie in 2023.
Blue Beetle's Powers and Artifact
The current Blue Beetle, Jaime Reyes, has the following powers thanks to the scarab grafted onto his spine.
When Jaime is in danger, the scarab generates a mechanical-technological suit that is strong enough to protect his body even against re-entry into Earth orbit. 
While wearing the suit, he can produce weaponry such as an energy cannon, a sword and shield, a grappling hook, a communications satellite and a blade that cuts tree trunks. In addition, the suit's wings serve for flight and as shields. 
The suit can produce energy discharges and kryptonite radiation. In addition, it has an Infiltrator Mode, which causes it to become taller and more muscular, fighting brutally. However, the suit fights without Jaime's consciousness as a brake, so they only resort to this solution in extreme situations.
The Scarab
Image via DC Comics
The scarab (Khaji Da) grants its owner armor with powers and handling of weapons that can be lethal. That makes Jaime Reyes cautious not to harm family and friends.
In addition, this artifact allows, among other things, to translate the different alien languages. The scarab's language automatically transforms into an English-like format. That makes it possible to communicate with Reyes more understandably, if necessary. 
Later, we discover that an alien colony called The Extension has sent the scarab to Earth like a Trojan Horse. Its mission from the beginning is to send a scarab to the universe where intelligent life exists. In doing so, it seeks to create a hero that the colony can activate at will to conquer that planet.
Blue Beetle's
Appearances in other media
Blue Beetle's appearances have been in various media, such as:
Television
On television Blue Beetle appears in:
Batman: The Brave and the Bold

. This is an animated series where Jaime Reyes makes an appearance. Similarly, Ted Kord appears in two episodes of this series, as in 

Justice League Unlimited

.

Smallville. 

In Smallville, Jaden Brandt Bartlett played the version of Jaime Reyes in the last season, in episode 18, called 

Booster

.

Young Justice

. Jaime Reyes appears in this animated series in its second season.

Justice League Action. 

Actor Jake T. Austin plays Jaime Reyes.

The version of Ted Kord was supposed to appear in 

Arrow.

 However, they replaced him with Ray Palmer's Atom.

DC Super Hero Girls.

 Its second season featured Ted Kord as Blue Beetle, with Max Mittelman's voice.
Movies
While it is true that Blue Beetle could be better known, he has had certain appearances in movies. In fact, Alan Moore acknowledged that his film Night Owl in its versions I and II were based on Blue Beetle in its first and third generation.
In DC Comics, Blue Beetle appears as a member of the Teen Titans team in the animated film Justice League vs Teen Titans. A Blue Beetle movie will premiere on August 18 2023. This way, Jaime Reyes would become the first Latino to star in his own superhero movie.
Video games
Blue Beetle is not present in many video games. Jaime Reyes' version is a playable character in Lego Batman 3: Beyond Gotham and Lego DC Super-Villains. Also, Jaime Reyes is a playable fighter in Injustice 2 as part of Batman's Insurgencies.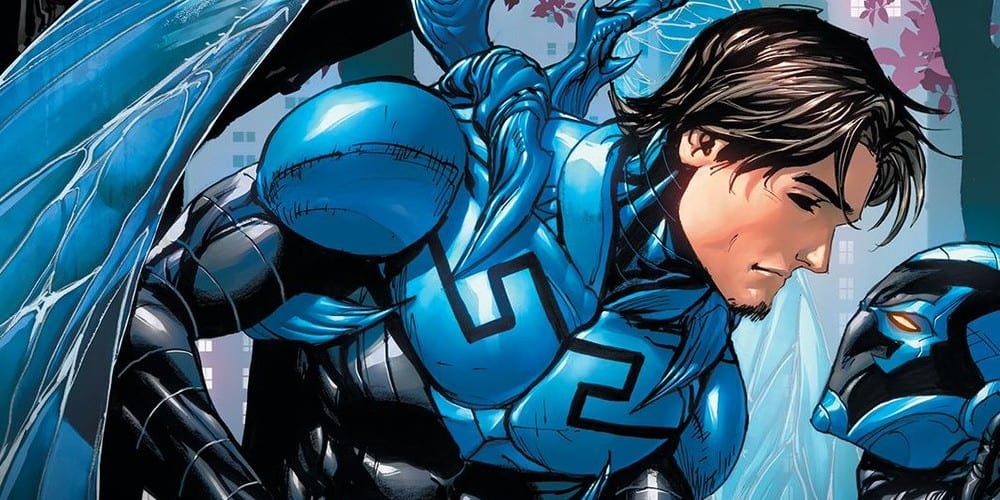 (Image: DC Comics)
Jaime Reyes' version of Blue Beetle will have his first live-action movie in August. Cobra Kai actor Xolo Maridueña will star in this film which Angel Manuel Soto will direct.
In this new film from DC Studios and Warner Bros. Discovery, Bruna Marquezine will play Reyes' love interest. On the other hand, Belissa Escobedo will be Reyes' younger sister, George Lopez will play Uncle Rudy, and Raoul Trujillo will play Carapax the Indestructible Man. Finally, Susan Sarandon will be Victoria Kord, and Harvey Guillen will have an undisclosed role.
Therefore, we are waiting for August 18, 2023, to see DC's Blue Beetle with Jaime Reyes as part of James Gunn's strategies to revamp the DCEU.
Leave a comment