Blue Beetle First Set Photos Revealed
The first set photographs from Warner Bros.' upcoming live-action Blue Beetle rendition reveal the DC hero's suit. Blue Beetle, featuring Cobra Kai's Xolo Mariduena as Jaime Reyes, is one of Warner Bros.' planned DCEU projects. Jaime, who made his live-action debut in Smallville season 10, finally receives the film treatment a decade later. Jaime is the protagonist of Blue Beetle, who one day discovers a powerful extraterrestrial scarab that transforms him into the iconic DC title hero. The movie will be the first with a latino lead, writer, and director.
Notwithstanding the DCEU's uncertain future, Warner Bros. continues to produce a slew of super-powered films. One of these is the Blue Beetle for next year. Jaime Reyes will make his big-screen debut in the next DC picture, which has been in the works for years. The project has recently made headlines, with rumors circulating about Saturday Night Live veteran Jason Sudeikis joining the cast, although nobody knows anything for certain. Aside from that, the project is currently in full swing, with filming taking place in Atlanta.
Source: Just Jared
Who is Blue Beetle?
Jaime Reyes (Xolo Mariduena, Cobra Kai) is a teenager from El Paso, TX who discovers an extraterrestrial "scarab" that interacts with him, manifests a suit of high-tech armor, and grants him superpowers. Blue Beetle's sleek, almost Tokusatsu-influenced design, created by Keith Giffen, John Rogers, and Cully Hamner during DC's Infinite Crisis event back in 2006, appears to have been designed for the screen virtually from its birth.
However, it does not appear that this will be an issue with the Blue Beetle film. We have our first look at Mariduea in full Blue Beetle attire on the set of the film in Atlanta, GA, thanks to the guys at JustJared, and we're happy to report that he looks absolutely fantastic. This isn't just about it being faithful to the comics, but being beautiful enough for live-action as well.
Mayes C. Rubeo, whose credits comprise WandaVision, Thor: Love and Thunder, and Thor: Ragnarok, created the Blue Beetle suit. Blue Beetle also includes Bruna Marquezine as Jenny, George Lopez as Uncle Rudy, and Susan Sarandon as Victoria Kord. Other cast members are Raoul Trujillo as Conrad Carapax, Belissa Escobedo as Jaime's Milagros, Damián Alcázar as Alberto Reyes, and Elpidia Carrillo as Rocio. While What We Do In The Shadows' Harvey Guillén might be in the movie, his character has yet to be revealed.
Xolo Mariduena Was Happy With The Positive Reception To The Suit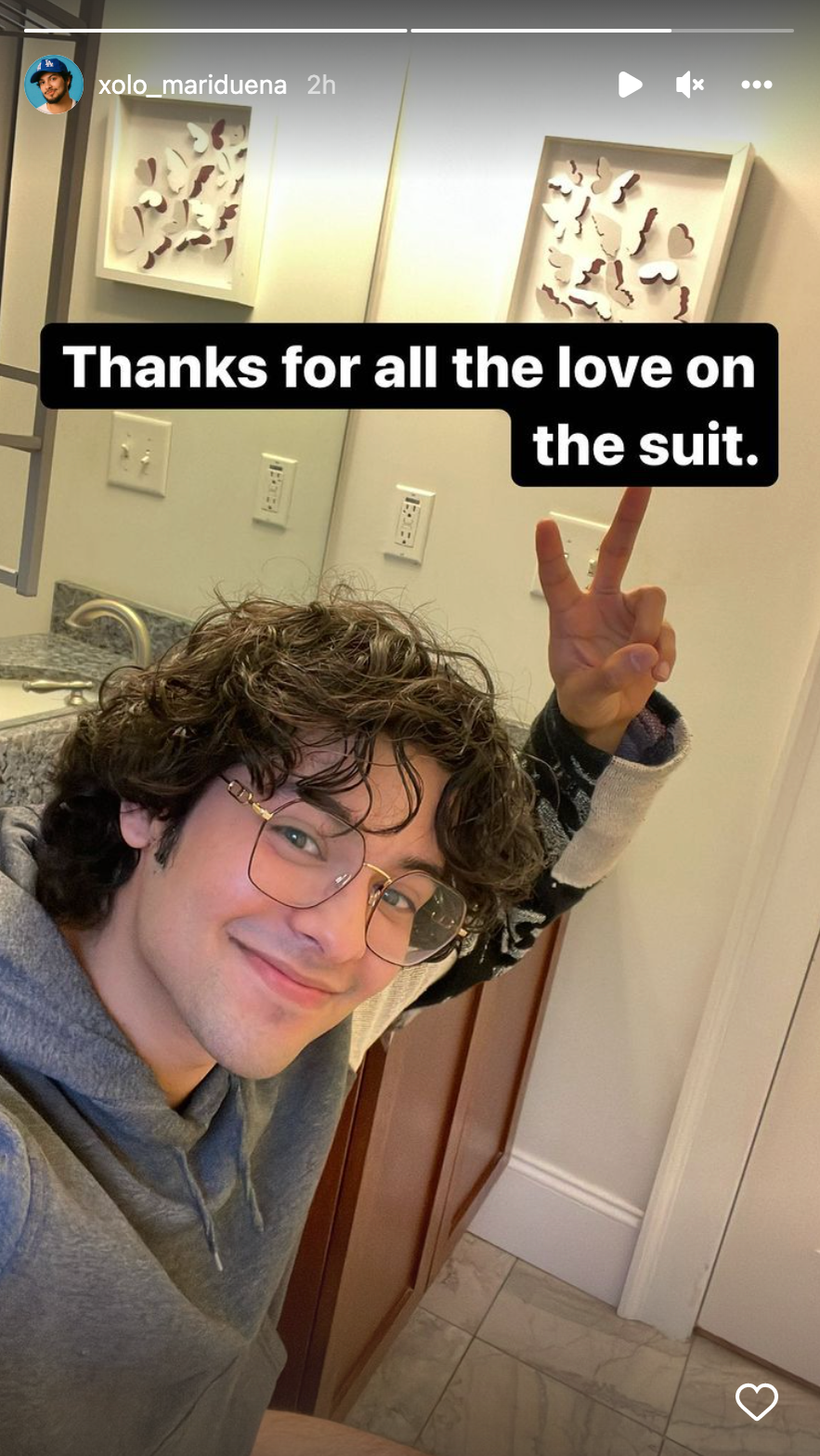 Source: Instagram @xolo_mariduena
The suit for Blue Beetle is quite true to the comics, with the character's classic design remaining untouched. Fans praised the costume's perfection, and now the film's lead, Xolo Mariduena, has expressed his gratitude. Mariduena rushed to Instagram to thank his admirers for their kind sentiments.
The actor posted a selfie on Instagram with the caption "Thanks for all the love on the suit." Mariduena seemed to be overjoyed at the prospect of playing Jaime Reyes in Blue Beetle, and it's great that fans are responding positively. Check out the post down below!
Before obtaining the role of Blue Beetle, Xolo Mariduena was fan-cast. The Blue Beetle actor amassed a following from his part in the Cobra Kai series. He also believes that prepared him for his role in the DC Comics series. Marinduena confirmed this in a recent interview with Variety.
"This is really gonna be a stepping stone in my life," Maridueña shared earlier this year in an interview. "I've gotten the chance to build chemistry with these people over the years on Cobra Kai. To try to recreate that chemistry in a much shorter amount of time is gonna be difficult, but all of these guys are professionals. I know that I'm in the hands of people who are the best at what they do. The opportunity at Cobra Kai has really blessed me; I can do stunts, we can do crazy stuff. Adding this new level of green screen and suits and CGI and all of this will add a whole new crazy level to it that I'm so excited for."
What do you think of Blue Beetle? Are you a fan of the casting? Do you like Xolo Mariduena and his acting? Tell us in the comments!
Leave a comment