Ant-Man Is A Writer? Scott Lang's Book Is Now On Amazon
A book about the character Scott Lang, also known as Ant-Man, is now available on Amazon. If you think making a book about a movie character is impossible, think twice because it isn't. According to the reviews, it will chronicle the character's experiences throughout his storyline.
This book will show various facets of the character from his first movie, where we saw him as a criminal. It also details his transition to the hero we know and the different experiences of changing size, riding the ants, and facing the various villains Marvel presented him with.
Scott Lang's Book in Standby Mode
A book chronicling the character's history and experience is now available for pre-order on Amazon. Paul Rudd announced this on Ant-Man's Twitter account with a video. The caption shows that Scott Lang's book is 100% real and can already be pre-saved in this Marketplace platform.
As for the book's content, Rudd said that it has his character's experiences. How Scott Lang went from being a thief to a hero, everything he experienced in that transition, and what he feels when he shrinks and gets bigger. It also talks about his experiences being trapped in the quantum world, his feelings for Hope, and his experience as an Avenger.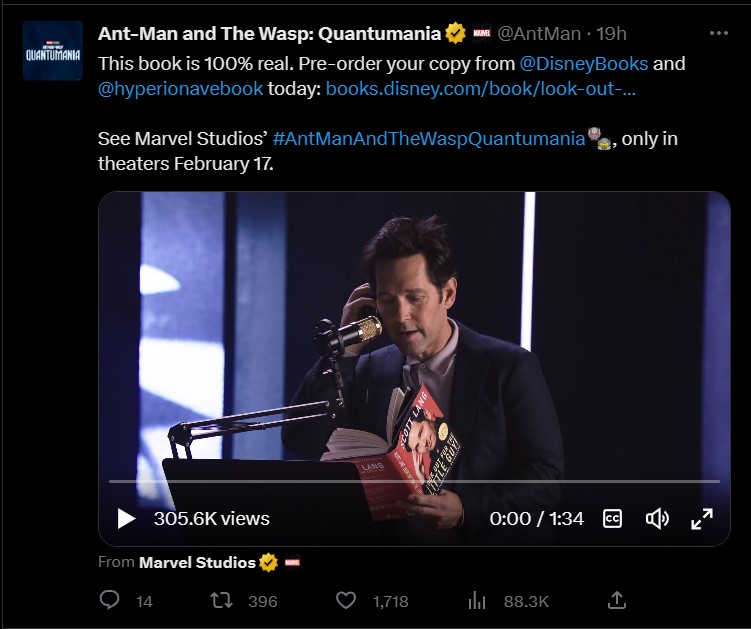 Image via Screengrab
Scott Lang's book also tells what his feelings were like when he was trapped in time and saw the effects of Thanos' actions. Also, how he felt about facing this Titan, the search for the infinity gems, and Tony Stark's sacrifice.
Rudd commented about this book, "Scott Lang is many things: former convict, a dad, an Avenger but he's also a best-selling author." He then continued, "and now you can purchase my – his- very real book, 'Look Out for the Little Guy.' This once movie prop is now an actual, real-life book that you can actually purchase where books are sold. How's that for meta?".
Other Book Details
According to Rudd's comments, the book is Look Out for the Little Guy. Since it is only available on pre-order, a few units must be in the editing or production stage. According to the article, they will cost $26.99 each.
This wouldn't be the only book Marvel has released on some of their films. We had previously seen Black Panther Wakanda Files; however, in this edition, it didn't directly talk about a character. Also, Scott Lang's book has commentary from Bruce Banner or Smart Hulk in this case. In the commentary, the gamma giant says, "Introduces the man behind the hero, and the hero I call friend."
This book will likely become part of a collector's item. Also, a concern is whether it will be a legacy, like Iron Man's helmet at the end of End Game. Considering the trailers for Ant-Man and the Wasp: Quantummania, it's possible because the character is seen with a self-sacrificing attitude and Kang the Conqueror beating him up.
Leave a comment