Linda Hamilton in Stranger Things Season 5 is Now a Reality
The stakes for Stranger Things are at an all-time high. Vecna and Eleven are ready to face off. Max is catatonic. Steve and Nancy seem to be lighting the spark again. Now, we get another reason to hype up: Linda Hamilton in Stranger Things.
That's right. Sarah Connor is joining the cast for the final season of Stranger Things. She's one of my childhood action heroes. So, I'm even more hyped for the show's last season.
We've got a lot of insight into the last season. David Harbour talked about a positive ending for Hopper. Yet, Millie Bobby Brown hinted at a darker closure for Eleven. Of course, fans have also gone crazy with theories. I'm intrigued to see how Linda Hamilton throws a wrench into those.
So, what do we know about her casting?
Linda Hamilton in Stranger Things might spice things up
Could Sarah Connor accompany Hopper in his antics? I'm all for it. (Image credit: Paramount Pictures)
GamesRadar+ recently reported Linda Hamilto's casting into Stranger Things. This is an interesting decision beyond her role's implications. The Duffer brothers said they wouldn't add more characters to the climax. So, what triggered this choice?
Of course, the first thing that comes to mind is her role's size. Adding an unplanned character spells "big things." Yet, what those "big things" could be may vary. She could be a pivotal hero, saving the cast. Or, she could be one of the worst antagonists they've faced.
That said, it would also be fascinating to see her play a more pacifist character. Fans will probably go crazy theorizing about her role. Needless to say, she'll be a crucial cog in many hypotheses.
Stranger Things Season 5 possibly amping up the action
I'm not saying Season 4 lacked action. But, we're talking about the climax here. (Image credit: Netflix)
If action-fueled theories are right, I'd be more hyped for the last season. Season 4 was a huge action fest at times. It easily surpassed previous seasons in terms of high-octane excitement.
So, Linda Hamilton in Stranger Things might blow us away. She's not famous for portraying damsels in distress, after all. And, her Sarah Connor attitude could provide plenty of memorable moments. So, two out of three of my theories (good, bad, pacifist), will blow us away.
Could Linda Hamilton in Stranger Things be key to the ending?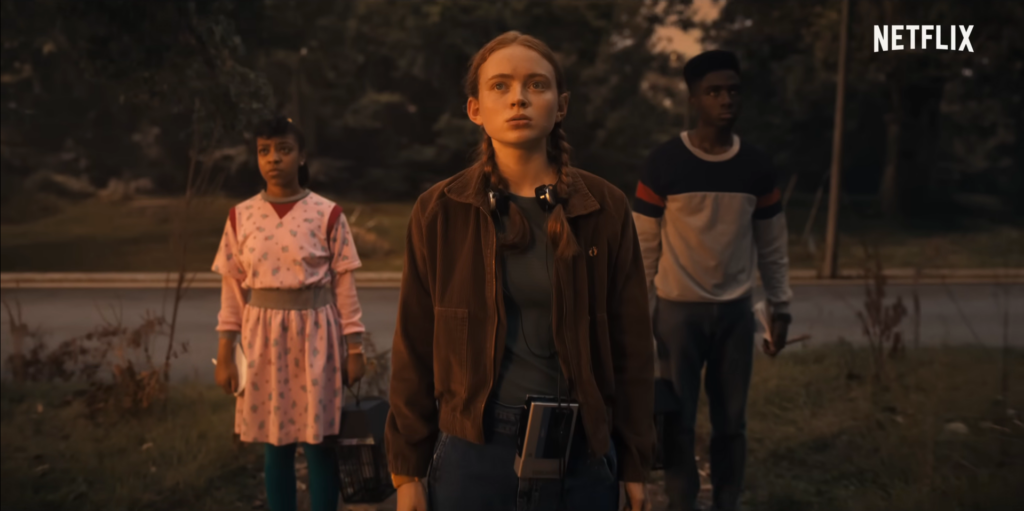 I just need to know how Max, Hopper, and Steve are going to end up. (Image credit: Netflix)
Theories for the series' ending abound. Some are optimistic, and others are more pessimistic than I'll ever be. I mean, even actors have chimed in on both sides of the spectrum. In other words, no one knows where things will go.
Therefore, Linda Hamilton's casting might be key to that ending. Let's remember that the creators didn't want to cast new roles. As such, this makes me believe she'll play a huge role. Perhaps, she'll take the action away from Hopper to give him a happy ending. So, she might sacrifice herself for the greater good.
Let's remember the common fate for new characters in the series. Most new cast entries last only for a season.
Yeah, I might be onto something here.
Featured Image credit: Terminator Wiki | Fandom.
Leave a comment