Baldur's Gate 3 Free Prequel Twists the Game's Formula
To say that Wizards of the Coast has had it rough is an understatement. However, Larian Studios seem to be carrying them with Baldur's Gate 3. And, now they've released a Baldur's Gate 3 free prequel.
15 years before the events of Baldur's Gate 3, the streets of the city ran red with blood.

Tavs, we need your help. Will your sharp analytical minds unravel these heinous killings before the murderer strikes again?https://t.co/UNWH1NN1A9 pic.twitter.com/a7Z7eLDKyv

— Larian Studios is releasing BG3 on August 31st 🥳 (@larianstudios) June 19, 2023
The announcement of Blood in Baldur's Gate riled up fans again. Remember, Baldur's Gate 3 has been in Steam Early Access for a while. Now, with a few months until its August release, we get this. And, it's also an entirely new take on the IP. Sure, it's not Resident Evil 9 or Star Wars Outlaws. However, it's definitely a game to look out for.
So, let's talk about it.
Baldur's Gate 3's free prequel unique take on the IP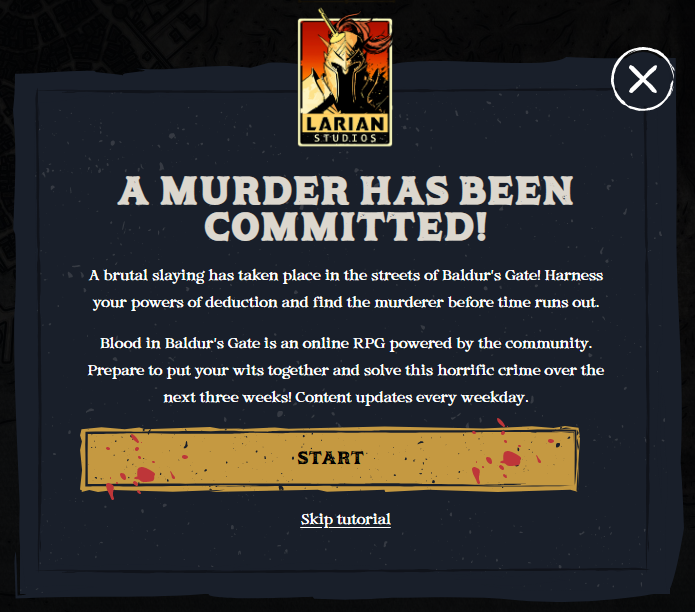 A murder mystery in Baldur's Gate sounds like the perfect combination to me. (Image credit: Larian Studios)
Perhaps, the most interesting part of Blood in Baldur's Gate is its style. It's far from the traditional RPG experience we're used to. Instead, the prequel is a murder mystery. Your goal is to get to the root of the case.
This story occurs 15 years before the upcoming game. And, the gameplay is basically just map exploration and conversations. Players must visit different sections in Baldur's Gate, looking for clues. Plus, they must interact with different characters to piece things together.
The game is heavily text-based with a few illustrations here and there. Thus, it relies heavily on narration. Luckily, from my first impression, things hold up pretty well.
Blood in Baldur's Gate works as a community effort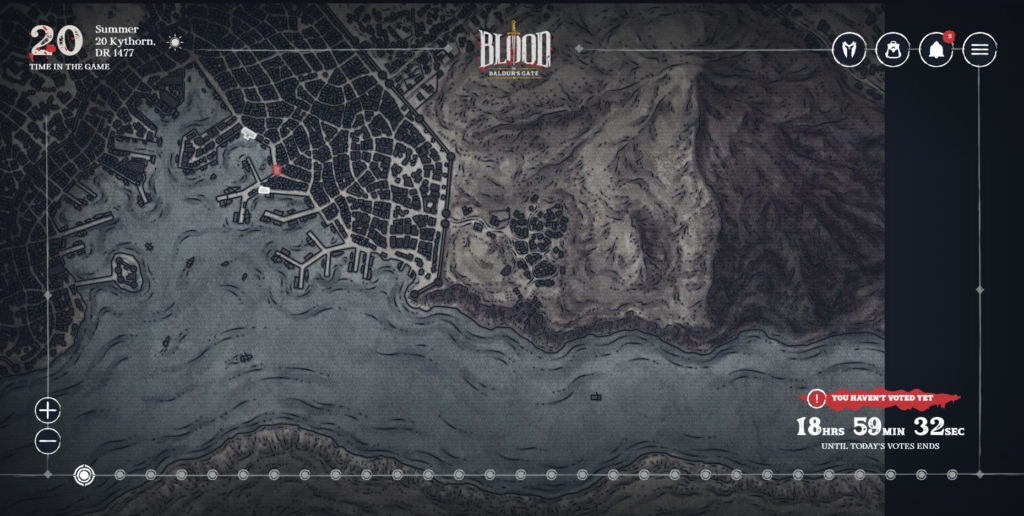 It comes with a map, day counter, voting button, notifications, and more. (Image credit: Larian Studios)
As I mentioned, this is a large departure from previous games in the franchise. Baldur's Gate 3's free prequel has basically no action. Instead, you go between locations and people to gather clues. Your main tools are your brain and deducting skills.
The other intriguing mechanic is its social elements. The game takes place over several days. Every day, players can cast votes to decide where they'll go next. So, community forums, like Reddit and the game's forums, are vital.
I started playing it a bit after a few locations became available. But, it seems like opening new places doesn't block off the previous ones. Therefore, you can always revisit them to find new clues.
The only issue I see is the big chance of players being wrong. After all, it's an open-ended social game. People can be wrong. Hopefully, we can crack this code effectively.
A great addition to wait for Baldur's Gate 3's release
Baldur's Gate 3 is no stranger to hype. The game has a current score of 9/10 on Steam—even in Early Access! So, there's definitely a lot to be excited about. Additionally, the game's updated gameplay makes it more accessible.
So, you don't have to be a fan of D&D or the original titles. That's also true for this murder mystery. If you like solving puzzles, Blood in Baldur's Gate is a fantastic experience. Plus, it's completely free. You lose nothing trying it out before the community resolves the case.
As for Baldur's Gate 3, it should go from Early Access to its full release on August 31. Yes, we still have a couple of months left. Nevertheless, the Early Access' reviews are promising.
Will you help us crack this case?
Featured Image Credit: Larian Studios.
Leave a comment