Star Wars Outlaws Announced
Recently, it's been such a great time for Star Wars fans. Not only did they get the announcement of plenty of new shows, but they also had some fantastic video game news as well. Now, here's some more! Star Wars Outlaws, a name that's been buzzing in our ears since its announcement at the Xbox Showcase, has dropped its gameplay trailer. Ubisoft revealed this gem at Ubisoft Forward, revealing a tantalizing taste of all the action we've been dreaming about!
Starring in this interstellar saga is our latest hero, Kay Vess, an outlaw hustling for the galaxy's crime lords. This high-stakes game kicks off with our lady in stealth mode, infiltrating a hideout. But blink, and you're in the middle of an all-out firefight. However, Kay isn't just an expert at sneaking; she's got some serious combat chops, taking on threats as they come!
But the heat starts rising, and Kay and her wingman, Nix, take the fast lane out on hoverbikes. However, they don't just ride; they blast their pursuers away, leaving a trail of destruction in their wake!
Naturally, the Star Wars Outlaws gameplay deep-dive reveals a captivating mechanic – branching dialogue. After a successful heist, Kay encounters an Imperial officer. Here, saying the wrong thing can turn the situation on its head. Slip up, and Kay gets branded "Wanted," sparking a manhunt akin to Grand Theft Auto's. The Imperials are hot on her trail, and our heroine makes a daring escape off-world.
But Space travel isn't merely a backdrop in Star Wars Outlaws. Kay takes off into the stars, jumping into hyperspace in her ship. But not before she trades laser blasts with Imperial tie-fighters! Poor interactions with an Imperial officer? Definitely comes with a side of trouble!
Star Wars Outlaws News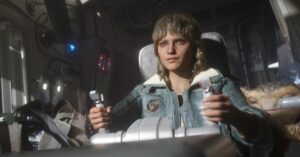 Image: Ubisoft
Originally, thy first teased during the Xbox Games Showcase. Ubisoft Massive's awaited venture into the Star Wars universe, Star Wars Outlaws emphasizes the misfits and rogues of the galaxy.
Why this particular focus? Massive Entertainment's Creative Director, Julian Gerighty, revealed the reasons. The game's timeline, nestled between Empire Strikes Back and Return of the Jedi, is a turbulent era with the Rebellion lying low. The Empire runs rampant, and crime syndicates flourish in the Outer Rim.
Here's what he said:

"When we were starting off the discussions with Lucasfilm, it was very clear that the one year period between Empire Strikes Back and Return of the Jedi, that's where the Rebels aren't part of the picture.

The Empire's taking more and more control, but the syndicates, they're taking more power, they're exploiting all of these weaknesses. So it really is a moment where the underworld is thriving and there's no better situation for an established or a rookie scoundrel to cut their teeth than this particular moment."
So, it's clear that they had a specific plan in mind for Star Wars Outlaws. There's a reason for why it occurs during this specific moment in Star Wars history. Clearly, the game's writers are big fans!
Thankfully, fans didn't have to wait long for the gameplay reveals at Ubisoft Forward after the premiere of the video game. In fact, we got an exclusive gameplay trailer, which you can check out below.
New SW Video Game Footage
Star Wars Outlaws centers around Kay Vess, a novice rogue, as she navigates through the dangerous shadows of the Outer Rim. With her quick wit and keen aim, Kay Vess plunges into a galaxy-spanning adventure filled with intrigue, danger, and adrenaline-pumping action.
To all you space-faring outlaws out there, get ready! Star Wars Outlaws is about to take you on an unforgettable ride. Fasten your seatbelts; it's going to be a hyperspace rollercoaster!
Hi! I'm Arvyn, and I'm an English teacher from the UK. I've been teaching English online for over 4 years to students from all across the world and all ages. Outside of work, I'm a huge fan of reading, video games, and playing with my adorable kitties. See ya!
Leave a comment