Marvel President Kevin Feige Teases Wanda's Future In The MCU
Marvel president Kevin Feige shares positive news on Wanda's future in the MCU following the success of Doctor Strange in Multiverse of Madness.
It seems like Elizabeth Olsen won't be hanging the mantle of Scarlet Witch any soon, as Marvel President Kevin Feige teases her future in the MCU. Olsen debuted in the mid-credit scene in Captain America: The Winter Soldier alongside Kraven the Hunter actor Aaron Taylor-Johnson. In Avengers: Age of Ultron, the two reprised their role as superpowered twins Wanda and Pietro Maximoff. While Taylor-Johnson's stint as Pietro was cut short, Wanda's role in the MCU continued.
Wanda Maximoff appearances in Marvel Cinematic Universe
Since her debut in 2014's The Winter Soldier, Elizabeth Olsen has appeared in many MCU movies, including Captain America: Civil War, Avengers: Infinity War, and Avengers: Endgame. Last year, Olsen starred alongside Paul Bettany, who portrays Vision, in the Disney+ series WandaVision. The series was a massive success, earning eight nominations for Primetime Emmy Awards and fifteen nominations for Primetime Creative Arts Emmy Awards.
The events in WandaVision prepared the premise for the return of Wanda in the Doctor Strange sequel. However, the character returned not as a hero but as the film's main antagonist. Benedict Cumberbatch reprised his role as Doctor Strange in the film. He's joined by Benedict Wong's Wong and Marvel newcomer Xochitl Gomez who played America Chavez. 
The movie was also the comeback of Sam Raimi in directing superhero films. Raimi directed Toby Maguire's Spider-Man trilogy from 2002 to 2007. The unconventional direction of Raimi pushed the movie to be a box office success, earning over $955 million worldwide.
However, the ending of Doctor Strange in Multiverse of Madness was a bit sad for our heroine turned evil witch. As a final effort to redeem herself and correct her mistakes, Wanda chose to sacrifice herself in the attempt to destroy all the Darkhold in all universes in the multiverse. This made Wanda's future in the MCU bleaker. But Feige has good news for Scarlet Witch fans as he teases the character's future in the MCU.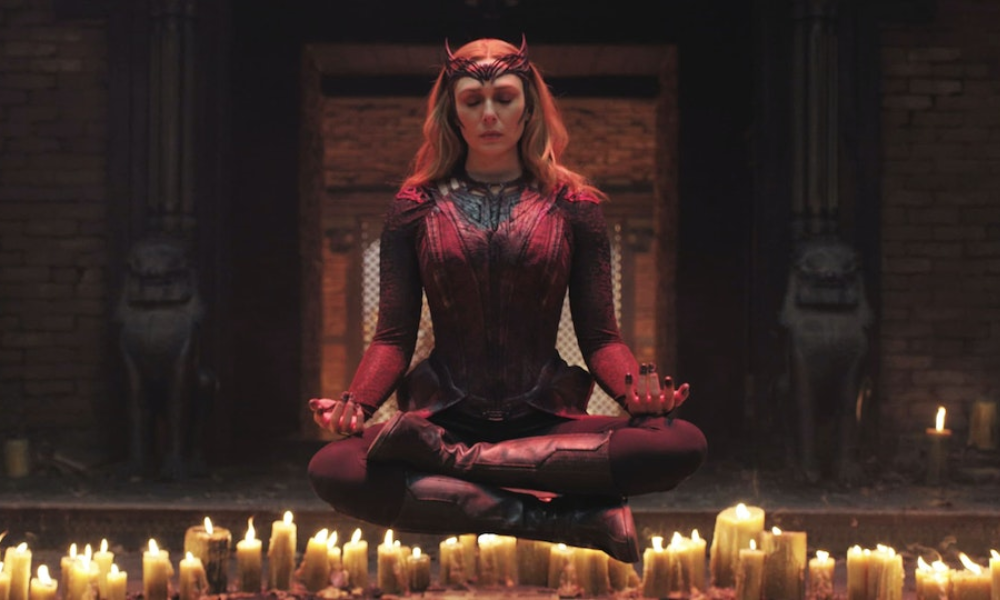 Marvel Studios
Marvel President Kevin Feige on Wanda's future in the MCU
Speaking with Variety, Feige teases the possibility of Olsen's return as the Scarlet Witch. Following Feige's words, Wanda might be alive after all. Feige also mentioned that "there really is so much more to explore" when it comes to the journey of Wanda. You can read Feige's full statement below:
"There really is so much more to explore. We still haven't touched on many of her core storylines from the comics. I don't know that we saw her under rubble? I saw a tower coming down, and a little red flash. I don't know what that means. I'd work with Lizzie for another 100 years if we could. Anything's possible in the multiverse! We'll have to see."
Marvel President Kevin Feige's words tease a hopeful look into Wanda's future in the MCU. After all, MCU has tapped into the infinite multiverse. Now they can use Earth 838's Wanda if they choose to kill off our original Earth 616 Wanda. 
There's still no news about a Scarlet Witch solo movie or any details about where Wanda would appear next. Now that MCU's Phase 4 is about to close with Black Panther: Wakanda Forever this November, the earliest time we might be able to see Wanda is in MCU's Phase 5.
One of the projects fans are looking forward to is Katherine Hahn's return as Agatha Harkness in Agatha: Coven of Chaos. Details surrounding the show are still in the dark. But given the history between Agatha and Wanda, it's possible that Wanda would appear in the show. With so much in store about her life after the events in Doctor Strange 2, it'll be exciting to see what Wanda's future in the MCU would look like.
Meanwhile, you can stream WandaVision and Doctor Stange in the Multiverse of Madness on Disney+.    
Paul is many things. He's a fan of anime, superheroes, and everything in between. He dedicates his downtime to annoying the heck out of his cats and dog.
Leave a comment