Elizabeth Olsen Responds to Scarlet Witch Solo Movie Rumors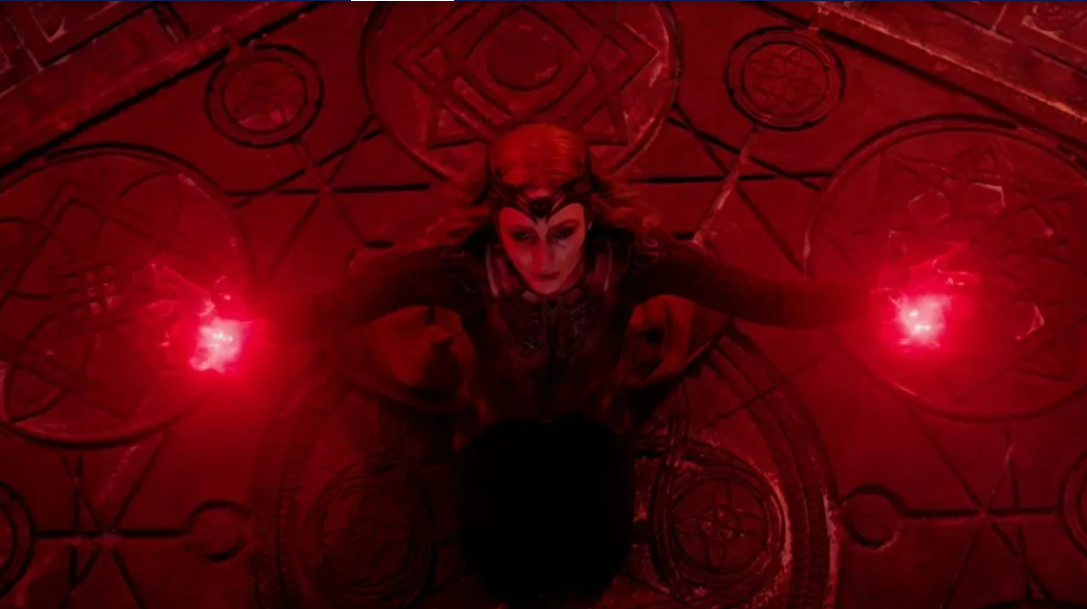 There's been a lot of talk lately about Elizabeth Olsen possibly getting her own Scarlet Witch solo movie. And while Marvel has yet to confirm anything, Olsen herself recently addressed the rumors – and she sounds pretty excited about the idea! In a recent interview with MTV News, Olsen had this to say: "I think it would be so cool. I feel like the character has got a lot of story to tell, and I'd love to be able to do that." We couldn't agree more!
Elizabeth Olsen is no stranger to the Marvel Cinematic Universe, having made her debut as Wanda Maximoff, aka Scarlet Witch, back in 2015's Avengers: Age of Ultron. Since then, she has gone on to appear in five more MCU movies, including the record-breaking Avengers: Endgame. However, it was her role in the Disney+ series WandaVision that earned her the most acclaim. Not only was she nominated for an Emmy for her performance, but the show itself won three Emmys, making it the first MCU project to do so. This just goes to show how Olsen has grown as an actress over the years and how she is able to tackle any role that comes her way. With Phase 4 of the MCU now underway, there's no telling what Olsen will do next, but one thing is for sure: she is sure to dazzle audiences with her talent and charisma.
Elizabeth Olsen has spoken about the potential for a Scarlet Witch solo movie in the MCU, saying that she would "love" to see it happen. The actress, who has played the character in four movies to date, said that she would like to see Scarlet Witch given her own movie because she is "such a complex person". Olsen also said that she thinks there is "a lot more story to explore" with the character, and that she would love to see Scarlet Witch team up with other female superheroes in her own movie. There is no word yet on whether or not a Scarlet Witch solo movie is actually in the works at Marvel, but it certainly seems like an idea that Elizabeth Olsen would be behind.
Elizabeth Olsen on Scarlet Witch solo film
Elizabeth Olsen has addressed the possibility of a Scarlet Witch solo film during an interview with On Demand Entertainment. When asked about the likelihood of such a project coming to fruition, Olsen noted that Marvel Studios is always looking for ways to further develop the MCU and that the studio is open to exploring new characters and stories. She went on to say that the Scarlet Witch is a complex and fascinating character who has a rich history in the comics, and that she would be excited to see her get her own standalone film. While it remains to be seen if a Scarlet Witch solo movie will ever happen, it is clear that Elizabeth Olsen is eager to see the character get more screen time in the future.
NEW: Sources have confirmed Elizabeth Olsen has signed a contract extension with Marvel Studios that extends for the next 7 years. Huge speculations that during this span, her long-awaited Scarlet Witch solo film is in the works. pic.twitter.com/XjIiZvUIL6

— Harry Bowls  (@HarryBowlsFOX) February 28, 2022

When asked if she would be interested in joining the cast of Marvel's Scarlet Witch, Olsen admitted that she had no knowledge about it but was excited for a good story.
Interviewer: "Wanda has had her own TV series, fine, but when will she get her own movie?"

Olsen: "Oh, I don't know, but if they have a good story to tell, I'll be there."

Interviewer: "First after a long break?"

Olsen: "Yeah, exactly, or even a little one. Just a version of a break."
When is Wanda getting her own movie?

"Oh I don't know, but if they have a good story to tell I'll be there."
— Elizabeth Olsen pic.twitter.com/guGRQYBcGk

— Scarlet Witch News (@scarletwnews) May 1, 2022

With her talent, power and popularity it is hard to imagine Olsen won't be playing a major role in future Marvel movies. She could even help introduce the MCU ( marvel cinematic universe )to mutants!
Will Marvel Make a Scarlet Witch Movie?
It's clear that the MCU is going from strength-to-strength in Phase 4, with nearly a dozen new properties either already released or deep into development for arrival soon. There are also plenty of other projects centered around veteran characters like Tom Hiddleston's Loki and Jeremy Renner ' Hawkeye which means we could likely see another Scarlet Witch film down the line!
Olsen's Scarlet Witch has largely played a supporting role over the past three avengers movies and Captain America: Civil War although she took on lead role in WandaVision. It is likely that her efforts as an actor have earned Olsen much respect, which will help ensure success for this big-screen film.
The WandaVision episodes are now available to stream on Disney+!
Leave a comment