Del Toro's Pinocchio Movie Trailer Released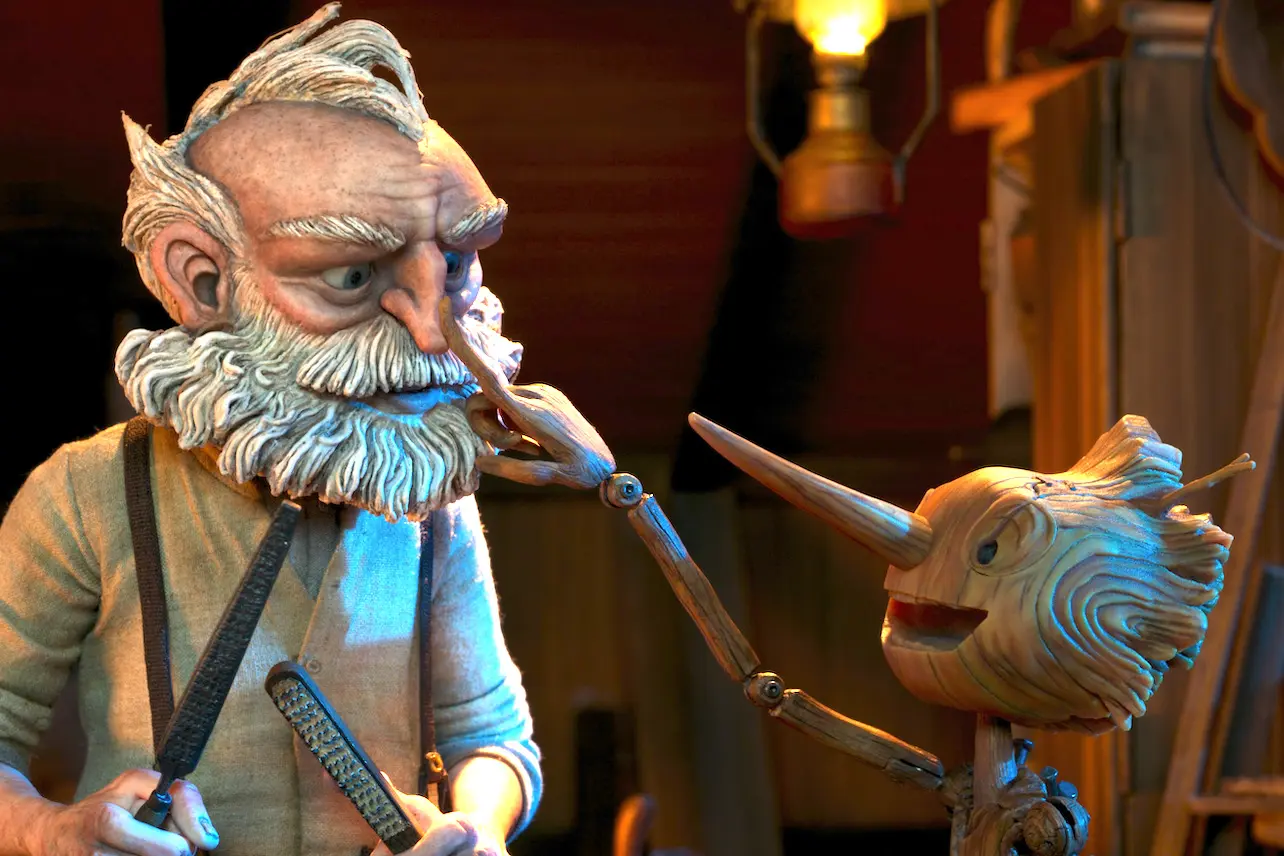 Earlier today, Netflix officially released Guillermo Del Toro's Pinocchio movie trailer. In the film, David Bradley stars as the kind father, Geppetto, who creates a wooden boy after losing his real son. The trailer shows Geppetto's fatherly love and desire to be a father again. Eventually, this dream becomes a reality after Pinocchio, the puppet, comes to life. Gregory Mann voices the titular character in the film, which is an adaptation of the much-loved fairy tale. Unlike other adaptations, this movie is a musical and stop-motion animation.
During the trailer, we heard Geppetto tell his son, "People are sometimes afraid of things they don't know." Naturally, this scene likely occurs after the town's citizens react negatively to seeing Pinocchio for the first time. Also, it does well to show off how much Geppetto loves his wooden son. He wants him to succeed and not be afraid of the world outside.
Additionally, the trailer for Guillermo Del Toro's Pinocchio movie gives us an idea of some of Pinocchio's adventures in the film. We see him struggling in a boat, crying for his father's help. We also see plenty of talking animals and other characters undergoing wonderful transformations.
This film is one of a few Pinocchio adaptations, as Disney released a live-action version a few months ago. However, even though the style might be different, each adaptation contains the same message about the power of love.
Guillermo Del Toro's Pinocchio Movie Cast and Crew
Image: Netflix
As you might have already guessed, Guillermo Del Toro directed and produced the film. He also worked on the screenplay with Patrick McHale. It adapts the 1883 story by Carlo Collodi. Other stars in Guillermo Del Toro's Pinocchio movie include Ewan McGregor, Ron Perlman, Cate Blanchett, Finn Wolfhard, Christoph Waltz, Burn Gorman, and Tilda Swinton.
McGregor plays Sebastian Cricket, while Waltz is the villainous Count Volpe. Additionally, Swinton plays the Wood Sprite, who brings Pinocchio to life, and Perlman is the Podesta. Wolfhard is Candlewick, Blanchett is Spazzatura, and Gorman is the Priest. Also, Tim Blake Nelson and John Turturro will feature in the film, though their characters are unknown.
In fact, Del Toro spoke about creating Guillermo Del Toro's Pinocchio movie way back in 2008. In his own words:
"No art form has influenced my life and my work more than animation and no single character in history has had as deep of a personal connection to me as Pinocchio. I've wanted to make this movie for as long as I can remember."
Unfortunately, between 2012 and 2018, the film was stuck in development hell with no news about a release date. Eventually, Netflix acquired the rights to the film and began filming it in 2020. At the same time, Alexandre Desplat announced that he had begun creating the film's music. To help promote the film, Simon and Schuster created a novelisation of the screenplay.
Pinocchio Film Release Date
Image: Netflix
Currently, critics have given Guillermo Del Toro's Pinocchio movie rave reviews, with an average score of 8.8 out of 10 on Rotten Tomatoes and "universal acclaim" on Metacritic. This reception is much better than Disney's version, which got mixed to negative reviews!
Del Toro, Lisa Henson, Alexander Bulkley, Corey Campodonico, and Gary Ungar are working on production for the Netflix film. Additionally, the film is a joint venture between Netflix, The Jim Henson Company, and Pathé, among other studios. The film had its world premiere in October at the BFI London Film Festival. It is Del Toro's first entry as a director of an animated film.
You can catch the film in select cinemas later this month. It'll be available for streaming exclusively on Netflix's platform from December 9th.
Hi! I'm Arvyn, and I'm an English teacher from the UK. I've been teaching English online for over 4 years to students from all across the world and all ages. Outside of work, I'm a huge fan of reading, video games, and playing with my adorable kitties. See ya!
Leave a comment