Dave Filoni Star Wars Film Title Revealed (Rumor)
Well, folks, it's happening. Twitter's buzzing again, thanks to @MyTimetoShineH dropping the bombshell; the Dave Filoni Star Wars film has a title. What is it? Well, it's "Star Wars: Heir to the Empire." Yup, you read it right. And guess what? Jon Favreau is only producing, leaving the director's chair open for Filoni.
Shocker (not really): Dave Filoni's movie is called Star Wars: Heir to the Empire. Jon Favreau is only producing for now. It's all Filoni

— MyTimeToShineHello (@MyTimeToShineH) May 16, 2023
So, what's the fuss about "Heir to the Empire"? This title isn't new. It's also the name of a well-loved Star Wars novel by Timothy Zahn from back in 1991. The story happens five years after Return of the Jedi and introduces a new bad guy, Grand Admiral Thrawn. Does this mean Filoni's film will mirror the novel's storyline?
As we dig into Filoni's past work, it's clear he has a deep love for the Star Wars universe. His contributions to "The Clone Wars" and "The Mandalorian" have been nothing short of stellar. Previously, he's shown a knack for pulling in elements from the expanded universe and weaving them into the mainstream Star Wars narrative. So, it seems likely that the Dave Filoni Star Wars film could continue Thrawn's character in the official Star Wars canon.
Then, we have Jon Favreau, who's just producing this time. Don't be fooled, though. Certainly, we'll feel his influence in the movie. He breathed new life into Star Wars with "The Mandalorian" series. So, his involvement bodes well for fans eager for more Star Wars adventures.
Now, let's also think about the title's implications. "Heir to the Empire" signals that the Empire isn't quite extinct yet. So, this naturally leads to speculation about the film's timeline. Are we looking at a period post-Return of the Jedi, like the novel, or does the film take us to an entirely different timeline?
What is Dave Filoni Star Wars Film about?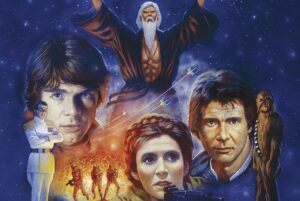 Image: Lucasfilm/Disney
Plus, the word "Heir" suggests a successor. This opens up a world of possibilities. We might see a new villain stepping into Darth Vader or Emperor Palpatine's boots. Alternatively, it might hint at a redemption arc with an 'heir' switching sides.
Also, Dave Filoni Star Wars film title has us thinking about the potential for new characters. "Heir to the Empire" doesn't only suggest a new villain. It might hint at new allies as well. Later, we might see fresh faces taking up the Jedi mantle or maybe some new, unexpected heroes. With Filoni's love for expanding and enriching the universe, we're hopeful for some exciting new additions to the Star Wars family. After all, we're discussing a universe where the unexpected is always around the corner!
Evidently, whatever the case, the Dave Filoni Star Wars film is shaping to be an enthralling addition to the Star Wars universe. The title "Heir to the Empire" suggests a plot deeply rooted in the Star Wars expanded universe. With Filoni directing and Favreau producing, fans will definitely view this film as a must-watch film. As we await more details, speculation is our best bet. What's your take? Will we finally see a huge part of the Legends canon in the official canon? Will the film follow the novel's storyline or create a whole new narrative? Share your thoughts below. And remember, in the Star Wars universe; there's always room for surprises!
Hi! I'm Arvyn, and I'm an English teacher from the UK. I've been teaching English online for over 4 years to students from all across the world and all ages. Outside of work, I'm a huge fan of reading, video games, and playing with my adorable kitties. See ya!
Leave a comment