Chris Evans And The Rock In Red One – First Images Revealed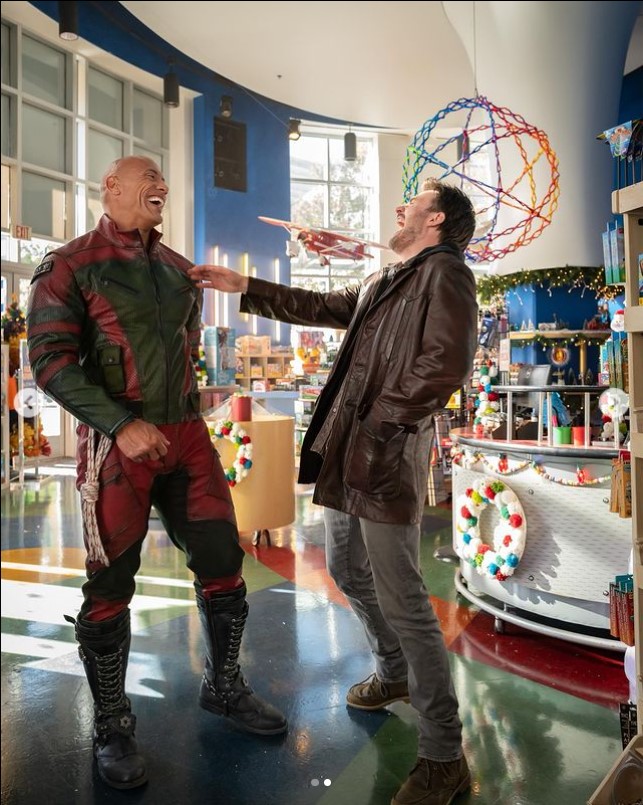 Chris Evans and Dwayne "The Rock" Johnson are two actors at the height of their careers. These famed actors have already played superheroes flawlessly. They are now teaming up to bring fans a new movie with a Christmas twist, previewed on Prime Video.
Image via Universal Pictures
Both actors have had long and successful careers. Dwayne "The Rock" Johnson became a superstar in the WWE, making a name for himself in the ring. From there until now, he has made several blockbuster movies. The last one was DC's Black Adam, a hit. Similarly, actor Chris Evans has played comic book movies in the past. One of his first roles was with 20th Century Fox's Fantastic Four franchise, where he played the Human Torch. Later, he played Captain America in the Marvel Cinematic Universe.
The two actors have now teamed up and combined their star power for Red One, a Christmas movie. Prime Video gave us a first look, which enthralled fans.
First Images of The Rock and Chris Evans in Red One
The two superstars, Dwayne "The Rock" Johnson and Chris Evans, are the stars of the Christmas installment Red One. Prime Video gives us an exclusive first look at what we'll find. Producer Hiram Garcia took photos of the two artists during the filming. Garcia currently serves as President of Production for Johnson's Seven Bucks Productions.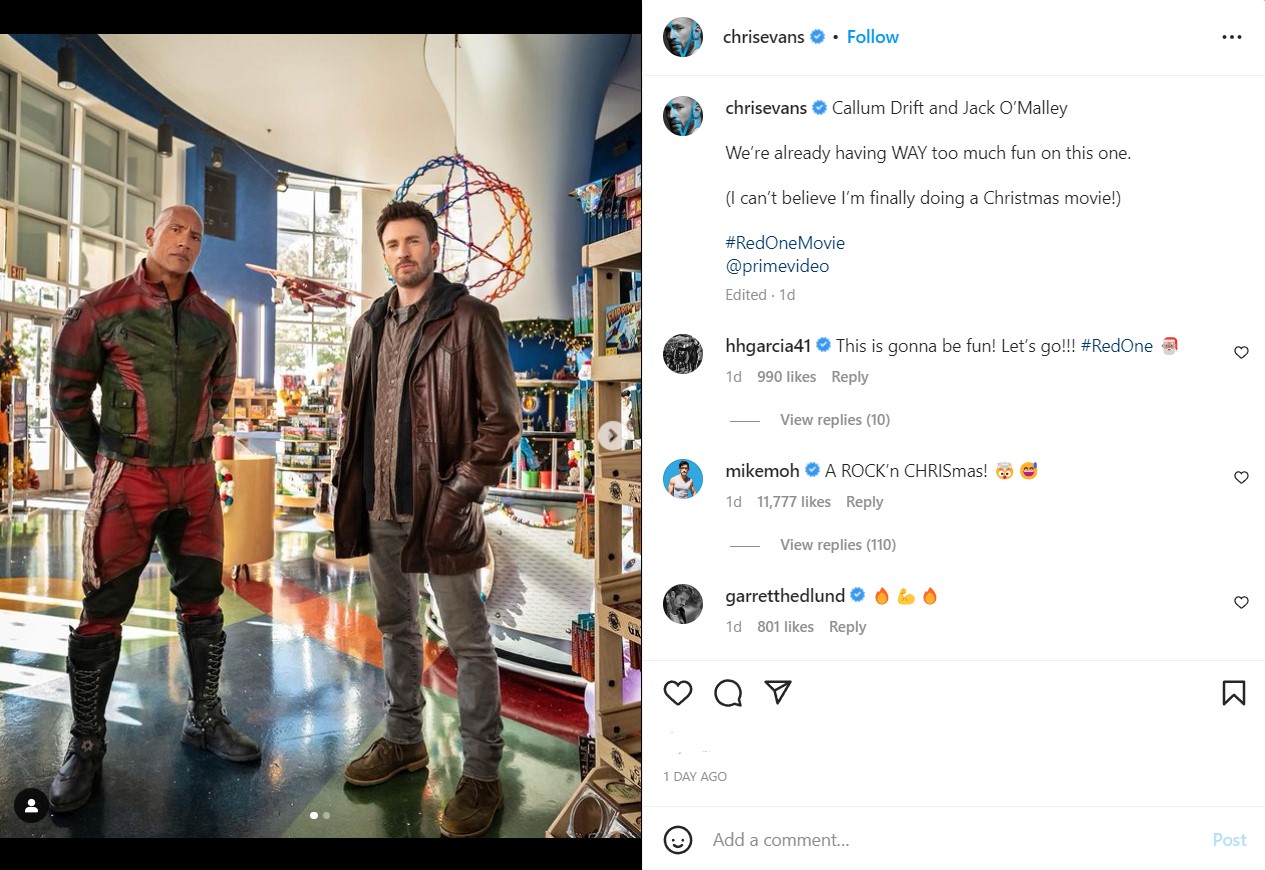 Image via Instagram
In the unveiled images, Dwayne wears an eye-catching red and black suit and knee-high black boots. On the other hand, Chris wears jeans with a brown jacket and brown boots. The Rock's posture is hands behind his back, and Chris with his hands in his jacket pocket. The image transported many to one of Netflix's original movies, Red Notice with Gal Gadot, featuring Johnson and Ryan Reynolds.
The Rock showed his stellar performance in his recent film, Black Adam, which has earned a box office record, grossing for its third weekend over $100 million. And not to be left behind is Chris Evans, who has made performances in such films as An Exceptional Gift and The Gray Man.
What we Know About Red One
We have it on good authority that two-time Jumanji director and film buff Jake Kasdan will direct Red One. Dwayne Johnson's company, Seven Bucks Productions, Amazon Studios, and Chris Morgan Productions will produce the film. Fast & Furious scriptwriter Chris Morgan adapted the script from Hiran Garcia's original story.
Image via Marvel Studios
The plot has not yet been revealed, but as The Rock himself said, this new film is "building a universe of very interesting Christmas traditions and evil all in one." For this famed actor, the film seeks to have action, adventure, and of course, comedy, where "four quadrants of globetrotting, which imagines a whole new universe to explore within the Christmas genre."
Red One will not only feature Dwayne Johnson and Chris Evans, who headline the cast. We will also see the protagonist of The Chilling Adventures of Sabrina, Kiernan Shipka, and one of Charlie's Angels, Lucy Liu. We know that Red One has excellent financial muscle. Seven Bucks Productions and Amazon Studios will inject significant money and be responsible for this film's distribution.
The film will be released this 2023 on Amazon Prime Video's streaming platform. Deadline gives the exclusive of the streaming giant's intention to release a movie that revolutionizes the traditional Christmas genre. Red One began filming in 2022, and most of us are cheering to see something different that breaks out of the mold of what we know as the traditional Christmas party. We will surely see villains acting, trying to stop this special day for everyone, and getting what they deserve in return.
Are you excited to see Chris Evans and The Rock together in Red One? Let us know in the comment section.
Leave a comment