Charlie Cox MCU Daredevil Included In Spider-Man: No Way Home Poster
Charlie Cox MCU Daredevil was already a famous character long before his appearance in Spider-Man: No Way Home. The big reveal moment seeing Matt Murdock and Peter Parker together, had many fans excited. Then, Marvel confirmed at the San Diego Comic-Con that this character would have his own series, Daredevil: Born Again. Now, Sony Pictures has revealed the first Spider-Man: No Way Home poster, including Charlie Cox, ahead of its re-release.
Spider-Man: No Way Home Poster Includes Charlie Cox MCU Daredevil
Marvel Studios and Sony Pictures achieved something extraordinary, successfully bringing together three generations of Spider-Man. This movie, long-awaited by fans of the web-slinger Spider-Man, presented an unimaginable return. Andrew Garfield and Toby Maguire teamed up with Tom Holland's young hero to fight the spidey's villains.
Likewise, Spider-Man: No Way Home marked the first official MCU appearance of Charlie Cox as Matt Murdock. While it is true that this character had a short intervention in the movie, all the fans who were waiting for Spider-Man and Daredevil to be in the same film loved it. If anything, No Way Home had rave reviews and huge box office returns, leading Sony to announce that they would release an extended cut. This re-release is labelled as the "More Fun Stuff Version" and would include 11 minutes of additional footage.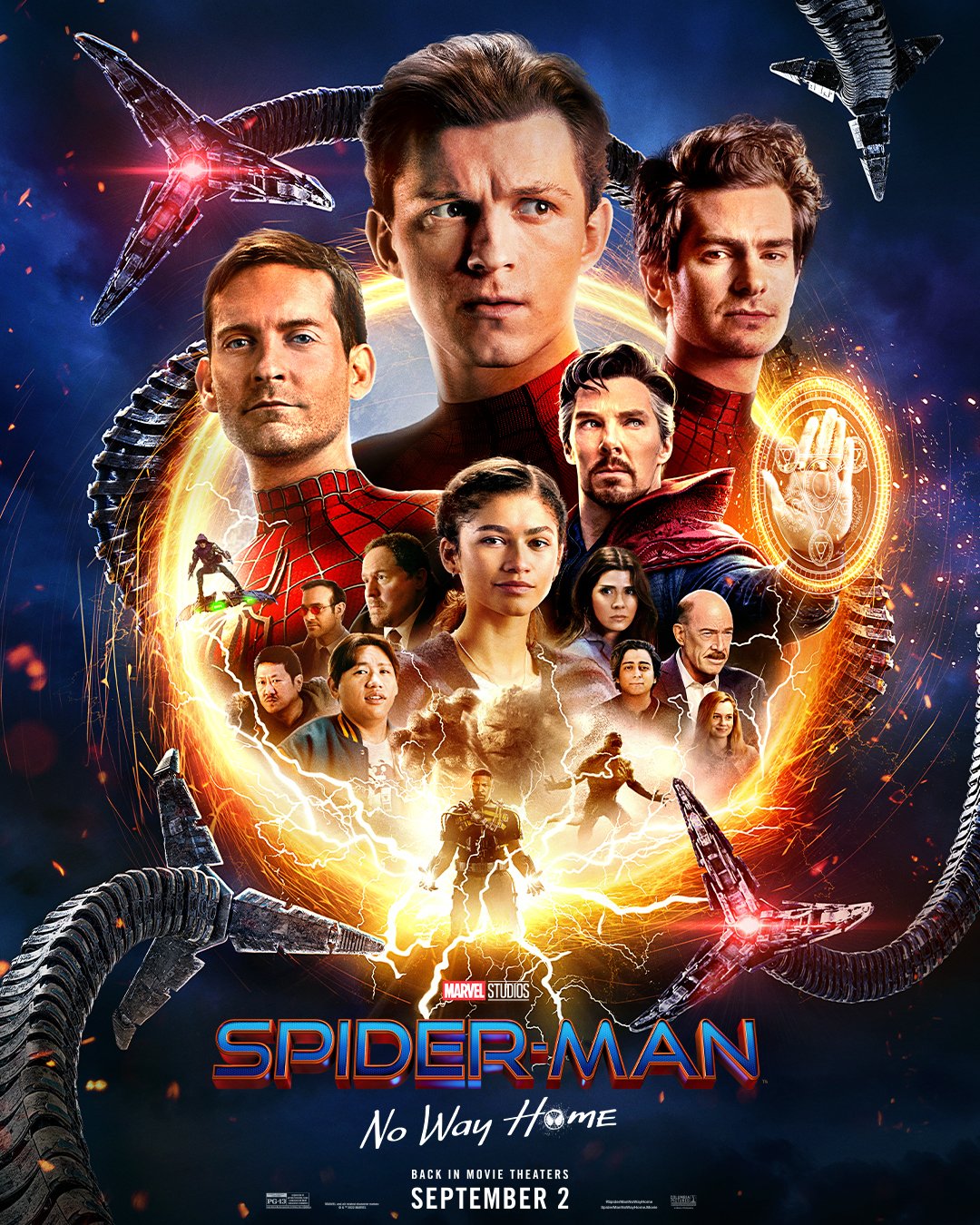 Image via Sony Pictures/Marvel Studios
Ahead of this upcoming re-release on September 2, Sony Pictures revealed a Spider-Man: No Way Home poster including Charlie Cox MCU Daredevil or Matt Murdock. The image also includes Andrew Garfield and Tobey Maguire's Spider-Men with the rest of the film's cast.
Following Marvel Studios and Sony Pictures' release of this poster, they revealed that tickets for this movie version would be officially on sale starting Tuesday, August 23.
Daredevil Entering the MCU
After Netflix cancelled Daredevil, the Devil of Hell's Kitchen returns four years later. After Marvel confirmed the superhero would be back in a new Disney+ series, fans were excited. The series is titled Daredevil: Born Again, indicating that the story will be inspired by the work of Frank Miller and David Mazzucchelli.
Season 3 of Netflix's Daredevil already brought us many elements of the comic "Born Again," no wonder they use an eye-catching title to present a different story. The question is, how will they reframe this dark and gritty story to fit Disney's standards?
Image via Marvel Comics
The original comic story presents Karen Page as a drug addict who makes adult movies while living in Mexico. She trades information for drugs, and at one point, she reveals Daredevil's identity to Wilson Fisk's informants. Kingpin then begins an influence campaign to destroy his enemy. The situation makes Matt Murdock lose his mind, making him a paranoid, homeless, and mentally unstable man.
Disney may have to adapt the story of Karen Page to suit all audiences, or they may create a new timeline from scratch, although then it wouldn't make much sense to use the title Born Again.
The Devil of Hell's Kitchen Return
While there is still a long way to go to see Daredevil Reborn hit Disney+, we will see Charlie Cox MCU Daredevil several times in the upcoming months. After his introduction to the MCU in Spider-Man: No Way Home, Daredevil will appear in She-Hulk: Attorney at Law and face Wilson Fisk again in Echo.
Image Via Netflix
Daredevil: Born Again will release sometime in the spring of 2024, as announced at the Comic-Con panel. The show belongs to the final batch of the MCU's Phase 5. Charlie Cox will return as Daredevil/Matt Murdock and voice this character in Spider-Man: Freshman Year, the animated series that follows Peter Parker's life as a rookie Spidey.
The only confirmed cast members for Daredevil: Born Again are Charlie Cox and Vincent D'Onofrio as Wilson Fisk/Kingpin. Hopefully, we will also see Deborah Ann Woll return to her role as Karen Page and Elden Henson as Foggy Nelson again.
Leave a comment