The Andrew Garfield No Way Home Premiere Story With Tobey Maguire Is Too Wholesome
Andrew Garfield has had a pretty busy year. Between starring in Tick, Tick… Boom! on Netflix and having to deal with  525,600 questions about whether he'd star in Spider-Man: No Way Home, he's a busy man. Fortunately, the actor made time for a memorable movie experience. The Andrew Garfield No Way Home premiere story is as wholesome as can be, and it includes Tobey Maguire.
This article includes spoilers for Spider-Man: No Way Home. If you haven't had a chance to watch it, bookmark this article for later.
An Andrew Garfield No Way Home Premiere Story With Tobey Maguire
Imagine that you head out to a movie theater to watch Spider-Man: No Way Home on opening night. You bought the tickets weeks ago. Fans in Spider-Man suits surround you. Everything is exciting, and there is anticipation filling the air. And then you look to your left to see who is being so noisy with their popcorn, and… It's Andrew Garfield!
We don't know if he is a noisy popcorn eater, but somebody out there had the chance to sit next to Andrew Garfield at the No Way Home premiere, whether they knew it or not. In a recent interview with ET about his experience working on the film, Garfield shared that he and Tobey Maguire went to a theater on opening night to share the experience.
"I snuck into a theater on opening night and just watched with my baseball cap on and my mask. In fact, I was also with Tobey, me and Tobey snuck into a theater together and no one knew we were there. It was just a really beautiful thing to share together."
Both actors had to hold off on any press confirming their involvement in the film until recently due to the secrecy of their roles. So we can only imagine the joy that they must have felt seeing a theater full of fans as they found out the truth.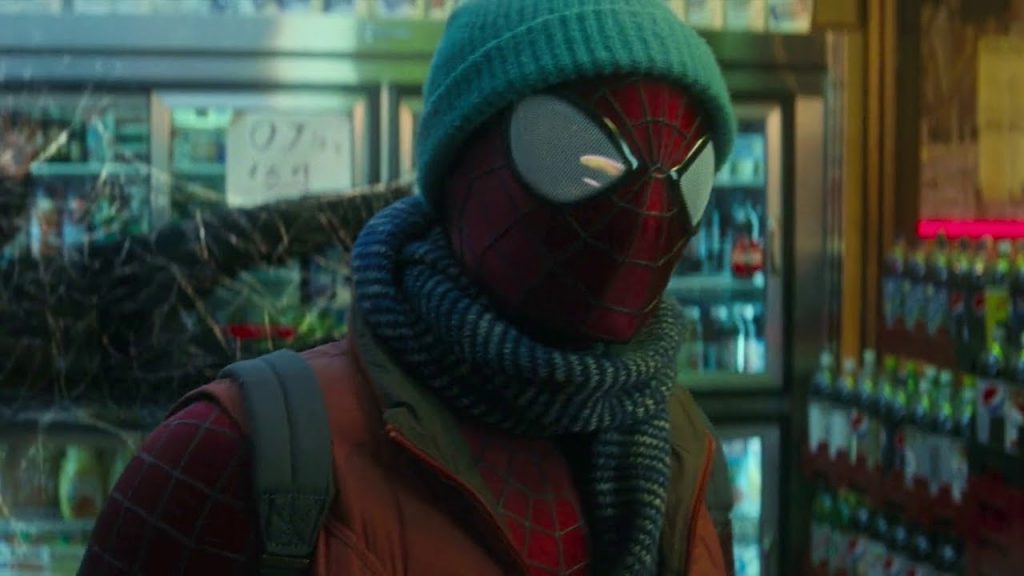 Image via Sony Pictures Releasing.
Andrew Garfield and Tobey Maguire Share A Brotherhood After No Way Home
Long after the No Way Home premiere, Andrew Garfield has nothing but good things to say about his involvement. His Spider-Man experience was cut short, and he only earned two films in the Amazing Spider-Man series. Despite the odd circumstances of his departure, he appears to hold nothing but joy for the role and the other actors that wear the suit. In the same ET interview, he explores this further and shares the following:
The fact that I get to be one of those people wearing the suit next to my actual Spider-Man hero, Tobey Maguire, and the brilliant, incredibly talented, heartfelt, funny, good, sweet, perfect Spider-Man of Tom Holland, and I get to be the middle brother, and I get to be in awe of my older brother and in full longing to protect my younger brother.
Garfield explores the theme of loneliness and isolation for the character of Peter Parker, which all three actors play. But the plot of No Way Home opens up their world, showing them that there is true brotherhood to be found. The trio meeting and teaming up wasn't just about the fun or fan service, but about sharing the weight of being Spider-Man. And this is something that the actors know all too well.
Image via Sony Pictures
They Were There For The Fun, And For Tom Holland's Spider-Man
We don't know where Tom Holland was on the opening night of No Way Home. Given that his face was all over movie posters, it would have been tougher to hide from fans in a showing of the film. Suffice to say, we arent' surprised that he didn't join in for the Andrew Garfield No Way Home premiere story with Maguire.
Despite the excitement of having multiple Spider-Men involved, No Way Home is about Tom Holland's journey as Peter Parker. It might be his third film as the lead character, but it works as more of an origin story than anything else. He is left to learn the weight of what great power and responsibility mean, and there is plenty of time to see what comes next.
While discussing the film, Garfield reminds viewers that both he and Maguire understood that it wasn't about them. They were just there to "support" him and to have so much "God damn fun." And it sure looks like they did!
You can watch Spider-Man: No Way Home in theaters now.
Andrew Garfield has a No Way Home premiere story that includes Tobey Maguire and a lot of excitement. How did your experience watching the film for the first time look? And what would you do if you looked over and saw the real Spider-Man sitting next to you? Let us know in the comments!
Featured image via Gage Skidmore on Flickr.
Meghan Hale is the kind of movie lover that has a "must watch" that is a mile long... and growing. When she isn't talking about the latest film and television news she is writing one of her many in-process novels, screaming film trivia at anybody who will listen, and working as a mental health care professional. Follow her on Twitter @meghanrhale for some fun theories and live reactions to all things entertainment.
Leave a comment