Ubisoft Gamescom 2022 Appearance Confirmed
Video games fans – rejoice! It's finally been confirmed that there will be a Ubisoft Gamescom 2022 appearance this year. The event starts in August, and we expect many exciting announcements. Here's what we think might happen.
Gamescom 2022 Announcements

Image: Ubisoft
This year's Gamescom 2022 event is happening in Cologne, Germany, like every year. Normally, the event is the biggest gaming event of the year, beating E3. It's happened yearly, apart from in 2020 due to the pandemic. Ubisoft did appear at the 2021 showcase but didn't have many exciting announcements.
However, it seems that we can expect quite a few important things at the Ubisoft Gamescom 2022 appearance. Earlier, the AAA games company tweeted, "See you at @gamescom. August 24-28, stay tuned for more news…"
This appearance will mark Ubisoft's biggest event of the summer. Unfortunately, E3 was cancelled this year, and they're not appearing at Summer Games Fest either. So, fans must wait until August for these exciting announcements. Even so, there are lots of rumors that the company will hold their own showcase later in the year. The event is called Ubisoft Forward. The company has held it yearly since 2020. If so, we can expect that there'll be some more surprises under their sleeves.
Game Rumours 2022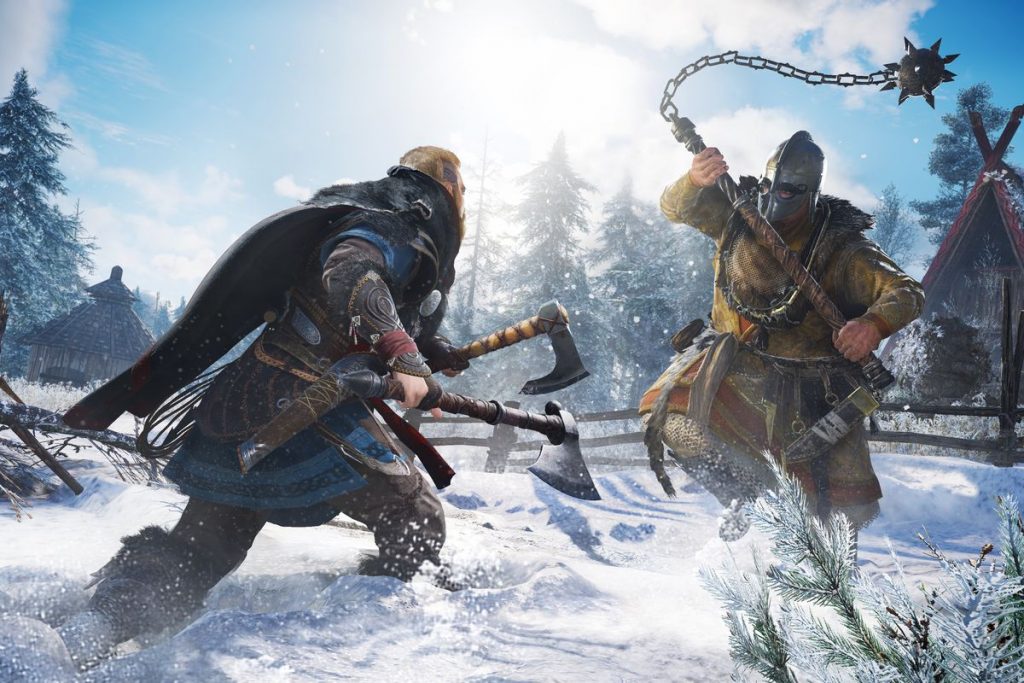 Image: Ubisoft
Naturally, there's lots of speculation at the moment. We're unsure what the video game company will announce at the Ubisoft Gamescom 2022 appearance. However, there are a few suggestions that they will announce approximately 20 future games. Supposedly, this list includes famous franchises as well as completely new entries.
One of the biggest rumors involves the Assassin's Creed games. We know that Ubisoft is working on a new title in the franchise, Assassin's Creed: Rift. Perhaps we'll learn more about this video game's plot and potential release date. Equally, there's also Assassin's Creed: Infinity that's currently in the works. Ubisoft also announced that they were working on "the last episode of Eivor's story."
Suppose there isn't an announcement about the franchise at the Ubisoft Gamescom 2022 appearance. In that case, we expect to hear more news later this year. September is the rumored date of the Ubisoft showcase.
Additionally, insiders revealed that the company is working on a Splinter Cell sequel. In October last year, insiders leaked a report stating that game development had recently begun. Unfortunately, there's no official announcement on whether this is true. However, many insides speculate that we can expect the game to arrive in 2024 or 2025.
Ubisoft Forward 2022
If that wasn't enough, we could also see more exciting news at the Ubisoft Gamescom 2022 appearance. This is about another huge franchise – Prince of Persia. Ubisoft released Prince of Persia Classic in 2007, which was the last mainline game in the series. A mobile game came out in 20
Image: Ubisoft
18, titled Prince of Persia: Escape, but critics and fans alike complained about the gameplay.
In 2020, Ubisoft announced they were working on a remake of the loved game Prince of Persia: Sands of Time. They originally aimed to release the title in 2021, but fans criticized the art style in the trailer. So, Ubisoft pushed the title back until they could improve things. They announced they won't release the game during the 2022-2023 cycle.
So, it's possible we'll get a glimpse of this title during the Ubisoft Gamescom 2022 appearance. If not, we can expect to see some more details at Ubisoft Forward. This is a showcase only for Ubisoft games, where they can show off any titles in development. Usually, this showcase happens alongside E3. However, as we already know, this video game event has been cancelled again this year. So, without a doubt, this is the biggest games event for Ubisoft.
As well as these titles, we know the company has been working on Skull and Bones for a while. This is a pirate-themed game for which fans have been waiting a long time. Insiders have suggested that we'll get a trailer during the Ubisoft Gamescom 2022 appearance. We'll also get the release date.
Are you excited about Ubisoft at Gamescom 2022? What excites you the most, and what other games would you like to see? Let us know in the comments!
Hi! I'm Arvyn, and I'm an English teacher from the UK. I've been teaching English online for over 4 years to students from all across the world and all ages. Outside of work, I'm a huge fan of reading, video games, and playing with my adorable kitties. See ya!
Leave a comment