Taxi Chaos Review – Not Quite "Crazy" But Close
First appearing in 1999, SEGA's Crazy Taxi series was a hit anywhere you could play games. Full cabinet experiences offered a thrill ride in traditional arcades. Console gamers could also play the title at home on their TV. Spin-offs, including a famous entry that stars The Simpsons, found huge audiences. After a few handheld ports and an iOS mobile gaming experience, SEGA flipped its medallion light off for the foreseeable future. Enter Lion Gate Entertainment and their spiritual successor Taxi Chaos. What you won't find in this game is the exact Crazy Taxi experience. For those itching to relive those chaotic arcade runs on today's consoles, the experience is more than serviceable. Here's my Taxi Chaos review, which I'm writing after playing the Nintendo Switch version.
A Return to Arcade Street Mayhem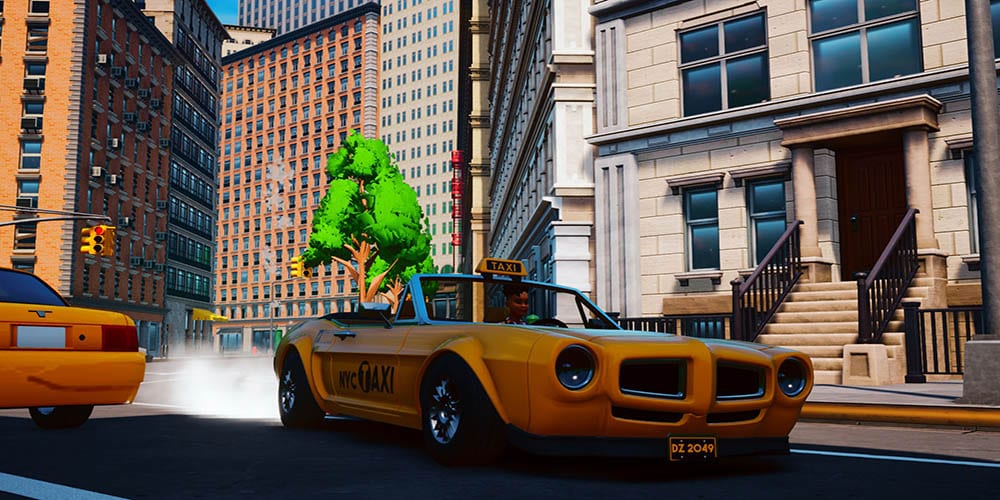 Image Credit: Lion Castle Entertainment
Overall, Taxi Chaos and its structure are sound. The setting, New Yellow City, feels vibrant enough despite being somewhat small. If you're a stickler for graphics, then this might trigger some red flags. No, Taxi Chaos isn't the most gorgeous game on the market. Neither was Crazy Taxi. The game does a good job of featuring just enough arcade art stylings to get by on what you're seeing on your screen. In handheld mode, things look fine as well.
The gameplay is really the focus for arcade games like this, so the graphics don't bother me all that much. As you start your run, you have a time limit and plenty of pedestrians to pick up all around you. As you drive them to their destinations, you maneuver through traffic and tight corners to make good time. It's the bare bones of a Crazy Taxi experience. If you're playing on Xbox One, then a few of the January Game Pass Games offer some driving games you might want to check out first.
After a great day-one patch, the city in Taxi Chaos feels a lot more alive. There are a lot of people, good ambient noise, and enough happening to add a fun challenge. If things get dicey, then you can tap a button to jump your car in the sky. It can hurt your speed for a bit, but it's better than a full-on crash. Taxi handling is very comparable for arcade driving games. The physics as you crash into things leaves a bit to be desired. In short, some things you hit stop you dead in your tracks without any bounce back or actual crash mechanics. Overall, the question is this: is there enough here to warrant buying the game?
 Taxi Chaos Review Score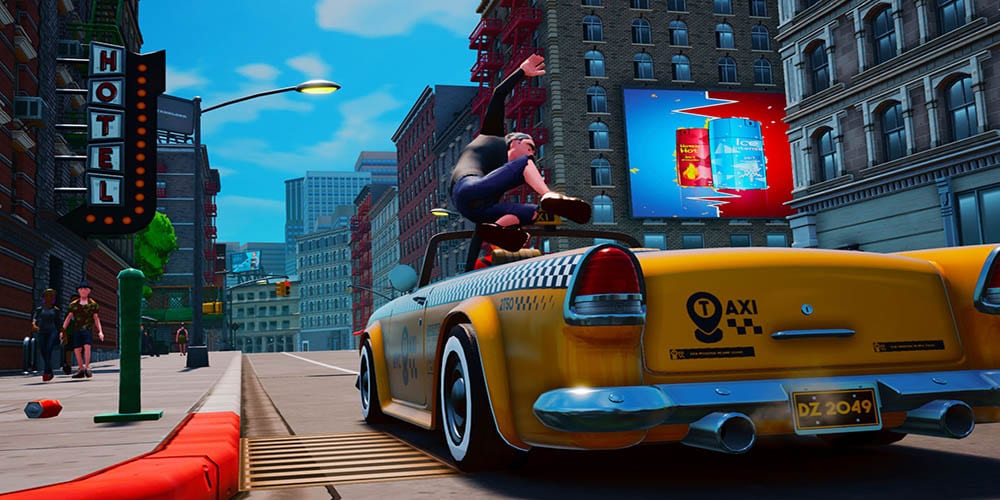 Image Credit: Lion Castle Entertainment
I review games on a scale of 1-10; Taxi Chaos is a 7 in my book. There's very little to do in this game in terms of depth. You can drive the timed arcade mode or you can play a no-time-limit relaxed version of the game. You're offered two characters and that's it. Nobody who plays Taxi Chaos will find their next favorite game. What I'm finding, however, is that it's a good short-burst experience when I don't know what to play. If I'm switching between games and I want a buffer, then Taxi Chaos is a decent way to kill 20 minutes.
Diehard Crazy Taxi fans won't get the heartfelt nostalgia for the old series they might look for in this one. That doesn't make Taxi Chaos a bad game. It's an arcade driving game with a decent city environment and workable gameplay. I didn't experience crashes in handheld mode or on TV, and the frame rate stayed pretty consistent. This is about what I'd expect from a game like this; that doesn't mean, however, that I was hoping for a little bit more.
Overall, Taxi Chaos offers something you can enjoy in short bursts if you're craving arcade action. If you're hoping for your next obsessive high-score-seeking driving game, then you probably won't get hooked on this one. In short, it scratches the Crazy Taxi itch you might feel from the 2000s without feeling all that amazing while doing so. If you enjoyed my Taxi Chaos review, then let me know in the comments.
Taxi Chaos is available now for PS4/PS5, Xbox One, and Nintendo Switch.
A digital review copy of this game was provided by the publisher for the purposes of this review.
Featured Image Credit: Lion Castle Entertainment
Taylor is the Gaming Editor of Comic Years and a lifelong fan of video games. He holds two degrees in Political Communication and wrote a Master's Thesis on resistance movements, race, and the exploitation of college athletes. His wife and two Toy Australian Sheppards keep him sane.
Leave a comment